We finally have an answer to the transfer saga that has made Paris Saint-Germains supporters bleed from the eyes all summer. Goal confirmed that Neymar Jr. will remain with the reigning French champions after a deal with FC Barcelona could not be agreed upon.
Executives from PSG and Barcelona arrived at a standstill after several attempts to make a deal throughout the summer. Ultimately, it was Ousmane Dembélé's refusal to return to Ligue 1 and Barca's insistence that Nélson Semedo wasn't available that left PSG no other choice but to walk away with their prized asset.
The transfer window officially closes on Monday and sporting director Leonardo must focus on reinforcing the squad that desperately needs it after injuries to Edinson Cavani and Kylian Mbappé has left Les Parisiens short on attacking options. Inter Milan's Mauro Icardi is a player of interest according to reports from RMC Sport with PSG looking to do a loan deal with an option to buy. Paulo Dybala is another name that has been mentioned but the fee Juventus FC would require may put him out of reach.
Leonardo did add a new player 24-hours before the transfer window closes. Goalkeeper Sergio Rico arrives on loan from Sevilla FC with an option to buy after one year. The 26-year-old has plenty of experience in Europe and will be a serviceable backup to Keylor Navas, who is expected to be announced by PSG on Monday after La Nación reported that he has said farewell to his manager at Real Madrid.
How does all of this affect Neymar? Well, it means that with Neymar returning, PSG has arguably their most complete squad in recent history. Assuming the team is fully healthy, this is what Thomas Tuchel's starting lineup could look like: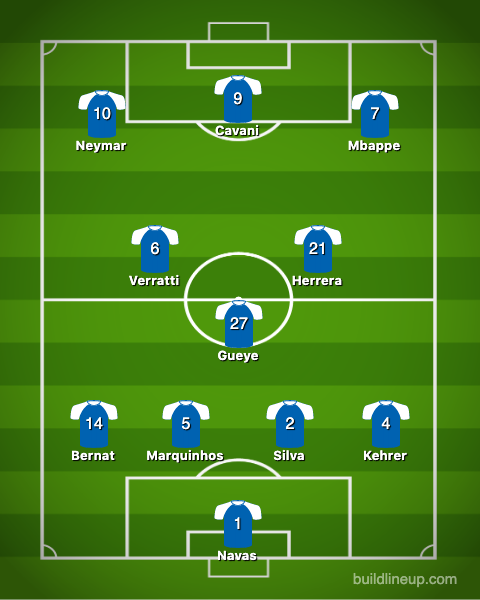 Tuchel will obviously shift the formation depending on the opponent and there's a lot of flexibility here. There's also plenty of depth to cover for injuries or push for a late goal when necessary. Angel Di Maria and Pablo Sarabia are the two standouts. Colin Dagba is a youngster that could push for a starting role ahead of Thilo Kehrer and Thomas Meunier at right-back. Julian Draxler is another international with the ability to impact a game. Abdou Diallo and Presnel Kimpembe provide plenty of cover at the back and both are looking to prove themselves this season and make a case to move into a starting role next season with Thiago Silva on the downside of his career at PSG. There's plenty to like about this team but it all hinges on how engaged Neymar will be.
The only glimpses of Neymar that we've had this season are during training sessions. We don't really know anything more than that as far as his fitness but he appears to be getting along with his teammates for the most part. Marco Verratti has even publically stated that he would prefer Neymar stay. That was all before Neymar's dream move back to Barca collapsed. Now that the realization that he's going to have to play in Paris at least for one more season has set in, what can supporters expect from the most expensive player in world football?
There's no denying that Neymar is one of the best footballers in the world when healthy. He's been away from the game for months and he may actually find some kind of reprieve from being back on the pitch. He also has a lot to prove. Since moving to Paris, Neymar hasn't lived up to expectations and injuries have plagued career in the City of Light. If he wants to eventually move on to another club, he will need to show why he is worth the fee PSG is asking for in a potential transfer. A third-straight injury-riddled season would be disastrous for his brand, which is probably the most important thing to him and his entourage.
The situation is not too unlike what the Los Angeles Lakers went through with Kobe Bryant during the summer of 2007. The NBA superstar was growing frustrated at being the best player on a team that wasn't performing up to his expectations and pushed for a blockbuster trade. The Lakers attempted to trade their star to the Cleveland Cavaliers for LeBron James but the Cavs said James was untouchable (kind of like Semedo at Barcelona). Other trades were explored, including one that would send Bryant to the Chicago Bulls, but in order to complete the deal, the Bulls had to give up too many assets and Bryant, who had a no-trade clause, didn't approve.
Kobe post Shaq in 2007 (demanded out from the lakers but stayed); Hakeem Olajuwon in the early 90s(demanded a trade from the Rockets but stayed on to win 2 championships). Imagine PSG fans wouldn't be upset for either comparison.

— LesAiglonsUSA🇺🇸 (@LesAiglonsUSA) September 1, 2019
The Lakers eventually held onto their future Hall of Fame player and after adding Pau Gasol the following season, the Lakers went on to reach three consecutive NBA Finals and won two of them. Could Gueye or Herrera be PSG's Gasol? Superstar players have a lot of pride and as we learned with Bryant throughout his career, some even thrive off of the negativity. Neymar will face plenty of adversity from PSG's own fans and especially on the road in Ligue 1. It will be up to him to use that as fuel to propel him to an unbelievable season where he reminds everyone why he is one of the best three players in world football. If he can, this could be a special season that few in the media would have expected.
Want more PSG? Visit the PSG Talk Podcast Network page and subscribe to PSG Talking, The 1970, and 24th & Parc.