The other day featured the two very different realities that Paris Saint-Germain must navigate on a daily basis.
The first being the on-field success or failure of the squad. A press conference was held, the one that always gets held the day before a match, that displayed the first reality. That reality included a few jokes from Thomas Tuchel, updates on the injury status of key players, and random small talk with reporters. It's the kind of mundane activity that makes up a football season, all 10 months of it. You start in July with training and end in late May with the end of a league season, a cup final, or if you're lucky, a UEFA Champions League final. The entire time you must juggle the pablum of everyday function with the sudden jolts of excitement that are Champions League games and big domestic matches.
It's a fact that for most fans these titanic confrontations are the only thing that matters. In the world of competitive sports, wins and losses are king. More times than not we get caught judging the health of a club through this very limited prism. Who did we beat, how many goals did we score or concede, and during off times, who did we sign? To use a metaphor, as fans, we fall in love with the outside of the car, not the mechanism inside that makes the car run. That mechanism is the second reality, the one fans rarely see or care about.
Today that second reality was on full display. A second press conference held at the Parc des Princes with the CEO of Accor Hotel Groups Sébastien Bazan (former PSG president before Nasser Al-Khelaifi, who also joined him on the stage). That presser contained a serious of platitude-laden statements with enough buzzwords to fill a birdcage. PowerPoint graphics and terms such as brand exposure and synergy. It also contained the announcement that Accor Hotel Group, through their new loyalty rewards platform (whatever the hell that means) will be the new jersey sponsor for Paris Saint-Germain.
The new sponsor comes after a 13-year partnership with Emirates, which was ended for multiple reasons. So, for the next three years with an option for three more after, the front of PSG's Jersey will read ALL (standing for Accor Life Limitless, whatever that means). Through all this corporate speak we find Paris Saint-Germain in a much better place and more than €25 million per year wealthier (the sponsorship is valued at over €50 million a year—double what they got from Emirates and fourth most in European football) than they were just 48 hours before when they didn't have this sponsorship.
The lifeblood of professional football club is either sales, sponsorships, or both. When Qatar Sports Investments bought PSG in 2011, they were more reliant on the former to create revenue. They had sponsors but not nearly enough revenue from those sponsors to grow the club in any kind of way. So, QSI injected millions into the club through sponsorships, mainly Qatari sponsorships. Think about it as taking money out of your left pocket to give it to your right pocket. Therefore, in came the sponsorships like the Qatari National Bank and the Qatari Tourism Board, the second one being especially dubious.
As a fan of the team it pains me to say that, but valuing your sponsorship with your countries own tourism company at allegedly €200 million is completely absurd but necessary given the arcane Financial Fair Play rules that were put in place to stymie the growth of clubs like PSG, Manchester City, and Chelsea FC. While I don't agree with FFP in practice, I can see how UEFA lowering that sponsorship valuation by nearly 75 percent may be proper. However, the issue is with how that was done—in a moving-the-goalpost-way that continually kept the bookkeepers at PSG off guard. While it was morally dubious for PSG to use this loophole to pump money into the club, it was equally dubious for UEFA to consistently devalue the sponsorship without transparency.
Which brings us to the last two years where PSG's latest confrontation with UEFA caused a rapid adjustment or acceleration of the QSI plan.  No longer could PSG survive on Qatari revenue, and while I see no issue with it, it was obvious UEFA had slammed the door. What followed was a masterpiece of business from Al-Khelaifi and PSG general manager and marketing executive Jean Claude Blanc. PSG signed sponsorship deals with betting companies, cruise ships, luxury clothing lines like BAPE, with the most important of those efforts coming in September when they became the first football team in the world to sign a deal with the Jordan Brand. What followed were the unveiling of the Champions League jerseys, clothing items, sneakers, and a ton of money.
What Paris is doing here is vital on two levels. First, it increases the exposure of the brand among numerous circles of people. From the wealthiest of celebrities to the basic person on the street. PSG as a global sporting brand is as popular today at it has ever been and with the acquisition of major stars and the growth of their business relationships will only grow stronger.
The second part of this is just as crucial. Brands like Accor and Jordan are some of the most powerful in their fields. Accor is the largest hotel and destination company outside of North America. It is a French-based company with a fairly good reputation. Which means that not only are PSG growing as a recognizable brand in ways that we can see, they are also becoming a force in the boardrooms of the world. This makes more of an impact than any transfer, or any big victory will ever be able to accomplish.
Paris Saint-Germain's quest for global domination is a war on two fronts. The one you see, and the one that you don't. While they are still fighting the war in front of your eyes, the war beneath the hood has already been won.
If you would like to show your appreciation for PSG Talk, we invite you to visit our Patreon page where you can buy our new "Farmers League Champions" T-shirt! Thank you and Allez PSG!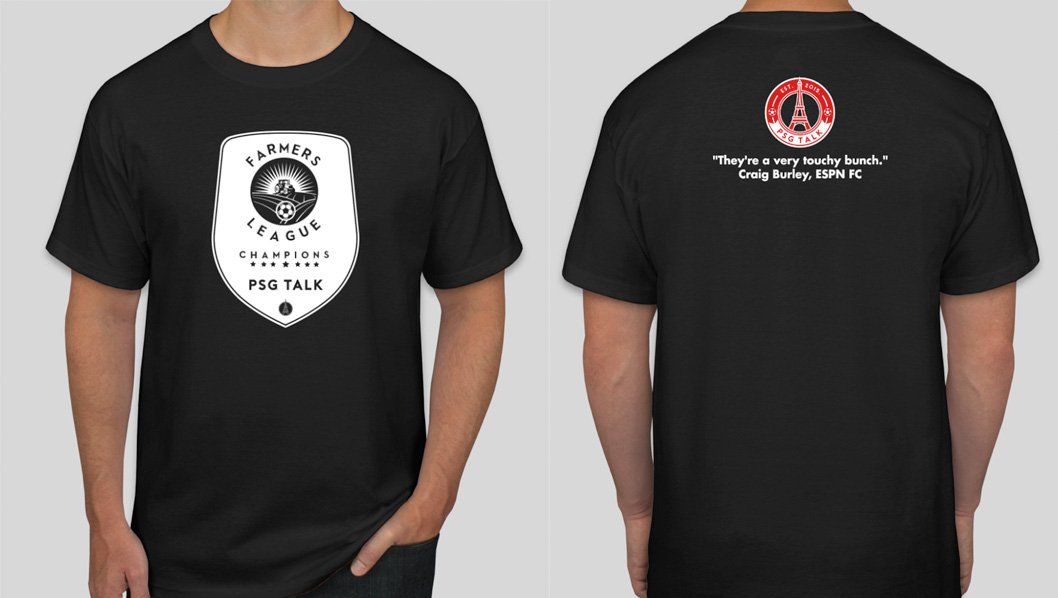 Subscribe to our podcast (iTunes) (Google Play) (Stitcher) (Spotify) and follow us on Twitter @PSGTalk