Paris Saint-Germain arrived in Manchester, England on Monday dressed in brand new Jordan Brand attire. The players oozed confidence as they walked off their plane and onto a bus that would eventually lead them to their hotel. On the outside, the team looks well prepared for the task ahead of them but behind the scenes, many questions remain.
Round 1 at Old Trafford 📍#UCL pic.twitter.com/ecROUvCMYI

— Paris Saint-Germain (@PSG_English) February 11, 2019
If you've been listening to our recent shows and following the news you already know that Neymar Jr., Edinson Cavani, and Thomas Meunier will all miss the first match against Manchester United in the Round of 16 of the UEFA Champions League. In fact, only Meunier could be back for the return leg at the Parc des Princes. Marco Verratti only recently returned from an injury and starting him could be a liability despite Thomas Tuchel's desperate need for midfield options.
Those are the facts heading into Tuesday's clash with the Red Devils. It won't be easy for the French giants but certainly not impossible with the quality they have on the bench. We asked some of our contributors to give their thoughts and predict the tie. See what our experts had to say below and then let us know what you think on Twitter. Allez PSG!
Terry Philo
Here we go! The most crucial time of the season for the entire PSG entity has arrived. We've all been waiting impatiently for it, and we're going in with more question marks than we had after the draw in December. "Finally, an easy draw!", the majority of the Parisian community said then, but I wasn't part of them.
Manchester United is in a positive spiral since they sacked José Mourinho, while PSG saw a negative result in Lyon, Neymar Jr. goes down with an injury, and Marco Verratti possibly being out as well for the first leg. All of this is enough to get the same people that thought this tie would be a "walk in the Parc" very apprehensive, if not totally scared… but I still haven't changed my mind since. It will be difficult at Old Trafford, but I just can't see us losing with this much talent on the pitch and a tactically expert coach. I believe a draw in Manchester with a Paris goal would be the ideal result for us. At home, we must get the job done, as we did against Liverpool and Napoli in the group stage. It won't be easy, we will have stomach aches until March 7, we will have moments of doubts, but we will get through this Round of 16 and we will come out of it stronger than ever.
1st Leg: 2-2
2nd Leg: 1-1
James Teague II
As we approach the first leg of the Round of 16, I never know how to feel. Among the anxiety, the doubt, the appreciation for the talent on the squad, where does my confidence lie? When drawing Manchester United I was immediately in the group that thought this was a decent draw for us. As I watched more and started listening to the masses of our community, I started to sip the Kool-Aid. Then Mourinho gets sacked and the sun started to break through what was a seemingly gloomy and grey cloud over Old Trafford. With an amalgam of injuries, confidence starts to waver. This movie has been shown before, the one where everything collapses at an inopportune time. But this time is different, this time it feels like there is a different mindset. This time there is a manager that I have confidence in. This time we have talent and star power that surpasses recent memory even without our best player in Neymar. This time, we've seen tough teams in tough places and seen the potential. Big time players make big-time plays in big-time games. We have guys on the team that want to be big time.
We draw at Old Trafford 1-1. Win at home 2-1 while conceding a predictable penalty.
Marc Damon
People have misread the Manchester United resurgence from the start. Interim manager Ole Gunnar Solskjær hasn't changed tactics or style, but rather attitude and effort. Players want to play from him and give their best. However, the method for United to best compete in high-profile matches remains the same (defend, counter quickly with Paul Pogba's sublime passing, and allow the speed of Anthony Martial, Marcus Rashford, and Jesse Lingard to overwhelm an outnumbered defense). This style is more than capable of beating a wounded Paris Saint-Germain, but this won't be the overwhelming drubbing that the English media has tricked themselves into believing will happen.
PSG will control possession over two legs because United aren't built to control possession. United will get nice counter opportunities because that's what they are built to do. However, compared to the powderpuff defenses the Red Devils play in the Premier League, Paris has actual defenders with pedigree. They might fall asleep at times, but under Tuchel they've been stout and imposing, conceding around half of their Champions League goals via penalty. If PSG don't foul in the box it will be hard for United to score.
Scoring without Neymar will be more difficult but it's not like PSG are playing peak 1990s AC Milan here. It's a porous United squad with makeshift fullbacks and bang-average center-backs. United will play tough in the first leg, and hold PSG to a 1-1 draw. Then PSG will dominate the 2nd leg, and I mean dominate. Too many weapons, too much talent over 180 minutes. PSG advance.
1st Leg: 1-1
2nd Leg: 3-0
PSG Advance 4-1 on aggregate.
Guillaume
Year after year after year, suspensions and/or injuries prevent us from being battle-ready as we go in the second phase of the Champions League. This year, on top of everything else, we've been Veronique'd. Manchester will play with full confidence and will be a very dangerous opponent. I don't see us coming back to Paris with a great result; I'll take a 1-2 defeat. A great performance at Parc des Princes and we're through. It's going to be a nail biter.
Ed
This season, Paris Saint-Germain unveiled their Jordan Brand partnership and against Manchester United, they will need to channel MJ's ferocious competitive spirit. In his prime, Michael Jordan was an intimidating competitor and showed no mercy on the hard wood. It didn't matter if he had the flu or if a teammate was injured. If Jordan was suiting up he expected to win and he played that way. Even with their injuries, PSG is more talented than Manchester United. When they walk out onto the pitch, they need to believe that deep down and execute Tuchel's gameplan. There can be no lapses in judgment. No errors. If PSG plays a clean, mistake-free game, they will advance. We have rarely seen this type of game from Les Parisiens but we also haven't had Tuchel as manager before. I believe in the German manager to get the tactics right and motivate his squad to greatness.
1st Leg: 1-2
2nd Leg: 3-1
PSG advance 5-2 on aggregate. Bonus prediction: This will be Moussa Diaby's coming out party.
Thank you as always for reading and if you would like to show your appreciation for PSG Talk, we invite you to visit our Patreon page where you can buy our new "Farmers League Champions" T-shirt! Thank you and Allez PSG!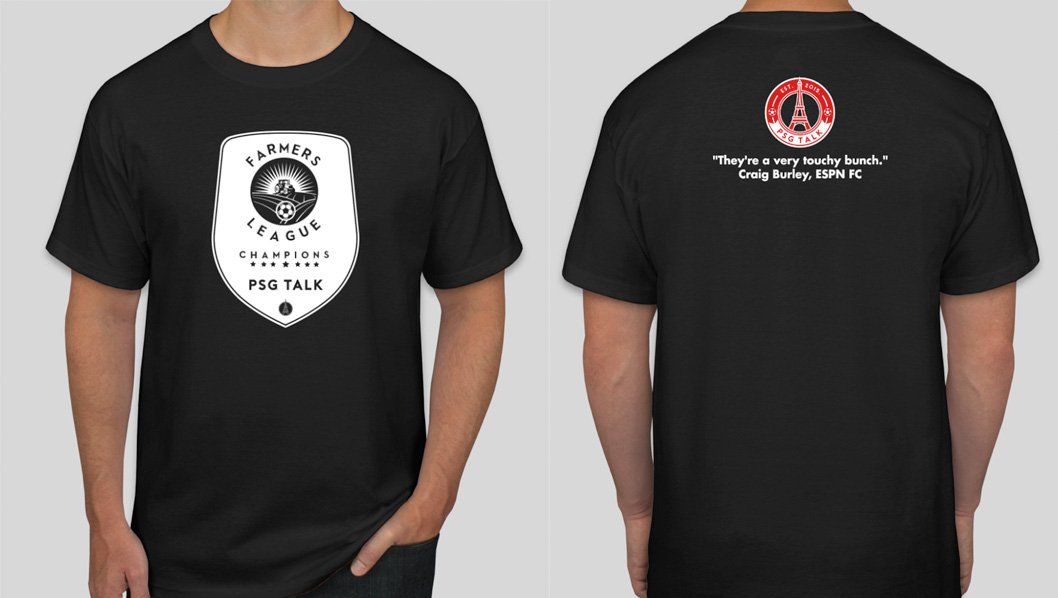 Subscribe to our podcast (iTunes) (Google Play) (Stitcher) (Spotify) and follow us on Twitter @PSGTalk