Part IV
Part I | Part II | Part III | Part V
€222 million was the price. A non-negotiable, rock solid €222 million. No more, or no less. Paris Saint-Germain did not bargain for this price. The price was foisted upon them. When Neymar Jr. signed his extension with FC Barcelona in October 2016 this was the agree upon contractual price to trigger his release clause.
This was the price that on Wednesday, August 2, in Barcelona's own press release was quoted as what Barca was willing to accept for the release of Neymar. No negotiations…pay the clause and get the player. So on Thursday, August 3, PSG and Neymar's lawyers entered the La Liga offices in Madrid attempting to do just that. La Liga and their president Javier Tebas declined the transaction, which they had no legal authority to do. Later in the day, those same lawyers flew to Barcelona, paid the clause, freed Neymar from his contract, and signed the Brazilian to a five year deal minutes after.
These facts must be laid out because it seems people have a misconception of what has taken place. Pundits from around the world decried this moment as the end of competitive balance in football. Where did the money come from? Isn't €222 million outrageous for one player? How can PSG with their evil Qatar money swoop in and steal Neymar from poor and innocent Barcelona?
The moment history was made. Neymar Jr and Neymar Sr signing the contract with PSG. pic.twitter.com/SwWNwJfmjU

— Squawka News (@SquawkaNews) August 3, 2017
In an attempt to be as fair as possible when writing this piece one of these questions must be answered. Where did the money come from? While we may never really know the extent of what happened, this is the best guess as to how it worked. The Qatar government paid Neymar a salary to be the player sponsor of the 2022 FIFA World Cup, which they are hosting and takes place in the final year of Neymar's contract with PSG. This fee was paid in full up front. Since Qatar Sports Investment and the Qatar government are legally two separate bank accounts, the money did not come from PSG's pocket. Neymar then took the money and used it to pay his own release clause. What this essentially means is that in theory, Paris acquired Neymar on a free transfer. Now, whether UEFA sees it this way or not is an entirely separate issue, which will determine PSG's financial flexibility in the next couple of years. However, from all indications, this "transfer" will pass the financial fair play muster.
To answer the other two questions, one tersely and the other in longer form. Is €222 million too much for one player? Not if the player is worth it, and this one is. To answer the other statement, if you as a football fan feel even the least bit sympathetic for Barcelona then you are not being objective.
Over the last couple of years the Spanish giants have become experts at stealing players right from under unsuspecting clubs. Its called the "shake and steal," and here is how it works:
1. Reach out to the wanted player's representatives through your representatives and agree to terms that benefit the representatives as much as the player.
2. Leak information to the Catalan-friendly press about how said player wants to come to Barca and how personal terms have been agreed.
3. Simultaneously have representatives convince the player about how much he would love to come to Barca. This two-pronged attack unsettles both the player's club and the player himself and begins to create a rift between the two as well as the fans.
4. When the player finally agrees, give the player suggestions on how to force his club to sell. Tell him to hand in a transfer request (Philippe Coutinho at Liverpool FC), or boycott training (Ousmane Dembélé at Borussia Dortmund).
5. Immediately follow the action of the player with an offer to the player's club. Hopefully, when the club is in an angry vulnerable state, they will sell the player. Any questions?
Barcelona have pulled this move with varied success over the years. Usually without impunity or sanction. However, when they attempted to pull this stunt with Paris midfielder Marco Verratti last June, chairman and chief executive officer Nasser Al-Khelaifi had none of it. Les Parisiens shut the nonsense down the minute Verratti walked into their building. Little did anybody know that Paris was planning a raid of its own. A raid that would leave Barcelona in shock and indignation. In fact, the Catalans were so surprised at having the tables turned on them that it took a week for their executives to send the proper paperwork that would allow Neymar to suit up for his new club.
Through all these war games came a clear victor. Paris Saint-Germain had outsmarted FC Barcelona. It is really as simple as that. Think of it like this: The quieter the burglar, the better the chance of stealing the jewels. Barcelona's "bull in a china shop" approach to acquiring Verratti failed miserably, while Al-Khelaifi's stealth dealings with Neymar's people went unnoticed by the Barca board until it was too late. Until the very last moment they couldn't comprehend that Neymar would actually pay the clause and join les Rouges-et-Bleus. Once he did, there was nothing they could do.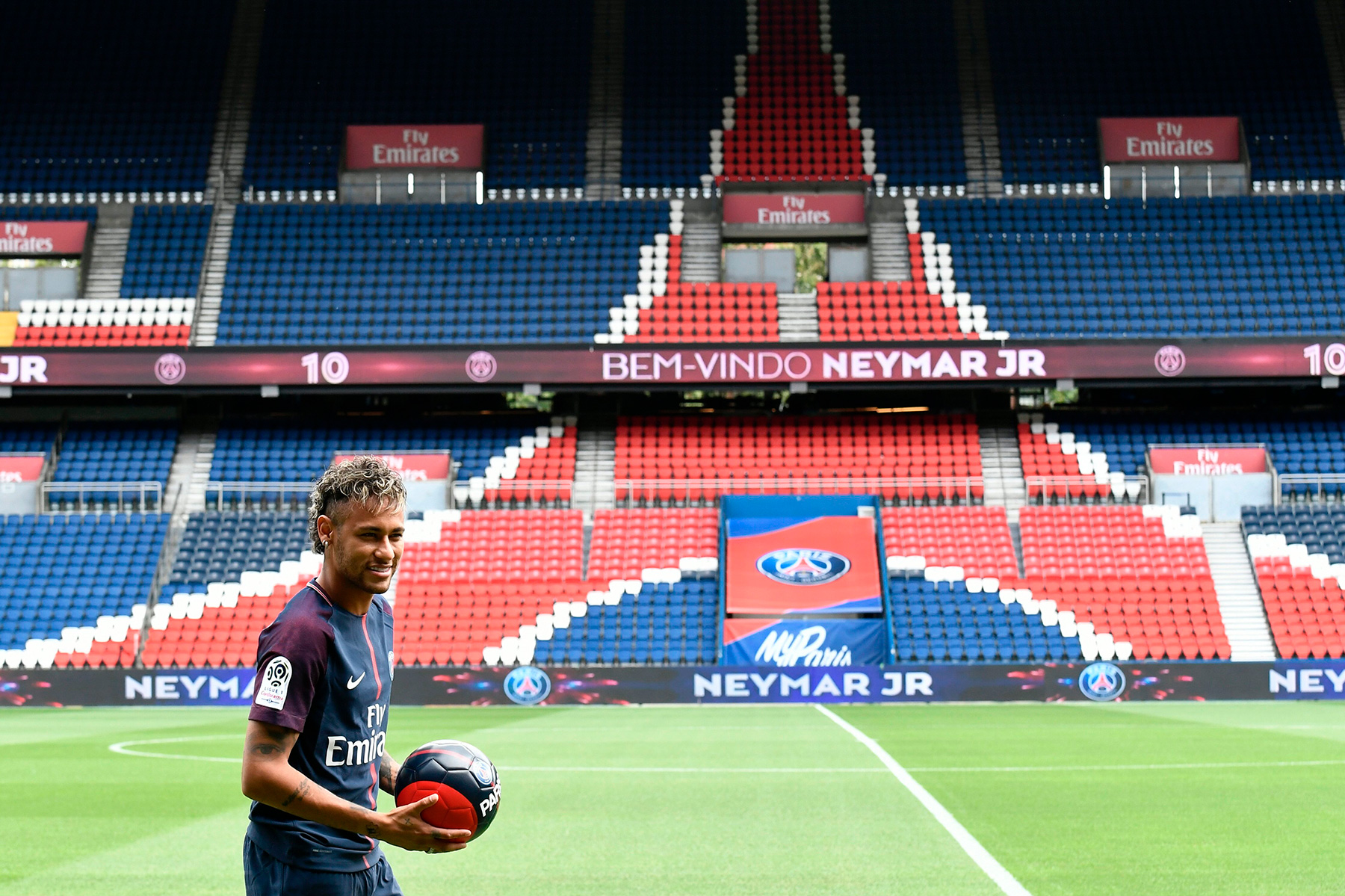 Barcelona weren't the only one's that were steaming. The European football power structure had been disrupted. This was not supposed to happen. All of the rules of football in Europe are in place to keep the elite clubs churning out profit and trophies. These elite include clubs like Real Madrid, Barcelona, Juventus FC, Bayern Munich, Chelsea FC, and Manchester United. They are meant to have all of the best players, make the most money, and win the most trophies. Clubs like PSG or Manchester City are mere imitators. The middle class of world football, who had suddenly come into truck loads of Middle East money. They were the play things of oligarchs. They could spend and win domestically but Europe was still for the elite. That was until Neymar decided to snub old money for new money. Tradition for ambition. And of course, PSG's strong Brazilian the Brazilian presence in the locker room played a key role but not for the simplistic reason most think.
If you look deep enough into the Twitter abyss, you will see some Barca fans using the term "favela" to deride their former superstar. This term refers to the Brazilian slums that many of the great Seleção's were born into. These boys were born into abject poverty, living hand-to-mouth with only the dream of what football can bring them to spur them forward. It is no surprise that certain Barcelona fans would use the "favela" to insult Neymar. Part of the psychology of the elite is to feel as if by taking in the poor they somehow own a piece of them. Neymar should be grateful to even get the chance to put on the Barcelona kit and how dare he leave us, the people who gave him everything.
https://twitter.com/Dembelista/status/894896092134821888
Meanwhile the Brazilian/PSG connection runs much deeper and is objectively more genuine. Paris Saint-Germain as a club, even before the QSI takeover, had developed whatever reputation that it had partly on the back of ambitious Brazilian stars like Raí and Ronaldinho. Before the influx of money, Paris as a club was very much an island of misfit toys for both players and fans. Even after the money, Paris never forgot its Brazilian connection and brought even more of them into the club (Maxwell, David Luiz, Thiago Silva, Marquinhos, and Lucas Moura). Before they knew they had Neymar secured, the club used their 2017-18 road kit to pay homage to the Brazilian players of their past. Is it any wonder that besides the money and ambition Neymar chose PSG? PSG has always made Brazilians feel like an integral part of their club, not just charity cases who should be happy to be there. Neymar saw in PSG a partner that respected his ambition and goals and would be happy to grow with him, rather than a club that would hold him back for the sake of their aging Demigod.
It was all of these factors that created the perfect storm for Neymar to join PSG. It was a little after four in the afternoon on the east coast of the United States that PSG made the move official. Signed, sealed, and delivered, he was ours. Time to party.
Part V, the final article in the Neymar au PSG series, covers the two day presentation of Neymar to the Parisian fans.
Subscribe to our podcast (iTunes) (Google Play) and follow us on Twitter @PSGTalk.