On Sunday, the San Francisco 49ers torched the Green Bay Packers to reach Super Bowl LIV where they will play the Kansas City Chiefs on February 2. This is a Paris Saint-Germain blog, so who cares, right? Here's how it all comes together.
Prior to kickoff, 49ers quarterback, Jimmy Garoppolo, sat down for an interview with journalist Erin Andrews and wore a PSG x Jordan hooded sweatshirt.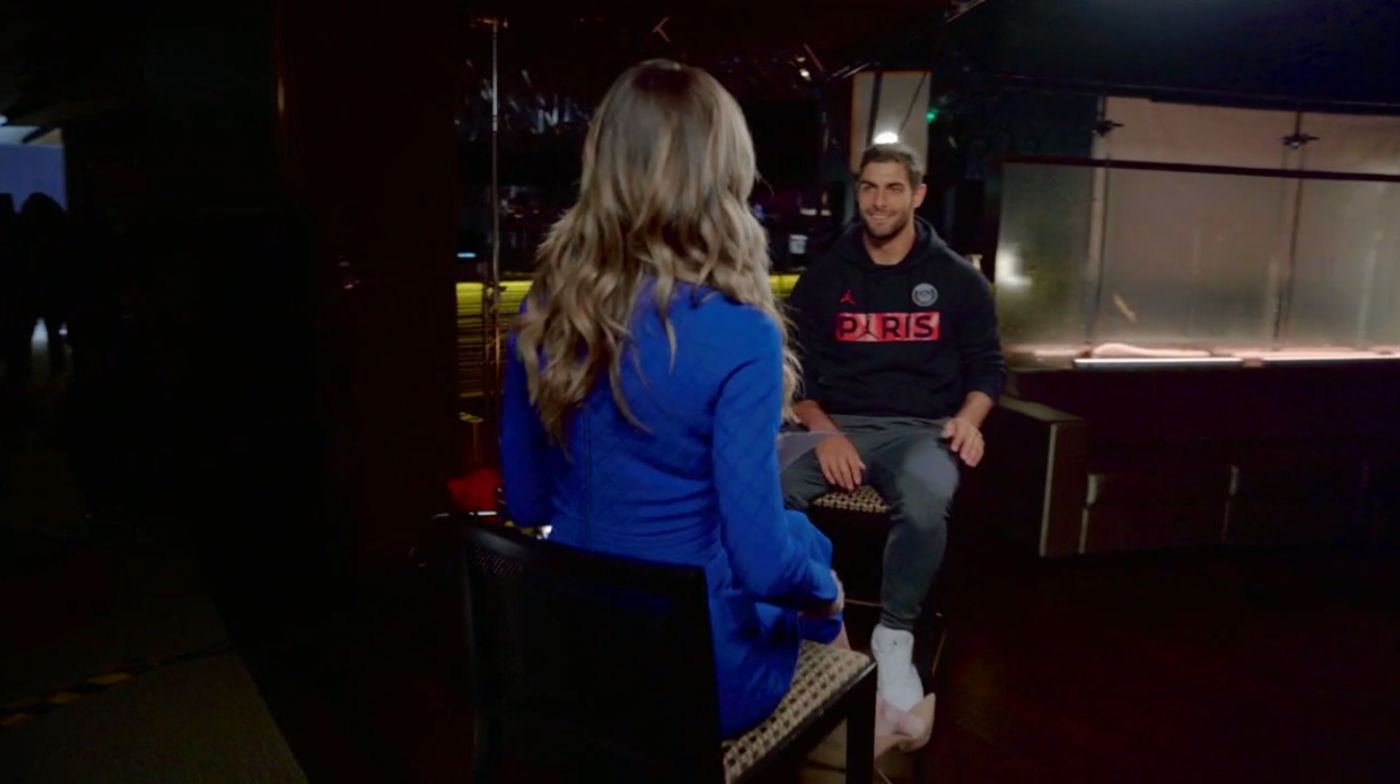 It created a bit of a stir on social media but that's about it. On the surface, there's no real connection between Garoppolo and the 49ers to PSG but if you dig a little deeper, you uncover a potential link. Follow along closely because things get a little complicated.
First, you have to know who owns the 49ers and that would be Dr. John York. The NFL team with five Super Bowl victories has an "investment entity" called "49ers Enterprises" and in May of 2018, they became a minority investor in Leeds United.
The majority stakeholder of Leeds is Aser Group Holding, which was founded by businessman Andrea Radrizzanni who is also the club's chairman. You can see the entire ownership structure on Leeds' official website.
So, what does any of this have to do with PSG? Well, for months now, there has been speculation that Qatar Sports Investments, the organization that owns PSG, has been exploring avenues in which they could invest in Leeds.
In a recent interview with The Times (via Goal), Radrizzani said that he believes an investment from Qatar has "the possibility to allow this club [Leeds] to compete with Manchester City."
Nasser Al-Khelaifi, PSG's president and QSI chairman, is good friends with Radrizzani and the two were spotted at the Parc des Princes last November during the club's match against Club Brugge in the UEFA Champions League.
Here's where it all comes together—the 49ers, Leeds, and PSG.
On Sunday, journalist Nicolò Schira shared a photo on social media that showed Radrizzani dining with Al-Khelaifi. The location of the dinner isn't clear but it's possible they're in San Francisco.
Ieri sera cena tra Nasser #AlKhelaïfi (presidente del #PSG) e la dirigenza del #Leeds. L'amicizia con Andrea #Radrizzani può portare all'ingresso in società del manager qariota, con l'obiettivo di portare il club di Ellan Road tra le big della Premier League. #calciomercato #LUFC pic.twitter.com/f9Yd4MRxxd

— Nicolò Schira (@NicoSchira) January 18, 2020
The previous day, Radrizzani shared a tweet of Leeds players wishing the 49ers well in their match against the Packers and he's been known to hop on a flight to the Golden Gate City to support the 49ers.
🙏#faithful @49ers https://t.co/YFBV3eSHTv

— Andrea Radrizzani (@andrearadri) January 17, 2020
According to The Athletic, 49ers Enterprises acquired their 12 percent stake in Leeds for around approximately £11 million "and the NFL franchise would be a key factor in any transfer for ownership." Perhaps the trio of executives and sports teams rallying around each other indicates that a mega-deal could get done.
Last night dinner between Nasser #AlKhelaïfi (president of #PSG) and the management of #Leeds. Friendship with Andrea #Radrizzani can lead the qatariota manager to join the company, with the aim of bringing the Elland Road club among the big teams in the Premier League. #LUFC

— Nicolò Schira (@NicoSchira) January 18, 2020
Leeds currently sits in second place in the EFL Championship behind West Bromwich Albion. Gaining promotion to the Premier League would certainly boost QSI's interest in investing as the marketing opportunities alone would make it a worthwhile venture not to mention the lucrative television deals.
Time will tell if all of the dots will be connected. For now, it's all just an interesting coincidence.
Want more PSG? Visit the PSG Talk Podcast Network page and subscribe to PSG Talking, The 1970, and 24th & Parc.