The hottest topic surrounding Paris Saint-Germain right now is which formation best takes advantage of the club's plethora of attack-minded players.
Is it the 4-4-2, which allows Angel Di Maria, Mauro Icardi, Kylian Mbappé, and Neymar Jr. to all play together or is a more traditional 4-3-3 the way to go with one of those players being forced to come off the bench?
It's a problem that manager Thomas Tuchel has largely avoided since several players went down due to injury at the start of the season. Now that he has a full squad available, the German tactician is being bombarded with questions about what works, what doesn't, and what he prefers.
The tie against Borussia Dortmund in the Round of 16 of the UEFA Champions League couldn't be more important. If PSG fails to advance, it could cost them Mbappé, Neymar, and Tuchel.
With that in mind, Tuchel needs to be strategic. The Champions League is a puzzle and you don't win it but putting two pieces from the center together. Instead, you start with the edges and work your way along the edges before moving towards the center.
That's a long way of essentially saying, you don't win the Champions League by defeating FC Barcelona 4-0 and then forgetting everything you learned and losing 6-1 in the return leg.
With that in mind, here is how I believe Tuchel will set up his squad for the trip to Signal Iduna Park.
February 18, 2019
Borussia Dortmund vs. Paris Saint-Germain
Formation: 4-3-3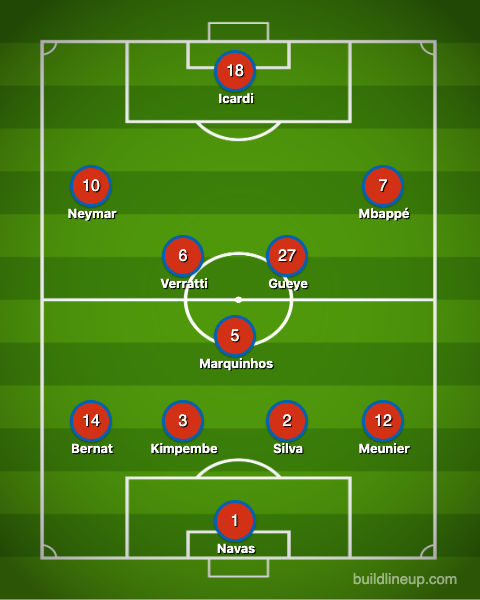 With the addition of Erling Haaland, Dortmund has a formidable attack. Maybe not as good as PSG's but they can certainly cause Tuchel a lot of headaches.
PSG should not go into this match with their famous 4-4-2 and get into a goal-for-goal race with Dortmund. Instead, they should return to their comfortable 4-3-3 and sit back and wait to hit Dortmund on the counter.
Dortmund manager Lucien Favre will know that his team's best chance of winning this tie lies in scoring as many goals as possible in front of their raucous crowd. PSG can take advantage of this over-eagerness and spring Kylian Mbappé free on the wing to terrorize Dortmund's shaky defense.
In the midfield, I like the trio of Marco Verratti, Idrissa Gueye, and Marquinhos to dominate possession and control the middle of the park.
I really like Thiago Silva and Navas leading the defense and keeping the backline disciplined for when Dortmund does threaten. I have Presnel Kimpembe starting here but I could also see Tuchel opting for former Dortmund defender Abdou Diallo instead.
March 11, 2019
Paris Saint-Germain vs. Borussia Dortmund
Formation: 4-4-2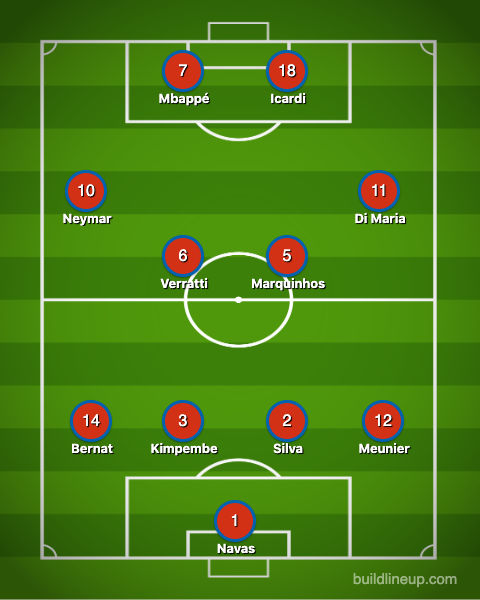 Blitz the hell out of them. Put on a show for the PSG supporters and put Europe on notice with an incredible offensive display.
If Dortmund is down a goal heading into this match, they'll press forward looking for an equalizer and that's when PSG should take advantage and put them to the sword.
Dortmund is a very young team and with the Ultras singing and the atmosphere of a big Champions League match, I don't think they could handle the Fantastic Four all running at them at once.
Even if there's a surprise in the first leg and Dortmund wins by two goals, that would be even more of an incentive for Tuchel to go with the 4-4-2 and try to score as many goals as possible.
There are still several matches yet to play and despite having a full squad now, we don't know if that will remain the case heading into the February 18 match.
What formation do you think PSG should deploy against Dortmund? Let us know in the comments or on Twitter @PSGTalk.
Want more PSG? Visit the PSG Talk Podcast Network page and subscribe to PSG Talking, The 1970, and 24th & Parc.