On Wednesday evening, Paris Saint-Germain was up 2-0 over FC Nantes at the Parc des Princes and with seconds remaining in the game, we saw the best of goalkeeper Keylor Navas and the absolute worst of Edinson Cavani.
With 30 seconds remaining in stoppage time in the second half, Nantes took a corner and Nicolas Pallois flicked a header on target from point-blank range with a ton of pace. Somehow, Navas reacted like a jungle cat and pushed the bar off the crossbar and Marquinhos eventually cleared the ball.
Navas, who was coming off a 10-save night against Real Madrid, continues to be in amazing form and you really have to wonder why Madrid let the Costa Rican leave for a UEFA Champions League competitor like PSG.
Unfortunately, the game didn't end with the save from Navas, it actually ended with a stunning swing-and-miss from Cavani.
After Marquinhos cleared the ball, Pablo Sarabia volleyed the ball forward and that sprung a 3-on-2 advantage for PSG with Angel Di Maria on the left, Cavani in the middle, and Mauro Icardi on the left.
After a few passes between the trio, Cavani found himself in the box with Alban Lafont out of position and nothing but a wide-open goal to aim for.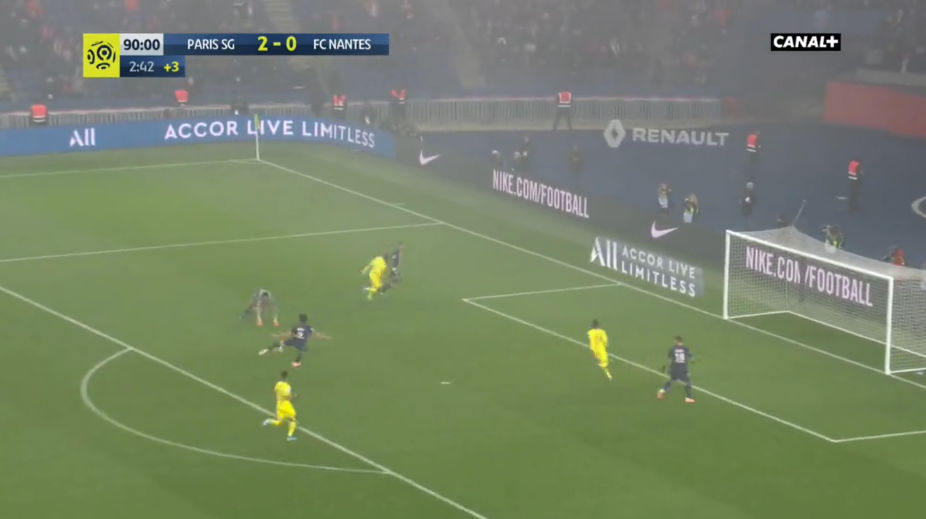 You could understand on a cold evening that perhaps Cavani would fire a shot over the crossbar or wide of the net especially after sitting on the bench for most of the game, but no, the Uruguayan missed the ball entirely!
This is your friendly reminder that according to sillyseason.com, Cavani earns €355,000 weekly from PSG. His contract can't run out soon enough and its a sad end to his stellar career in the French capital.
According to Cavani's father, you need more than money to win the UEFA Champions League. Well, a striker that can convert easy scoring opportunities would be a good start.
Want more PSG? Visit the PSG Talk Podcast Network page and subscribe to PSG Talking, The 1970, and 24th & Parc.