Last Thursday, Paris Saint-Germain learned who their first opponents in the UEFA Champions League would be as the group stage was decided at random in Monaco. FC Bayern Munich will no doubt be PSG's toughest competition in the opening round of the prestigious club competition and will serve as a barometer for where Les Parisiens stack up against the best in Europe.
With aspirations come obstacles and despite the capital club's impressive signings this summer, elite teams will not bow down graciously. I previously examined how Unai Emery's squad compares to Bayern and Juventus FC–two teams who have appeared in the Champions League final in the past five years–and today, I compare PSG to three English sides who can certainly make some noise this season.
Chelsea FC
After winning the English Premier League last season, Chelsea FC is back in the Champions League after a brief hiatus and will undoubtedly be one of the favorites. Their polarizing striker, Diego Costa, has essentially been banned from the team but the Blues brought in former Real Madrid FC striker Álvaro Morata to fill his place–a more than suitable replacement. In the midfield, Antonio Conte brought in Tiémoué Bakayoko from AS Monaco to pair alongside fellow Frenchman N'Golo Kante.
Chelsea, on paper, appear to have upgraded enough to make a run at their second Champions League crown. However, standing in their way could be PSG, who they've faced three times since 2014. The Londoners took the first encounter in the quarter-finals but French giants have take the last two, eliminating them in the round of 16 on both occasions.
If there should be a fourth meeting, here's how they compared to each other last season. On defense, the two clubs had identical numbers as they edged one another in various categories. Chelsea bested PSG when it came defensive errors, interceptions, clearances, and a better defensive score. Also, for as "bad" as a season PSG had last year, their defensive numbers weren't all that off when compared to a team like Chelsea.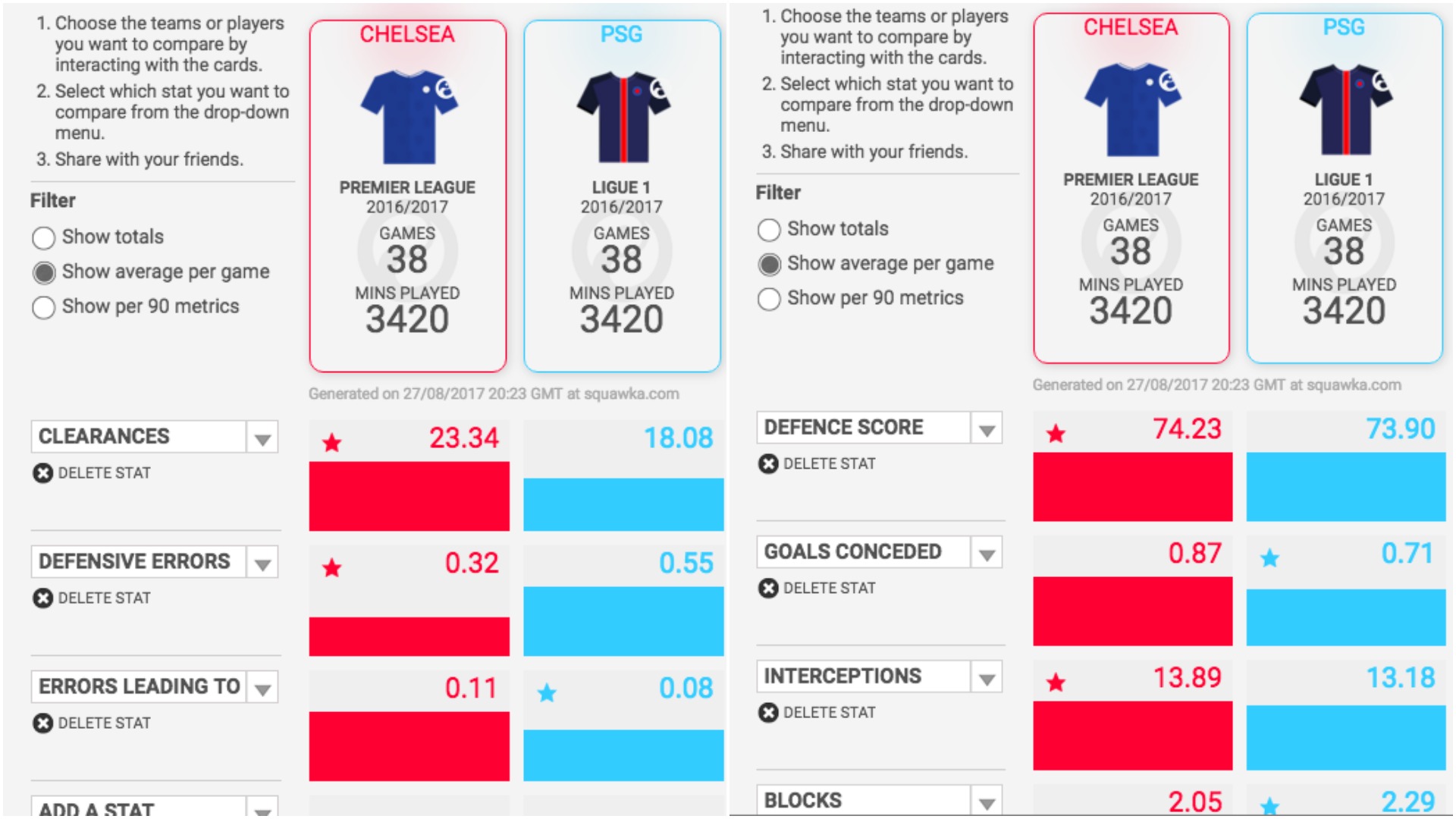 On offense, the numbers again were close. Nonetheless, these numbers are about to change as Chelsea move away from Costa who scored 20 goals. Morata has big shoes to fill without a doubt while also getting accustomed to a new league and country. On the other hand, PSG through four games appear to be a well-oiled machine on offense scoring 14 total goals. Against Toulouse FC, PSG scored four goals while playing with 10 men on the pitch and against AS Saint-Etienne on what many would call an off night, they were able to string together a 3-0 win. Neither of those teams are Champions League-worthy opponents but the fluidity and confidence gained is a plus for Paris.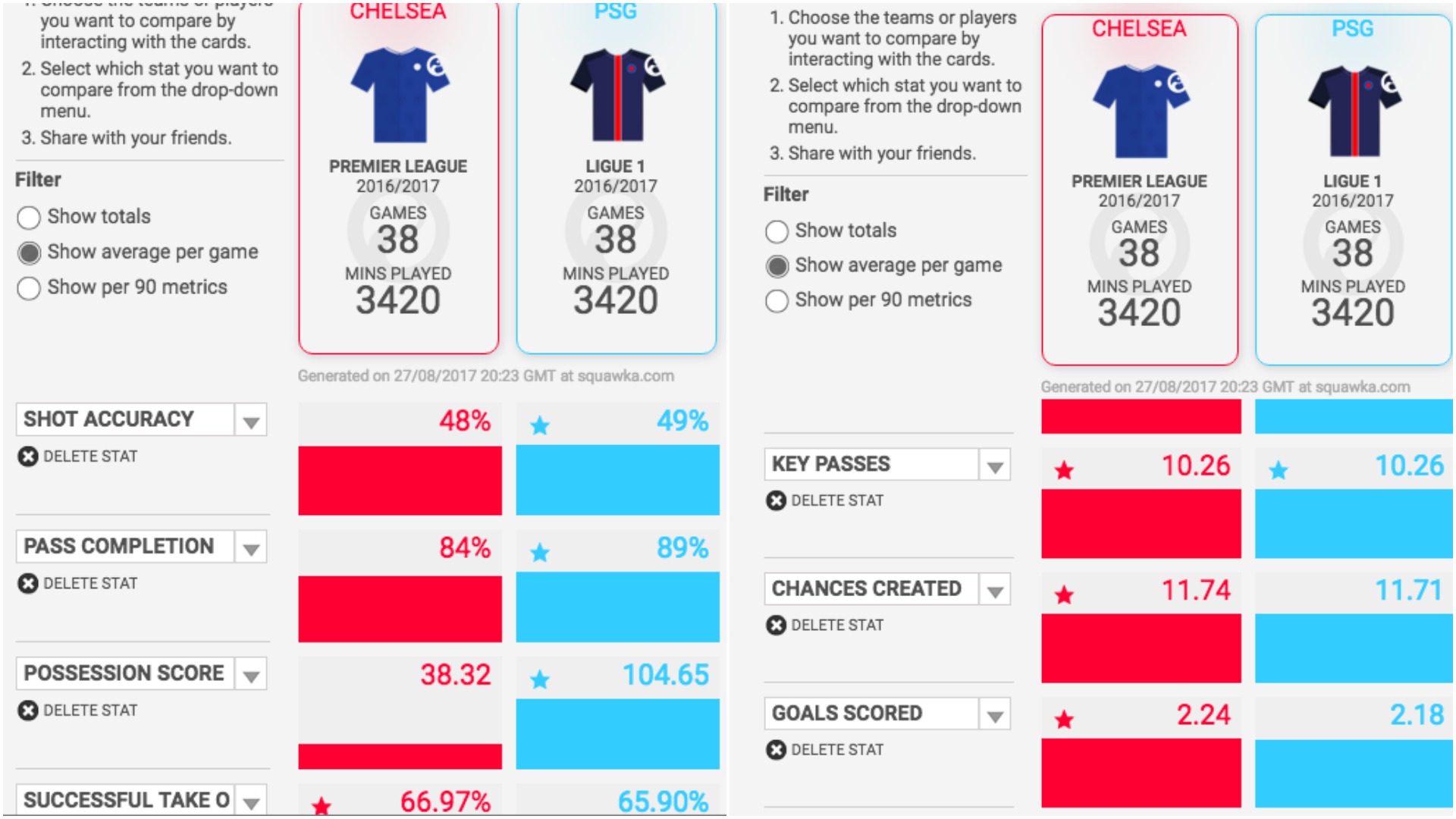 Tottenham Hotspur FC
For all the turnover at Chelsea, Tottenham Hotspur FC has done the opposite by remaining relatively quiet all transfer window. Although, they've begun to make moves with the signing of Davinson Sánchez from AFC Ajax. Also, there are reports of Spurs on the verge of signing Serge Aurier from PSG.
With the Champions vastly approaching, Spurs are making moves to improve their defense but how does their current crop of defenders compare to PSG?
Last season, the North London side had slightly better numbers than PSG when it came to defending on the pitch. However, the numbers weren't that far apart. Mauricio Pochettino's team were particularly sufficient when it came to blocks, clearances, and limiting their defensive errors. As good as they were, the Parisians were better when it came to interceptions and their errors led to fewer goals.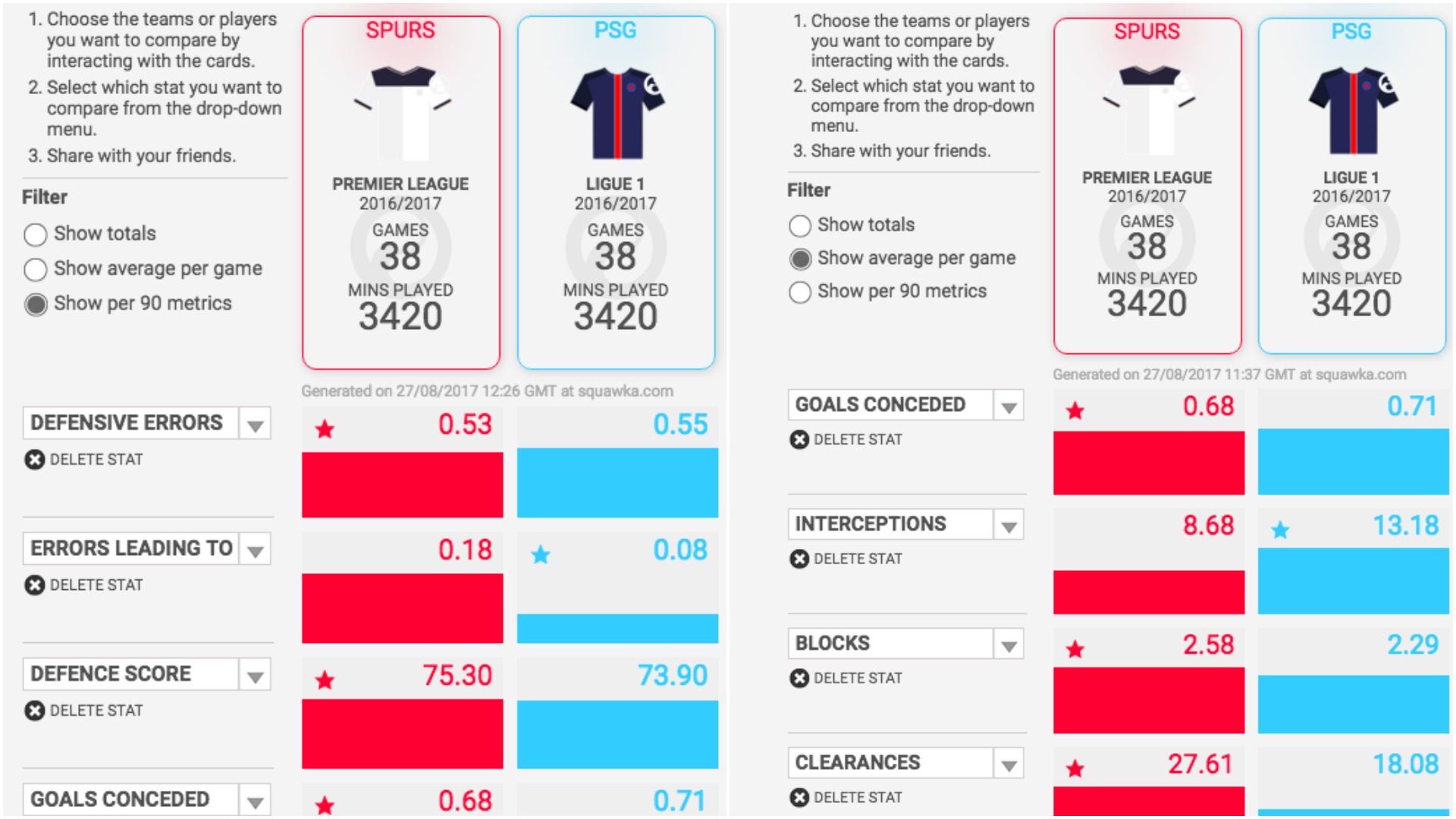 Entering this season though, Spurs will need to rebound from the loss of Kyle Walker who left for Manchester City. With the signing of Sánchez and potentially Aurier, Spurs are hoping at least one of them can replace Walker's production. Furthermore, through four games, PSG possess a better defensive score compared to Tottenham so PSG appear to hold the edge on that side of the pitch.
When it comes to offense, Spurs were better than PSG across all vital areas last season. They averaged more key passes, chances created, and goals scored while possessing a better attack score. That was before Neymar Jr. joined PSG though. Since the start of the season, PSG has outperformed Spurs in some categories and the improvement with the Brazilian in the squad is evident.
Liverpool FC
After defeating TSG 1899 Hoffenheim in the Champions League playoff round, Liverpool FC made it five teams from England who will compete in the tournament. Liverpool find themselves in a similar position PSG found themselves early in the transfer window and by that I mean fending off FC Barcelona from poaching their best player.
Without Philippe Coutinho, the Reds have managed to get into the Champions League group stage and have their offense firing on all cylinders as Arsenal FC discovered last Sunday. The trio of Roberto Firmino, Sadio Mané, and Mohamed Salah have carried Liverpool offense in the early part of the season but when compared to PSG's offensive attack the numbers are drastically different. Paris have a higher assist rate, chances created, key passes, and goals per game than Liverpool.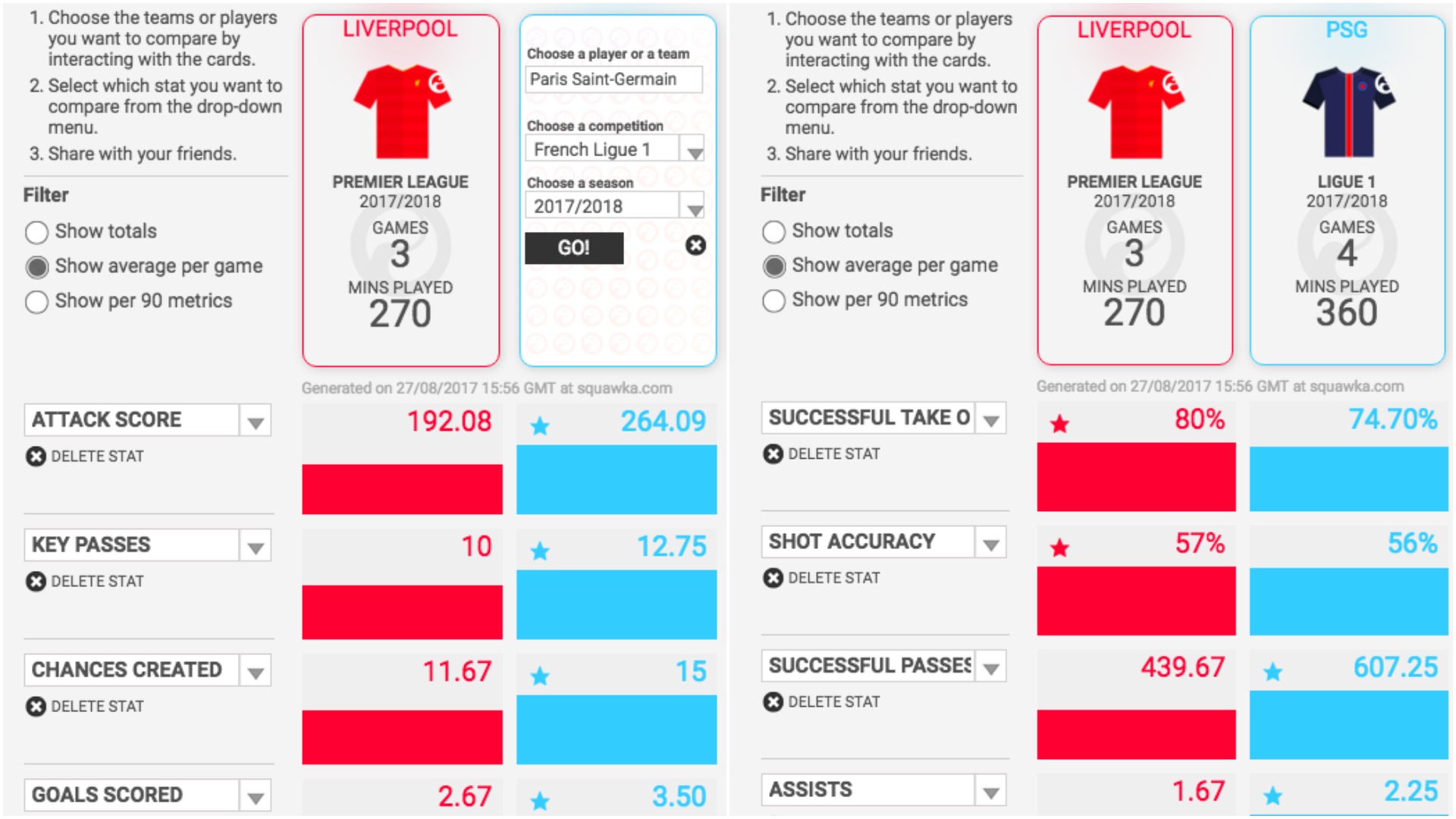 The defense was the achilles heel for Liverpool last season as they finished in the bottom five in the defensive score category. In the early stages of the season, Liverpool have improved but for them to contend in the Champions League the defense will need to be improved (especially on set pieces). Throughout the transfer window, Liverpool had looked high and low for a player who could address their needs on defense.
PSG has done what Liverpool failed to do this summer and that's improve their defense. Their endless pursuit of Southampton FC's Virgil van Dijk has not manifested into a signing. Thus, their defense remains shaky while Emery's squad has built up a solid core of defenders with the additions of Dani Alves and Yuri Berchiche to go along with Thiago Silva, Marquinhos, Layvin Kurzawa, Thomas Meunier, and Presnel Kimpembe. If PSG can find their defensive midfielder then they appear to have the team capable of taking down the likes of Chelsea, Tottenham, and Liverpool should they meet after the group stage.
All stats via Squawka.
Subscribe to our podcast (iTunes) (Google Play) (Stitcher) and follow us on Twitter @PSGTalk