Three games into their Ligue 1 campaign, Paris Saint-Germain has collected all six points available and outscoring their opponents 11-2. While regaining their crown as the top team in French football, PSG has bigger plans. The success of their season will ultimately depend on how the club performs in the UEFA Champions League.
With the additions of Neymar Jr. and Dani Alves this summer–and circulating rumors involving AS Monaco's Kylian Mbappé–it's clear what the message is: win the Champions League at all cost. In the past decade, the likes of Manchester United, Inter Milan, AC Milan, Real Madrid, FC Barcelona, Bayern Munich, and Chelsea FC have won the biggest trophy in club competition. The French giants are attempting to crash the old boys of European football.
Heading into this tournament, the back-to-back champions of Real Madrid are heavy favorites. After that, PSG fall into a cluster of teams who fall can seriously contend. But where does Unai Emery's squad rank in the pecking order? Let's look at a couple of teams that PSG could potentially face in the group stage.
Bayern Munich
Let's start with Bayern Munich. The Bundesliga heavyweights saw their Champions League aspirations come to an end in the quarter-finals last season versus Madrid. When compared to PSG, Bayern's numbers last season were inferior but close in other aspects.
On the defensive side of the ball, both Bayern and PSG were close when it came to their defensive errors per game, goals conceded, and errors leading to goals. On the other hand, Carlo Ancelotti's men had the upper hand in interceptions while PSG showed their dominance when it came to clearances.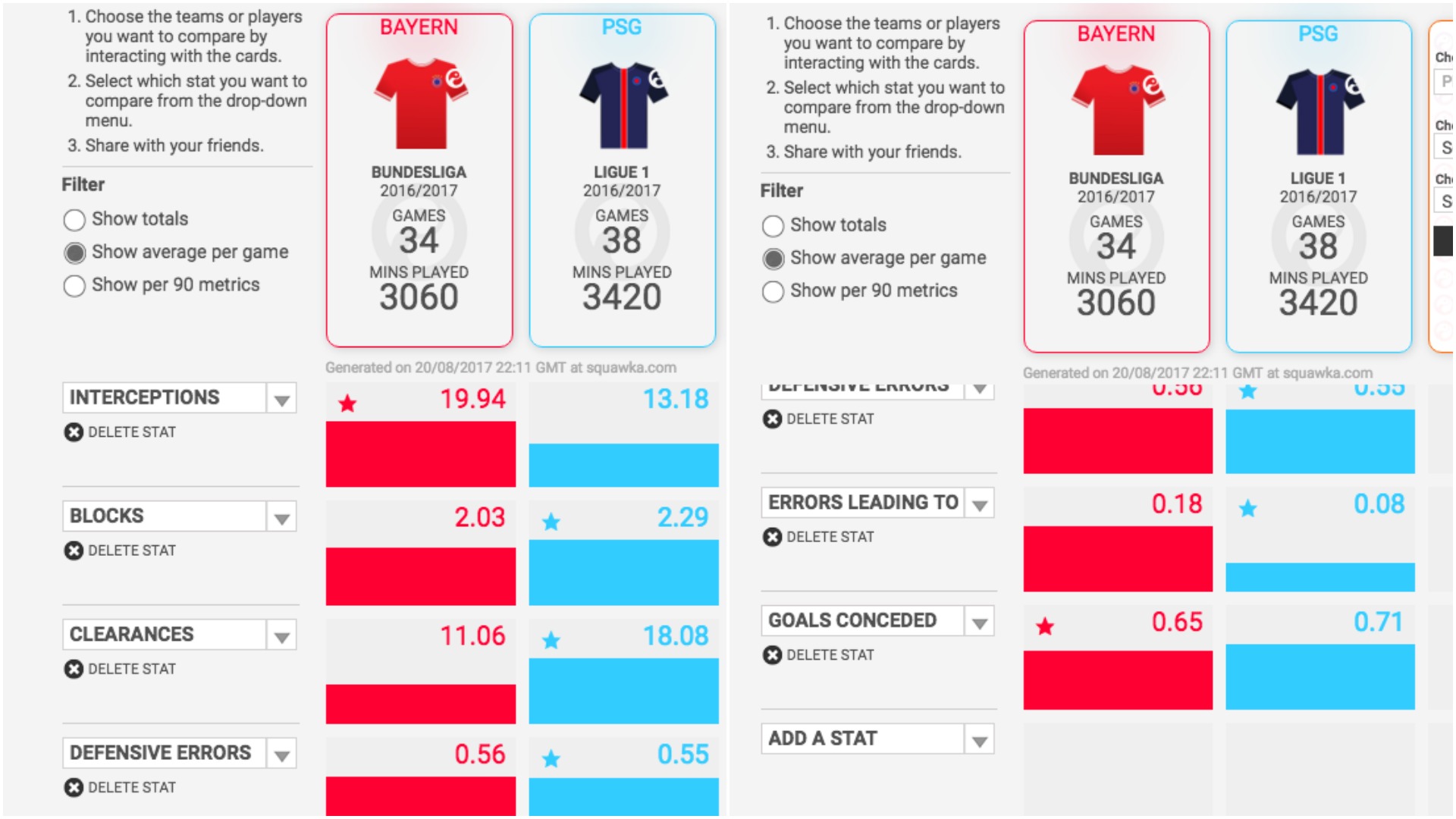 The offensive numbers favored Munich who averaged a higher amount of chances created, higher shooting accuracy, key passes, and goals scored per game. Again though, Paris wasn't far behind them and with Neymar in the squad, he likely makes up the gap.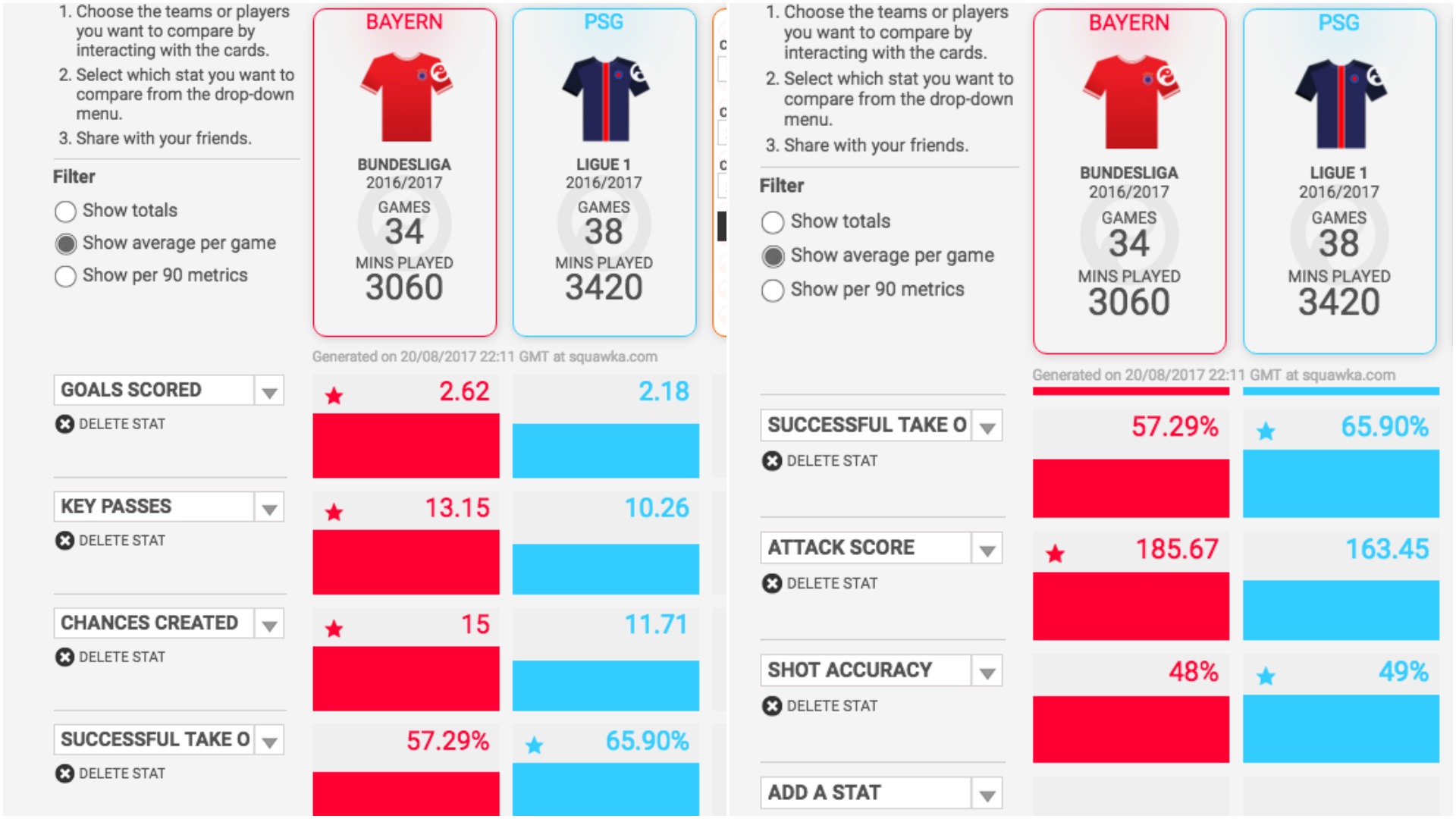 Both clubs made some noise during the summer transfer window. We all know the moves Les Parisiens made but Munich added James Rodríguez from Real Madrid to kickstart his career. These moves are not only to win their domestic leagues, which both should do comfortably, but an attempt to dethrone Real Madrid in the Champions League. Although the capital club made a bigger splash, to most of the footballing world Bayern remain the better side by a slight margin.
The depth the Germans possess is incredible with the likes of Niklas Süle, Corentin Tolisso, Renato Sanches, and former PSG player Kingsley Coman at their disposal. Health, however, will play a key factor this season as the injury bug has already hit Bayern. Notable players were forced to miss the recent match against Borussia Dortmund while PSG remained relatively healthy all pre-season and through three games of their domestic season.
For PSG to leapfrog over Bayern Munich, they'll have to use the remaining days of the transfer window to address their need for a defensive midfielder. Although Thiago Motta is a serviceable player for Ligue 1 and smaller cup competitions, to take down the likes of the German champions they'll have to upgrade at that position.
Rumblings have Paris attempting to pry Fabinho from Monaco and Danilo Pereira from FC Porto, which would catapult the club to the upper echelon of Champions League contenders. Nonetheless, until the rumor turns into a reality, they'll likely take a backseat to Bayern until they find their number 6.
Juventus FC
Another heavyweight that PSG will have to contend with during the Champions League is Juventus. Last season, the Italians made their way to the final by eliminating the likes of Barcelona, Porto, and Monaco before bowing out to Madrid. Their bread and butter was their defense so I thought I would take a look at how their back line compares to PSG's.
Juve comes out on top in all the important defensive categories, however, PSG's defense was stout as well. Entering this season with half of their defensive core ageing combined with the departures of Alves and Leonardo Bonucci, Juve is in a transitional period. They still have talent but key departures will certainly drop them down the pecking order.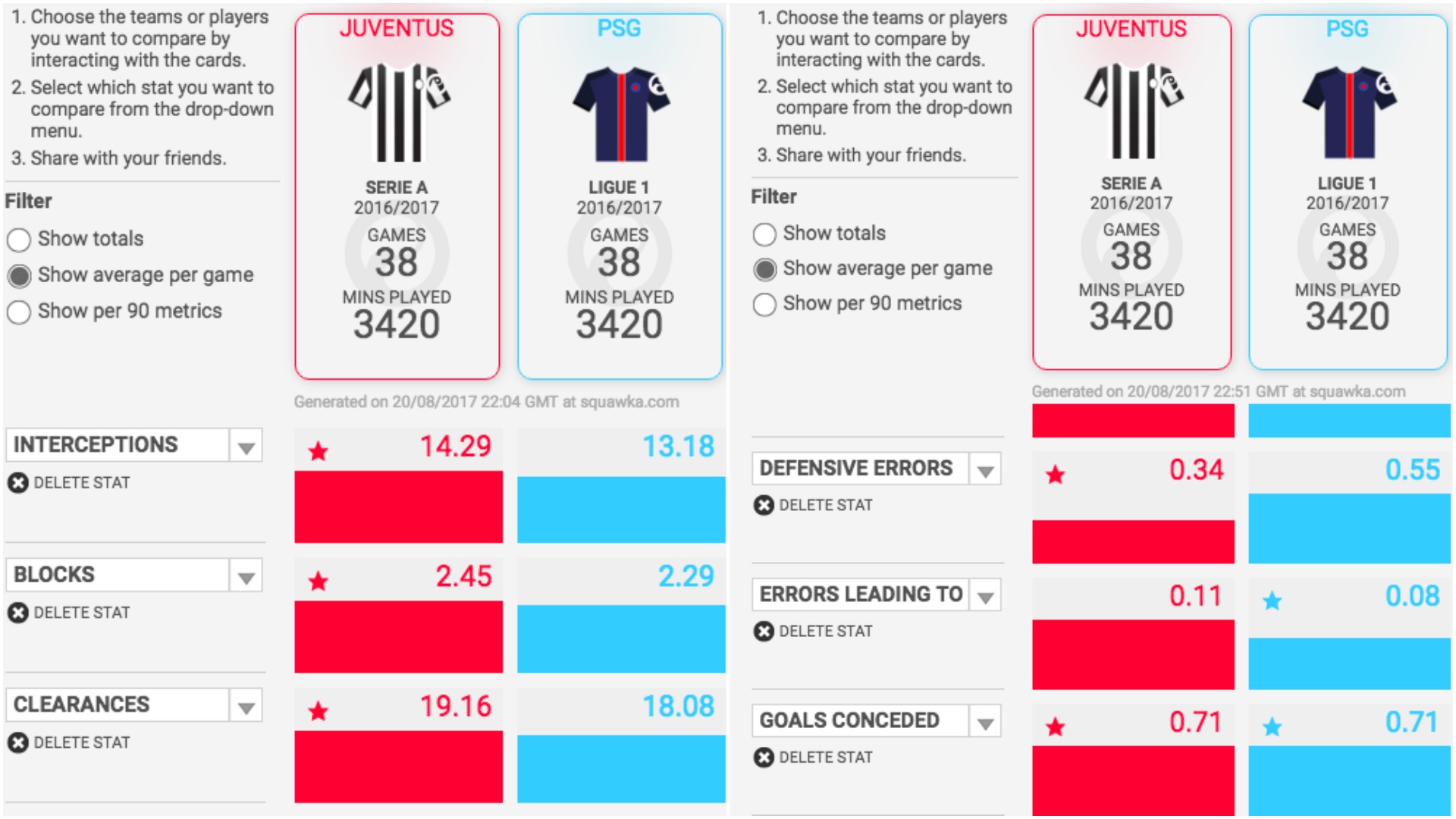 On the offensive side of the pitch, the numbers are a lot closer between PSG and Juventus. The Parisians displayed better-created chances, goals scored, shot accuracy, and attack score. Also, with the addition of Neymar and a full year with Julian Draxler, expect these numbers and other key offensive numbers to increase. Juve will rely on their newly crowned number 10 in Paulo Dybala to generate offense, however, PSG is set to become a well-oiled machine loaded with options when it comes to offensive firepower.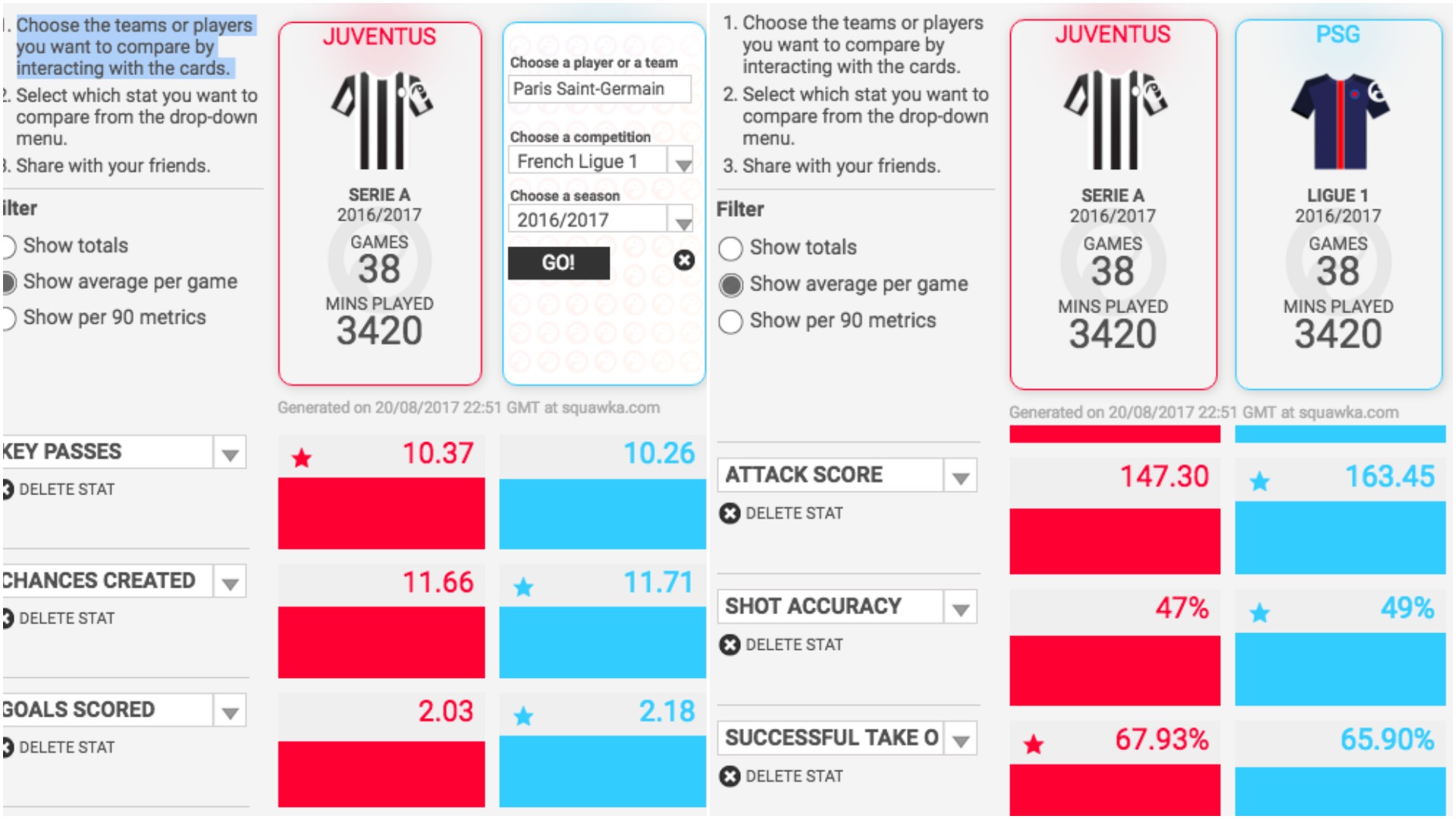 The draw for the Champions League group stage is set to take place on August 24 at 12 p.m. ET. With the competition less than a month away (first game is on September 12), I'll have a series of articles comparing PSG to other European favorites to see where they fit as the club begins their journey to NSC Olimpiyskiy Stadium in Kiev for the final in 2018.
All stats via Squawka.
Subscribe to our podcast (iTunes) (Google Play) (Stitcher) and follow us on Twitter @PSGTalk