This week, Paris Saint-Germain advanced past FC Bayern Munich despite losing the second leg 1-0. Nonetheless, the away goal tiebreaker allowed the capital club to head to the UEFA Champions League semi-finals. 
PSG needed to wait a day to find out who they'd face in the next round of the tournament. After an early scare which saw Borussia Dortmund score the first goal to tie the aggregate score 2-2. Manchester City FC took control of the match. 
Manchester City would score two straight goals, including an impressive strike from Phil Foden to punch the English club's ticket to the semi-finals. After advancing past the German club, Foden took to Twitter and would tag Paris Saint-Germain's Kylian Mbappé with a picture and the words "@KMbappe are you ready?"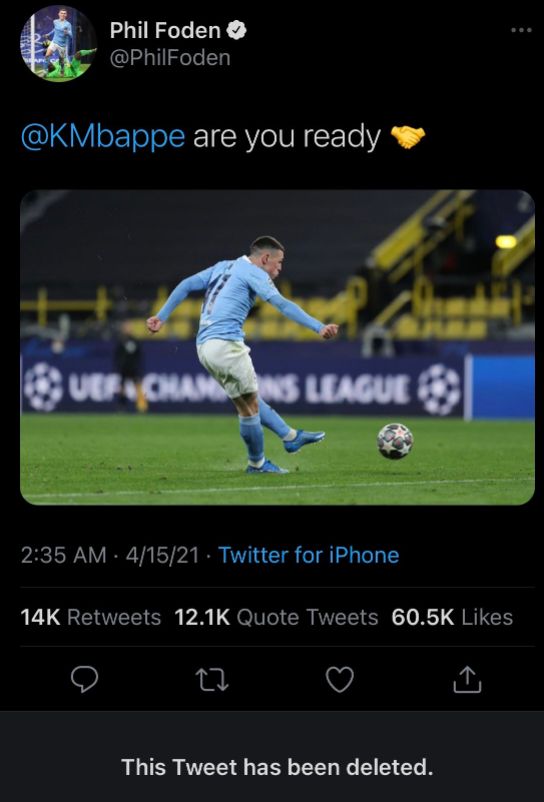 Now, if someone were to look for this tweet, it no longer exists. According to the Daily Mail, Foden has a company that manages his account; thus, the Manchester City midfielder's representatives weren't exactly happy with this Tweet. 
It appeared as though Foden was ready to taunting and ready to throw down with Mbappé. Despite deleting the tweet, it had gained enough attraction and engagement. PSG uses these types of messages in the media or social media to add fuel to their motivation. 
After Joshua Kimmich stated that Bayern Munich would advance and the Bavarian club had the better squad, Neymar Jr. used those comments to have the last laugh. 
Want more PSG? Visit the PSG Talk Podcast Network page and subscribe to PSG Talking, The 1970, and 24th & Parc.