Prior to the 2017-18 season, Paris Saint-Germain looked set to win every major title in France and the UEFA Champions League. Signing Kylian Mbappé, the hottest prospect in world football, along with Neymar Jr. created a fountain of hype that skyrocketed the club in popularity. As we all learned in the following months, those two signings did help elevate the club's international profile but did very little else.
Revenue from shirt sales increased, more sponsors were brought in, and a sense of flamboyance was added to the capital club of France. What this did was create a large mist that blinded everyone from seeing all of the other problems in the team sheet. No depth whatsoever in the midfield, the lack of a world-class goalkeeper, and no one really to properly replace Mbappé, Edinson Cavani, and Neymar in the case of suspension or injury. This, of course, came back to bite the club during the 2017-18 and 2018-19 seasons.
Look around at the team and the infrastructure now and the change in scenery is obvious. PSG president Nasser Al-Khelaifi ruled out any further superstar behavior insisting that he would no longer tolerate it. He also brought back a familiar face to instill a no-nonsense mentality and provide stability. Leonardo returned to Paris to serve as sporting director at the beginning of the summer to replace Antero Henrique. What Leonardo would go on to do throughout the summer was nothing short of sensational. He brought in multiple midfielders to compensate for the lack of depth, a three-time Champions League-winning goalkeeper, and one of the best-attacking talents in the world. Who would have thought that Neymar, Mbappé, Cavani, and Angel Di Maria wouldn't be good enough attack? Well, from 2017 to early 2019, that attack wasn't good enough. Neymar's injuries, Cavani's decline, and Di Maria's inconsistency ultimately led to Leonardo making the decision to bring Mauro Icardi into the squad on a season-long loan with an option to buy at the end of the season.
Do the recent signings of Idrissa Gueye, Ander Herrera, Pablo Sarabia, Icardi, and Keylor Navas automatically make PSG the favorites to win the Champions League? Of course not. There's more to winning the competition that a great squad on paper. That said, the signing of Navas finally solidifies the goalkeeper position for the first time in a long time and Gueye, Herrera, and Sarabia gives PSG a versatile midfielder that echoes back to 2014 when the likes of Blaise Matuidi, Javier Pastore, and Thiago Motta were still around.
What could the Paris Saint-Germain starting lineup look like when fully fit?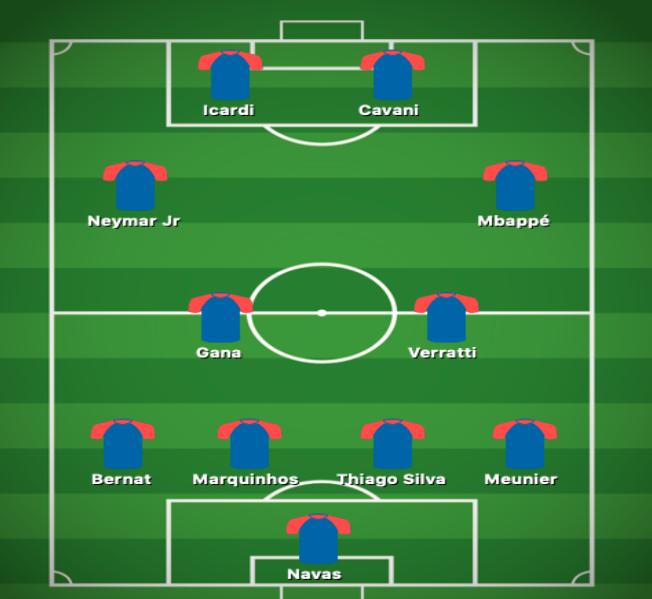 Expect plenty of rotation and fresh faces this upcoming season for Tuchel's new squad. With so many players at the German tactician's disposal, there are many variations he can play with depending on the opponent and the circumstances. With all of the permutations available, there is one that I think trumps all and if used properly, could prove to be quite effective.
A 4-2-2-2 formation, with both Cavani and Icardi on the field, is feasible if you have players like Neymar and Mbappé behind them. I would argue that the Uruguayan and Argentinian number 9's are pretty similar in playing style. Both are very good in the air with powerful headers in their DNA and they complement that with physical prowess, as well as efficiency in front of goal. Their main weakness, probably being their pace and dribbling skills, calls for having two players that have exactly that right behind them. Number 9's these days are like foxes in the box. They need to receive exceptional service inside the box in order to convert, and that's where football's most wanted players step in. Neymar and Mbappé are both identical in the sense that they can create a spark out of nowhere with their immense technical skill and speed. Luring defenders towards them when they have the ball at their feel leaves Cavani and Icardi just that much more free, which then allows the two strikers to run behind after receiving passes from the world's most expensive players behind them.
The positions that Neymar and Mbappé would be playing in are a mix of left-wing/right-win wide central attacking midfielders. The versatility both players manifest will allow them to flow freely in the attacking third and either feed their two teammates ahead of them or take it all the way to the end themselves as we know they can. If things aren't working out for Mbappé, he can always switch with Cavani as he frequently does anyways. Cavani is a player that doesn't mind opening up space for teammates in the middle and shifting out to the wings as he did back in the Zlatan Ibrahimovic-era.
Right behind the attacking four lie a duo of midfielders that can recuperate the ball majestically. New signing Gueye is almost like Marco Verratti in the sense that they are both relatively short, small in stature, and aggressive. What Verratti needed in the midfield was a player a bit more defensive than him that could also distribute the ball well, and he got just that with the Senegal international. These two will act like central defensive midfielders constantly recuperating balls and sending them forward to PSG's potent attack. If PSG is caught with a counter-attack, I believe that Gueye and Verratti can sniff that out and ensure that the play doesn't follow through. Both players bring a mix of mental strength, aggressiveness, ball control, tackling, and vision to the midfield.
The defense is pretty much identical to the one we saw last season except you could argue that Thomas Meunier will be rotating often with youngster Colin Dagba in the right-back slot and Navas will obviously be starting in goal. When healthy, this is the expected defensive lineup unless anything major happens that see any of the other defenders taking the spots of the current undisputed starters.
Players like Di Maria, Julian Draxler, Sarabia, Abdou Diallo, Herrera, Leandro Paredes, and Thilo Kehrer will all make for a stacked and dependable bench when Tuchel needs to make a change. Most of these players will likely be rotating with the first team from match to match, but this is my preferred lineup and the one that I feel will give Paris Saint-Germain to win as many trophies as possible this season.
Want more PSG? Visit the PSG Talk Podcast Network page and subscribe to PSG Talking, The 1970, and 24th & Parc.