Earlier this week, self-proclaimed "French football expert" Julien Laurens penned an article for ESPN FC titled, "PSG have an attitude problem and until it's fixed, they'll be kings of France but a laughingstock in Europe." The clickbait headline—likely the work of his PSG-hating editor—caught my attention and after struggling through a copious amount of hearsay and exaggeration, I thought it deserved a proper response.
"It wasn't supposed to happen this way," the article begins. How could you not read on after that ominous lede? The opening graph then makes a bold statement by saying PSG is "currently the laughingstock of European football." The article was published the same day FC Barcelona gave up a 3-0 lead to Liverpool FC—without Mohamed Salah and Roberto Firmino—in the UEFA Champions League, the second consecutive time they've been embarrassed in such a manner. People are definitely laughing but it's not at PSG. Talk about poor timing.
Laurens goes on to talk about the loss to Manchester United at the Parc des Princes and PSG conceding 14 goals in the month of April. There's no mention of key injuries within the squad and the fact that PSG clinched the Ligue 1 title before several of their losses is only added parenthetically at the end of the third graph. He then accuses PSG of spending wildly on players with no strategy or structure. "The club's organization is all over the place," Laurens proclaims.
Keep in mind that PSG, even with their shortcomings recently, is one of the biggest clubs in world football and currently have two of the best players on the planet in their squad. I'm sure Neymar Jr. and Kylian Mbappé saw the lack of structure and said, "yes, sign me up for some of that!" I'm sure Marco Verratti continues to sign contract extensions because he loves being part of a team with no strategy. Thankfully, Laurens provides a quote from a source with ties to the club that everyone can agree has no motive to say anything bad—Adrien Rabiot's mom! She described Nasser Al-Khelaifi as a "poison" because he gives certain players preferential treatment. Keep in mind that the Rabiot family strung PSG along in contract negotiations all season and now the club will lose him this summer without receiving a transfer fee. I can't imagine why Al-Khelaifi wouldn't like the young Frenchman…
Also eye-opening was the fact that apparently, PSG players arrive for meetings and training sessions whenever the hell they please. At least, that's what Laurens would have you believe because "sources have told ESPN" it's true.
Regardless, my feelings on the matter are exactly the same as former NBA guard Allen Iverson. "We talkin' about practice." If all PSG players had to do was show up to meetings and practice on time and the Champions League trophy would be as good as theirs, trust me, they would be at Camp des Loges 15 minutes early every day. Later in the article, Laurens reports that the players only arrived at the Parc des Princes two hours ahead of kickoff against Manchester United. "Huge mistake," Laurens writes. Two hours for players to put on a kit and boots wasn't enough and it caused a relaxed attitude that ultimately led to PSG's demise. If only they had arrived three hours earlier. We could all be making plans to travel to Madrid right now.
Laurens' description of the PSG locker room—"divided into cliques"—reminded me of that scene in "Mean Girls" where Janis explains the different groups in the cafeteria to Cady. I can see it now. Edinson Cavani pulls out a map of the locker room and shows Leandro Paredes where the South Americans sit and to stay away from the Italians.
We are to believe the locker room is divided like the United Nations because, as Laurens puts it, Neymar said something negative about some of the younger players after the Coupe de France loss to Stade Rennais. Moments after the final whistle, the 27-year-old, who had recently returned from a lengthy injury, lashed out after a difficult loss that went to penalty kicks. Instead of giving the Brazilian the benefit of the doubt, his comments were of course blown up and reported by journalists looking to fill their click quota for the month. Since Laurens was unable to obtain a photo of the divided locker room from his sources with intimate knowledge of the PSG locker room, we thought we would do his job for him: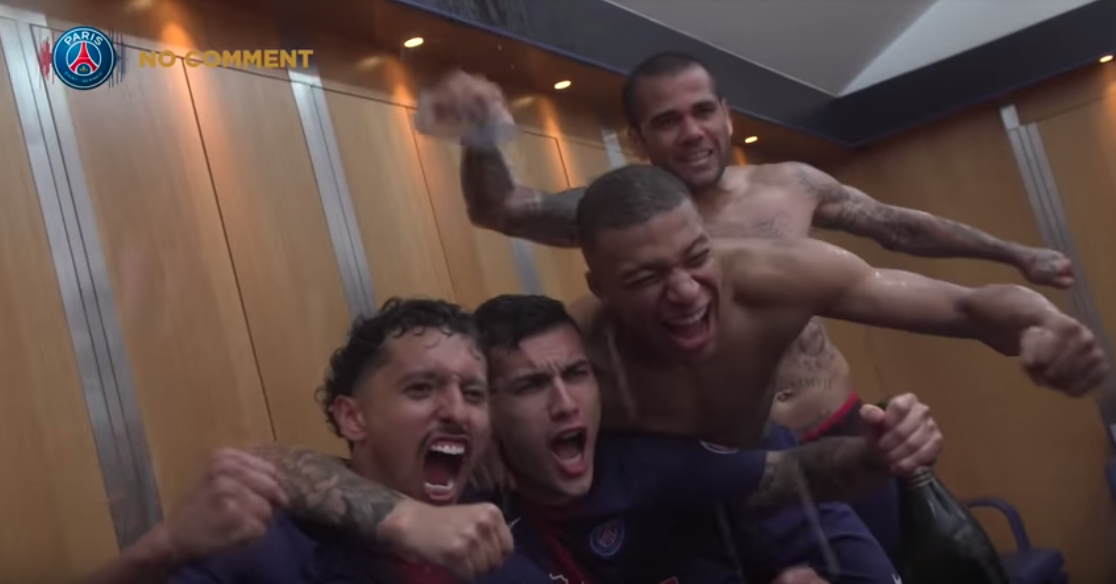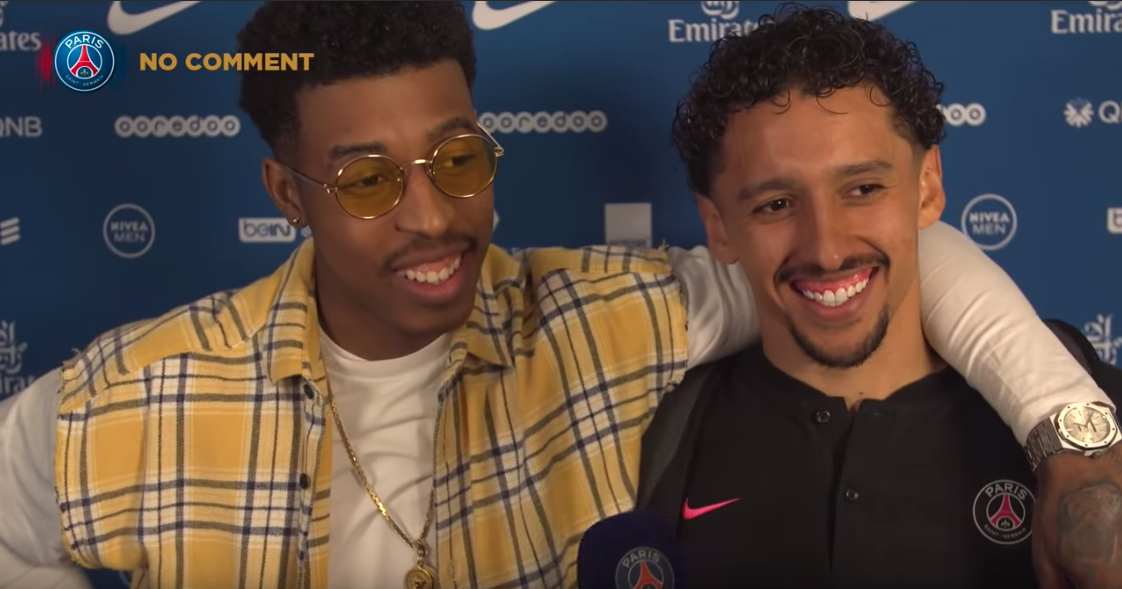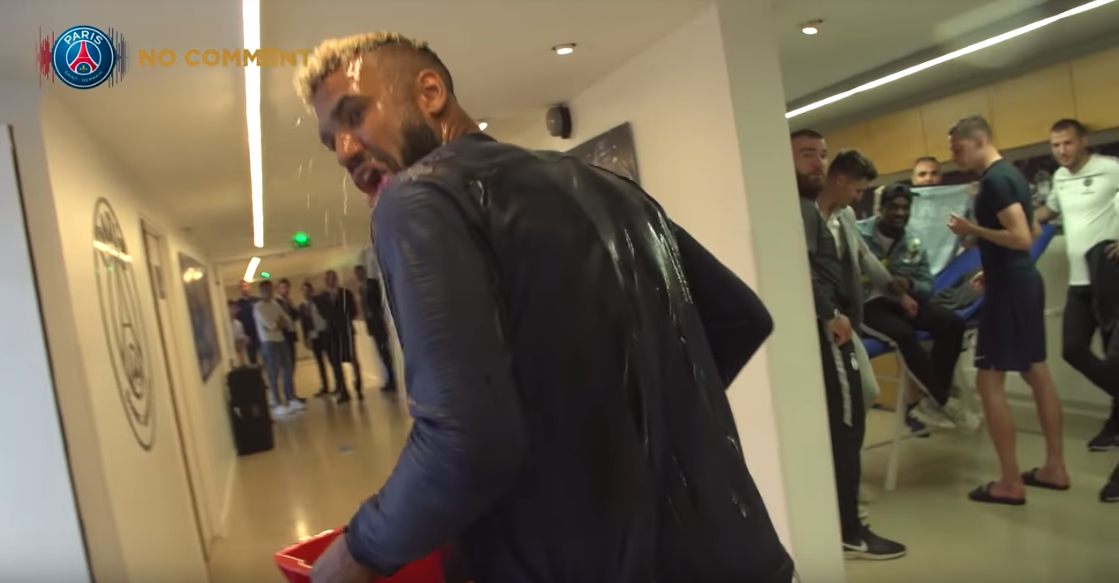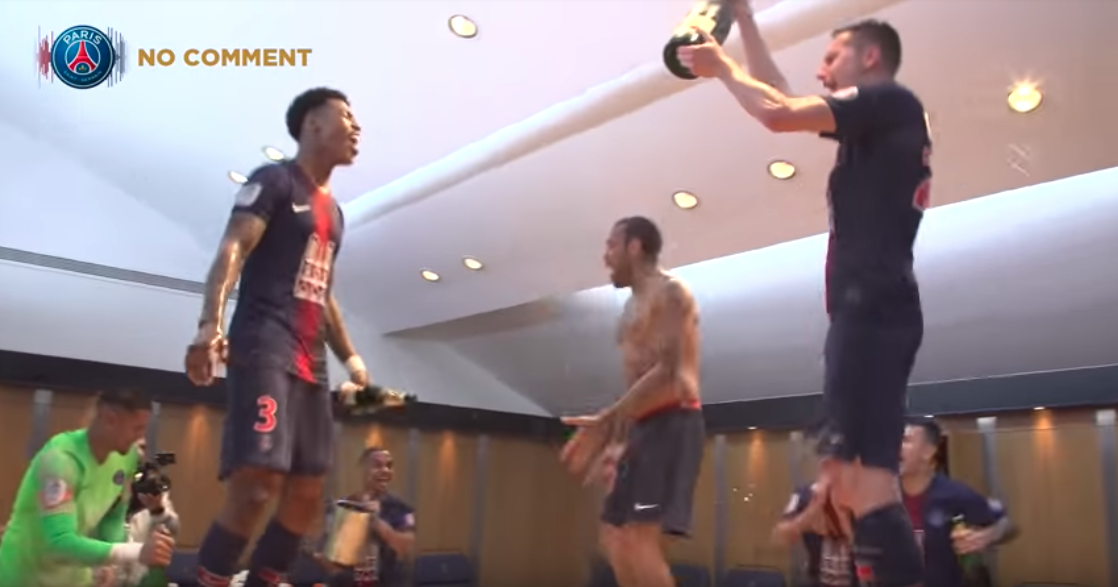 Presnel Kimpembe and Alphonse Areola were apparently the targets of Neymar's comments. The France internationals reportedly (there's that word again with no quote) annoyed their teammates all season with their attitudes. According to Laurens, Areola was late to a team meeting before the second leg of the Manchester United game and that is why he was benched in favor of Gianluigi Buffon. No link or quote to back up that claim, but OK.
Kimpembe has reportedly "lost focus." You can say he has been in poor form but how can you definitively say someone has lost focus unless you saw a contact lens fall out of their eye or they admit they've lost focus? The defender has been playing poorly recently but he's coming off a long FIFA World Cup with France last summer and he's only 23-years-old. Unless your name is Lionel Messi, you're going to have bad stretches where you don't perform at an elite level. His comments about the loss to Manchester United were 100 percent accurate, too. They did take that game lightly. If Thiago Silva is a "far-too-lenient captain," this was Kimpembe making the case to wear the captain's armband next season. The more accurate story to write would be about a changing of the guard at PSG and Kimpembe's push for the captaincy, not, kids popping off and old man Silva unable to contain his locker room. But, that would be too positive and no one would click that story.
As it always does, any article about PSG comes back to money. The tired excuse of blaming PSG for spending big on Mbappé and Neymar while not addressing other needs is brought up in this piece. Financial Fair Play investigations last summer, which actually restricted PSG's ability to sign players, was not addressed in this article. For the record, PSG was cleared of any wrongdoing when it comes to FFP and that was also not mentioned in the article. Regardless, I genuinely would like to know from Laurens if he would have advised PSG to not sign Mbappé and Neymar and instead focus on a "strategy" of mystery players that would magically win the Champions League. If players of Mbappé and Neymar's quality express interest in playing for your club, you sign them up and figure out the rest later. No questions asked.
I don't necessarily disagree with Laurens assessment of the relationship between Thomas Tuchel and Antero Henrique but there was one part I found comical. Henrique and Tuchel, according to Laurens, are reportedly not even talking anymore! So, if they get into an elevator together they just stare at the floor? What if they pass in the hallway? Do they do that awkward smirk that people do when they don't want to talk? Are they at least messaging on WhatsApp about the latest clique developments in the locker room? I need more "reporting" on this relationship. Hopefully next time a journalist can actually get a quote from someone on the record. I know, that's asking a lot.
Despite an impressive points total in Ligue 1 under a new manager and topping their Champions League group, PSG has been "a disaster with no real team spirit or unity," according to Laurens. If they only had more team spirit…More singalongs in the locker room = trophies?
The article goes on…Mbappé is essentially an unhinged maniac because he received two red cards in the league this season and is on the decline after missing some scoring opportunities (he has 30 league goals and recorded four goals and five assists in eight Champions League matches). Neymar is a spoiled brat because the club didn't punish him for knocking some sense into a fan in the stands who chose to abuse the players after the loss to Rennes in the Coupe de France.
The crux of the piece is that PSG has taken too many things for granted over the past few seasons. Laurens points out that PSG has everything needed to compete in Europe except discipline and consistency. The "catastrophic" end to the season needs to be the catalyst for change and a "strategy of accountability finally put in place." So, PSG either needs to hire a high-ranking official in the French military or my 4th-grade teacher as manager. Problem solved.
All joking aside, the problem isn't what Laurens purposes at all. Players arriving late to practice—if I'm to believe that is something that happens on a regular basis—has little impact on how the team performs in the Champions League. This issue, as I see it, is this. PSG have a light squad because they were unfairly targeted by UEFA last summer. With those investigations over and new sponsorship deals in place, we will see a massive overhaul this summer. Tuchel will get his players because PSG owners wanted him. Henrique's time at PSG may be coming to an end so I would tend to believe Tuchel's opinion (or that of a new sporting director) will carry more weight when it comes to transfers. Bolster the squad this summer, remain healthy for the majority of the season, and get a little bit of luck, and PSG can compete with anyone in Europe.
All of this other noise about PSG that you see reported is just that. Noise. I said this on Twitter and it's important to repeat. We as football fans should demand more from media outlets and journalists. It shouldn't be acceptable for journalists to rely on the word "reportedly" and anonymous sources without supporting facts when publishing an article. As a reader, if we don't know the source, we can't determine their motive for leaking information. For example, how do we know Rabiot isn't leaking all of this to make PSG look bad? How do we know Hatem Ben Arfa isn't paying someone at the club to make stuff up to make Al-Khelaifi look bad? If you ask these questions to any journalists on Twitter watch how they first get defensive and then eventually stop replying because they have no answer to your question other than you just have to believe/trust them. I'm not willing to put all my faith in a journalist who, due to the nature of their business now, is incentivized for speed more than accuracy and drama more than facts.
In general, Laurens is a decent journalist and often times is the voice of reason on ESPN FC when Craig Burley is spewing his nonsense. However, I get the impression that he longs for the days when PSG was mired in mediocrity (pre Qatar Sports Investments) with flashes of triumph occasionally. He wouldn't be alone in this desire especially after this season. Some would like to see QSI leave the club and return it how it once was, but that would be seen more as a failure of Qatar than losing in the knockout stage of the Champions League so don't count on it. For someone who is suppose to be a PSG fan, I'm surprised Laurens used words like laughingstock, catastrophic, humiliation, and disaster to describe his club. Actually, I would use those same words to describe an article that makes accusations without presenting concrete facts.
Subscribe to our podcast (iTunes) (Google Play) (Stitcher) (Spotify) and follow us on Twitter @PSGTalk