When Mauro Icardi arrived in Paris three years ago, he did so to much fanfare. Paris Saint-Germain was bagging themselves Inter Milan's captain and a man who had scored 124 goals in 219 appearances across his six years at the San Siro. Admittedly, there had been plenty of drama also in that time frame – usually surrounding Icardi's controversial wife, Wanda Nara – but there was one thing that was definitely coming to the French capital: goals. Or so we thought.
The former Sampdoria man was initially brought in to provide cover for the aging Edinson Cavani, who – despite smashing in 23 goals the season before – was now 32 years of age. El Matador was beginning slow down, so manager Thomas Tuchel decided to add to his already star-studded forward line, which was spearheaded by Neymar and Kylian Mbappe, with Angel Di Maria pulling the strings in behind. OddsChecker, which compares odds and provides free offers on European football, had made the Parisians favorites to sweep all before them that season – just as they have this season – and they didn't disappoint.
An Impressive Start
Icardi's final season in Milan was one of turmoil. The Argentina international could only manage nine goals throughout the first six months of Inter's campaign. Then to make matters worse, his wife went on national TV criticizing the club's owners, management, and players. As a result, Icardi was stripped of the captaincy and dropped from the first team. He returned 53 days later, but the writing was on the wall. Then, when famed disciplinarian Antonio Conte took over the reins as manager, there was no way back. The former Juventus boss immediately brought in Romelu Lukaku and gave him Icardi's iconic number nine shirt. From there, there was only going to be one-way things ended – with their former captain leaving the club.
He would go on to find sanctuary in Paris, initially on a season-long loan with a €70m option to buy, and during his first season at the Parc des Princes, it looked as though the sky was truly the limit. He bagged 20 goals in 34 appearances, a tally only bettered by Mbappe. He outscored Cavani by 13 goals and featured much more than him, becoming the first-choice striker at the club. His side won a domestic quadruple and also defeated Borussia Dortmund, Atalanta, and RB Leipzig en route to the Champions League final. That was a step too far, with Bayern Munich running out the eventual winners in Lisbon. But it was clear that this PSG side was a force to be reckoned with.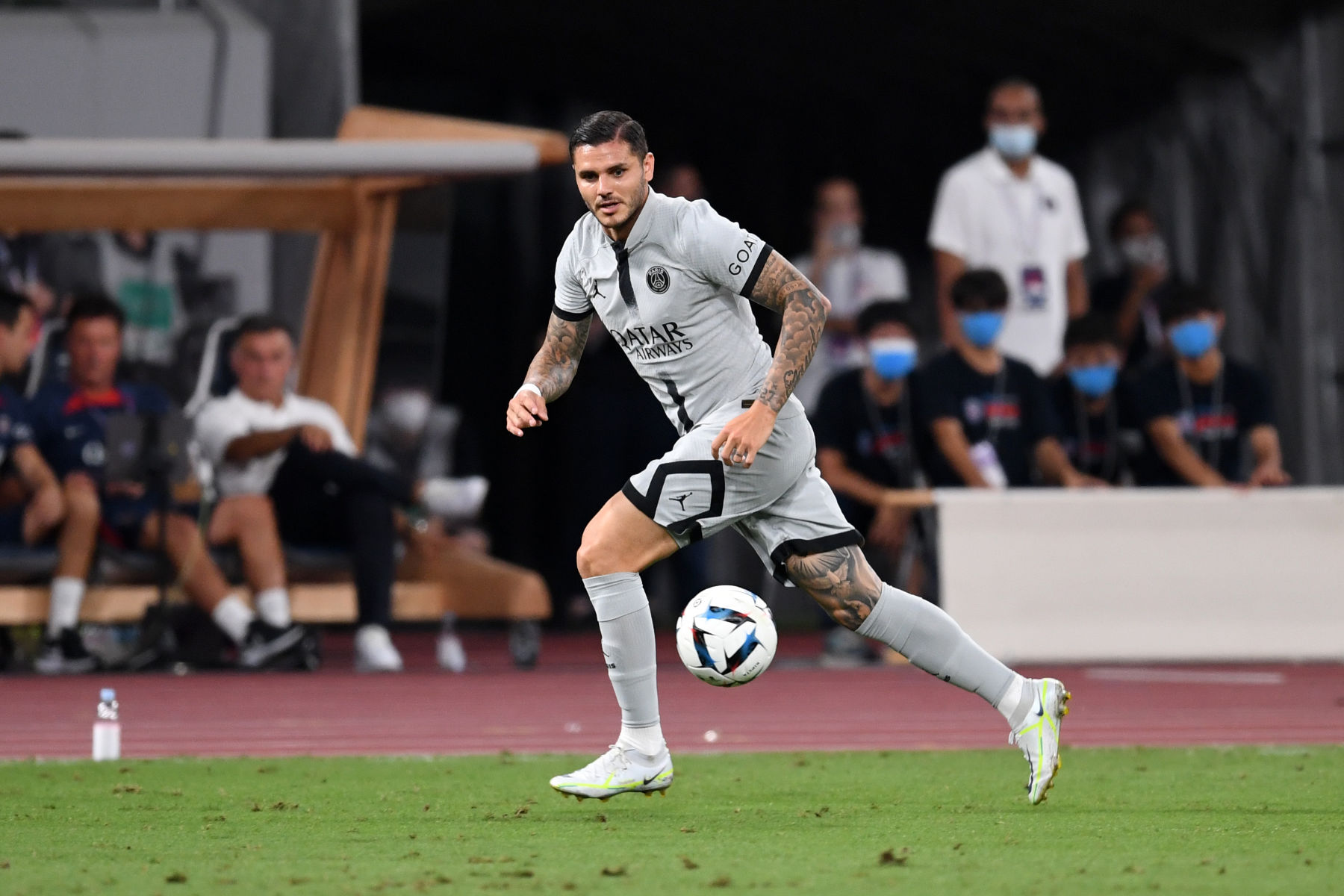 All Downhill From There
After that sensational first campaign, the natural decision for the newly crowned French champions was to make Icardi's loan transfer permanent, and that's exactly what they did. The fee was a reported €50m – some €20m less than the one agreed in the initial loan deal – but it would be the beginning of a downward spiral for the club's newest permanent acquisition.
Injuries would limit Icardi to just five appearances in the first half of the 2020/21 season. He would return in the new year with a goal and an assist against Brest but more injury problems were to come in March that year. To make matters worse, his side was pipped to the French crown by Lille and lost to Manchester City in the Champions League semifinals.
Then last season, Icardi's performances would drop off a cliff. The addition of Lionel Messi pushed the former Inter man further down the pecking order. Despite scoring two goals in his first three games of the season, he couldn't hold down his spot in the starting eleven and by April, he had been dropped from the first team altogether. He'd finish the season with just five goals to his name, and that was the beginning of the end.
On September 8th, it was announced that Icardi would be joining Turkish giants Galatasaray. During his three years in Paris he managed 38 goals in 92 games, but whether he can rediscover that wonderful form he displayed during his first season at the club is most definitely up for debate. His new employers will be praying that he can.