It's been over a year since Lionel Messi departed FC Barcelona with a tearful press conference. Now 12 months later, information is surfacing providing more details on what resulted in the exit from the Camp Nou. 
ESPN dives into a lengthy explanation that led to Messi's departure and the impact since then; this article will first cover what occurred to allow the 35-year-old to leave, with multiple sources close to the situation revealing what went on behind the scenes.
The source told ESPN that the warning signs were evident when Barcelona was in Salzburg for their friendly against RB Salzburg in early August.
"The warning signs were there in Salzburg," one club executive explained to ESPN. "That was when it became clear things were complicated.
"As the hours passed, everything went pear-shaped until the point that the vice-president, Rafa Yuste, and Laporta had a series of calls with Jorge, Messi's dad and agent."
"Those conversations were intense — the tone of them didn't go down well with anyone. When the expedition returned to Barcelona from Salzburg, it was all over. At around 6 p.m. through a statement from the club on Aug. 5, the chapter closed on the greatest player in Barca's history."
As many know, Messi had already agreed to a new deal with the Catalan club while taking a 50 percent pay cut to remain with the Spanish side. On Aug. 5, Jorge Messi flew into Barcelona from Argentina to complete the deal. However, that would not happen.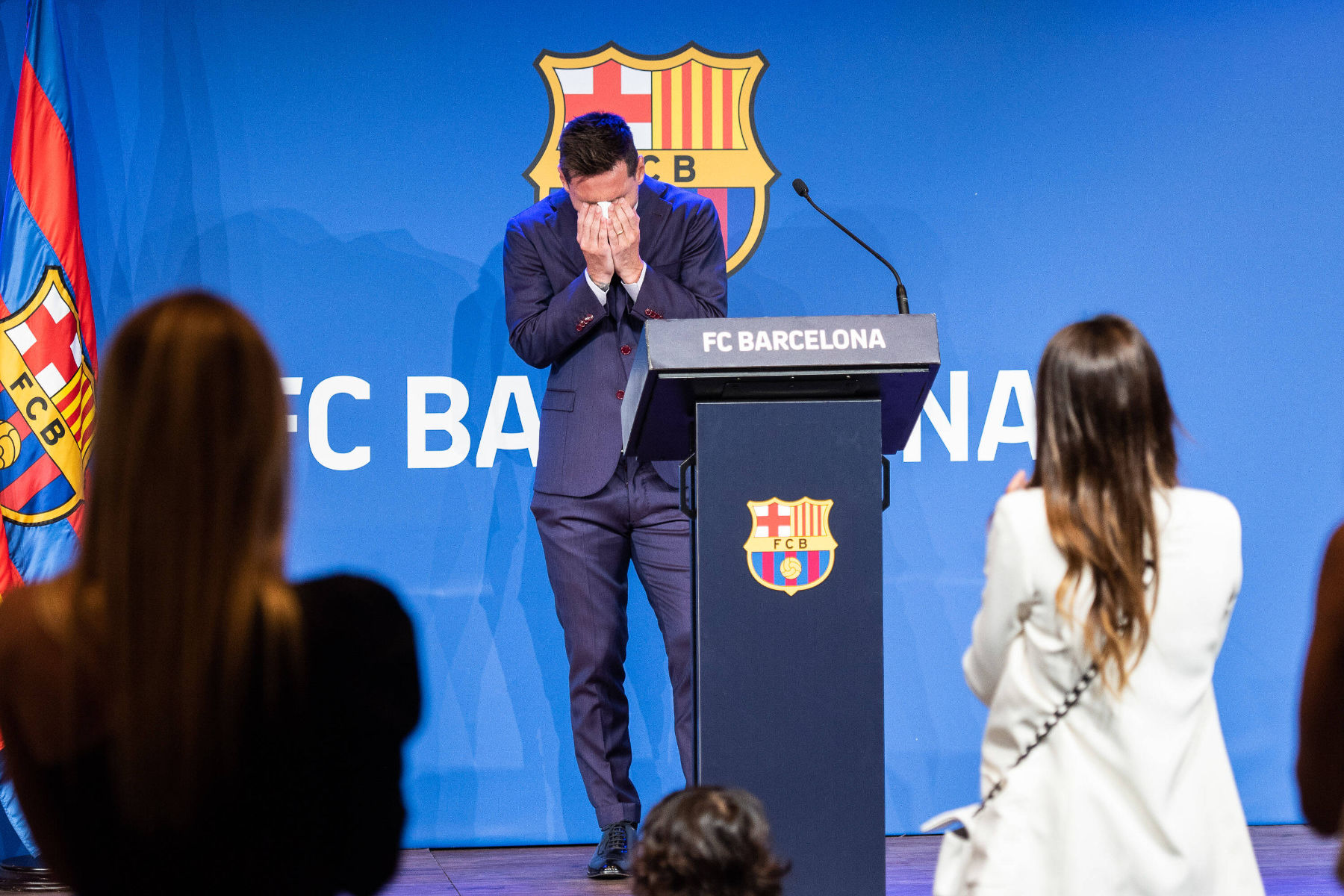 "Jorge had a meeting early in the afternoon with Laporta and a notary from Barcelona to go over the two-year contract and sign the documents," a source involved in the negotiations detailed.
"Talks had been long, but with the election of Laporta in March, everything seemed fine. But when Jorge landed, he received a call from Laporta: 'Jorge, don't go to the notary, the club's situation is not the best and we're not going to be able to sign the agreement, I am so sorry.' Then Jorge phoned his son to relay the news to him."
ESPN adds that Messi and his teammates were stunned by the development that the Argentine wouldn't be able to stay with the La Liga club. 
Furthermore, the report also states that Barcelona president Joan Laporta and those closest to him had recognized much earlier that it would be challenging financially to renew Messi's contract.
"Messi was certain he was staying," a dressing room source said. "He had spoken with people about getting back to work after signing the contract. That never happened. The president didn't live up to his word."
"He promised Messi would be able to sign, but it fell through. The summer before, with the Burofax [transfer request], Messi was convinced he wanted to leave. His mind was made up. He stayed when he wanted to go and he left when he wanted to stay."