Lionel Messi is human after all. You could tell because, at his impromptu farewell press conference, he broke down in tears the second he took the stage. Leaving a place one dedicated their professional life to will do that to a man. It was clear the moment washed over the Argentinian in what must have felt like the high tide at a low-lying beach. Even the English translator on the YouTube webcast could hardly keep it together. But through the tears and emotion, Messi delivered a message of somber gratitude for the years he had at the only major club he's ever called home. It was downright poignant and professional from a man who certainly exemplifies the latter. He chose to warmly embrace the good moments (his trophy hall flanking him to his right) while glossing over the bad ones.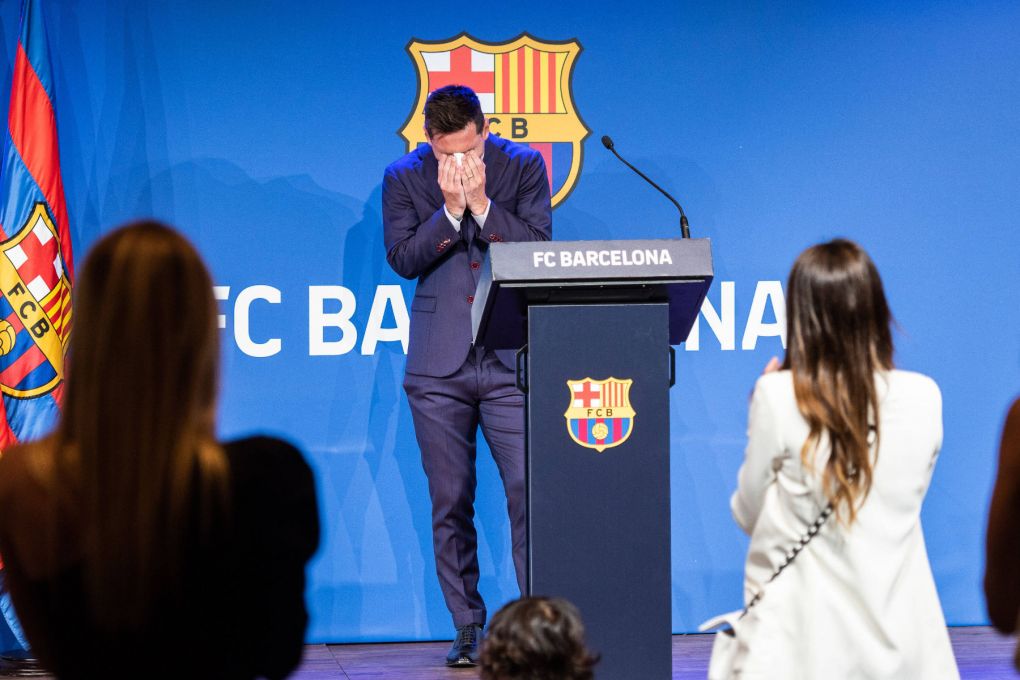 Let's talk about those bad moments for a minute. They made the greatest soccer player of the modern era look less like Superman and more like Clark Kent. No UEFA Champions League titles or finals appearances since 2015, and until this July, consistent failures in international competitions. Last month, even his Copa America win was more of a lifetime achievement award than a stunning sporting accomplishment. And while it's clear most of these pratfalls weren't directly Messi's fault, as the face of FC Barcelona, the failures against AS Roma, Liverpool FC, and most recently, Paris Saint-Germain, are chalked up on the bad side of Messi's ledger.
These albatrosses around an otherwise brilliant legacy to a certain extent are unfair, but heavy lies the head that wears the crown. At 34, his best years are now behind him. The player that sprinted and dribbled around entire teams is no more. He can still score, he can still assist, he can still dazzle here and then, but the pure electricity of a young boy with his whole sporting life ahead of him is now an older, wiser man. Some would say craftier, others would say more selective of when he turns on the greatness. His numbers at Barca were still fantastic the last few years, but the burden of carrying subpar Barcelona squads with overpriced divas and unrealized potential aged the man. His successor, the man who was to help Messi transition to the next stage of his career, took a job somewhere else. And with him, taking the last chance Messi had for a graceful transition into the sunset.
This is all to say that with Messi forced to choose a new path for the twilight of his European career, he decided to make the only real logical decision. Once again uniting with his good friend Neymar Jr., his Argentinian friends Leandro Paredes and Angel Di Maria, and arguably the heir apparent to the best in the world crown, Kylian Mbappé to form arguably the best team the world has ever seen. This decision works for two reasons. Firstly, it allows for the quickest and least painful transition for a player who has only know one team and one culture his entire life. Being with close friends and countrymen is a great way to land on your feet and hit the ground running. Secondly, it allows Messi to make the sporting transition he has been dying to make for nearly a half-decade but was never able to make it at his "home club".
This is where you must put the last five or so years in context. At Barcelona, Messi was never going to be able to pass the torch to a younger successor. Neymar knew this and it's one of the reasons he had to leave back in 2017. There was never any animosity between the close friends but for Neymar, he had great ambitions. Neymar and everyone else around him knew that, so he needed to take the chance and realize his potential as a solo act. While injuries have hampered that goal to a great extent, Neymar has been an exceptional PSG player who has turned the club from a laughingstock in Europe to a real year-to-year contender for the Champions League. Neymar and Mbappé's hard work helped make that happen. Only the icing on the cake remains, the validation in the form of a big-eared trophy.
Meanwhile, without the young star to pass the torch to, Messi struggled to keep a floundering Barcelona side afloat. Through horrendous transfer business, criminal mismanagement, and hubris, Barcelona dug itself into a hole in which a once-in-a-lifetime pandemic proceeded to bury them in. Messi was brilliant, but clearly wilting from the level of immense pressure he was under. Barcelona became his burden, more than his pleasure. This is partly why he tried to leave in the summer of 2020. While new management and the Argentinian's immense sense of duty and honor mended the cracking bridges, the ghosts of Barcelona's recent past came round and toppled the bridge to the point of no return.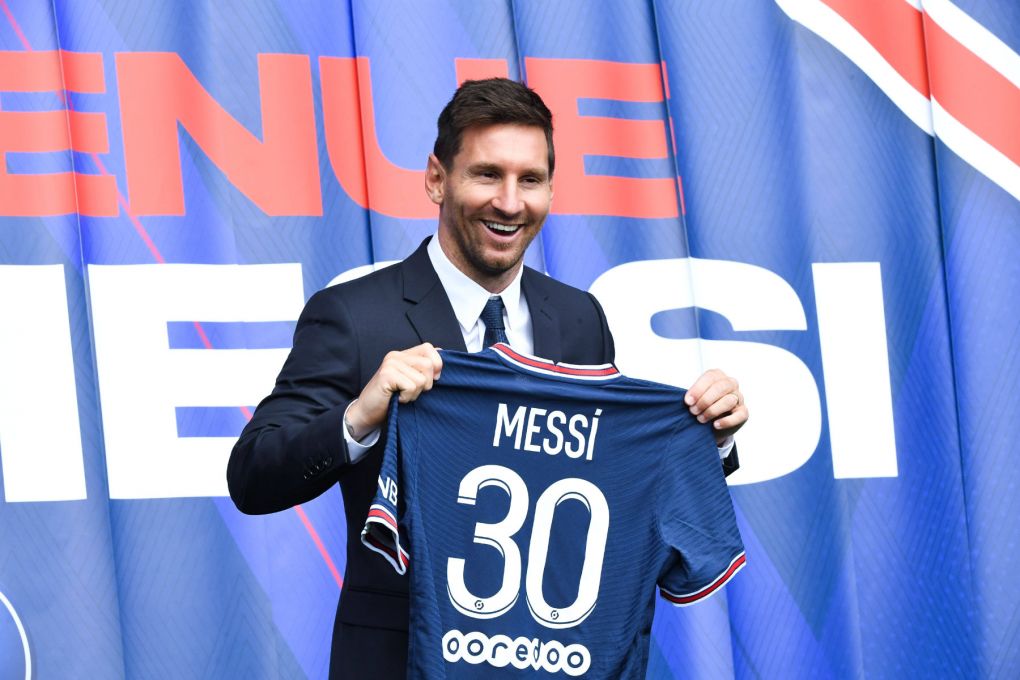 So, that leaves us here. It leaves us at the unthinkable. Messi is a Paris Saint-Germain player. A 10-year Qatar Sports Investment dream was realized in the blink of an eye. PSG found the holy grail, and they weren't even seriously looking for it. Messi, Mbappé, and Neymar, oh my! Messi is Parisian! If only for a short time, he will dazzle the Parc des Princes, and bring Ligue 1 out of a potential dark age into its potential enlightenment. This is all amazing stuff if you think about it. But once the fanfare is over, once the Eiffel Tower ceremony is through, PSG will have to play football. With expectations sky-high, higher than they even normally are. Will Messi be the piece to finally put PSG over the top? The answer is probably yes, but not in the way you may expect.
Even with the "GOAT" on the right wing, PSG are still a project built around Neymar and Mbappé. Even new signing Achraf Hakimi is a more important long-term foundational piece than Messi. But what does that really mean? Messi will clearly not be an afterthought, that would be a dumb thing for me to write. But at 34, he can finally make that transition from being the be all end all, to the shepherd of the next generation. At Barcelona, Messi was and still is a footballing God. At PSG, he will be a major contributor to an ensemble cast of all-world talent. He won't have to play every match (nor should he) and he won't have to be brilliant every night (he won't be). Messi will need to be what the wildly inconsistent Di Maria is at his peak powers, a game-changing winger with the ability to take over a match, but about 50 percent better than that and way more consistent.
Neymar will still take most of the dribbles, although the two close friends will take turns torturing defenses. Mbappé will score most of the goals. It will be Messi's job to help unlock those two by drawing attention and bodies away from them. In recent years, PSG's offense has been bogged down when teams are able to throw defenders in waves at PSG's top stars, not allowing them to generate attacks and penetrate the 18-yard box. With Messi around, that strategy will be much less successful. And being the critical but not central key that helps unlock the nearly unlimited potential of PSG's offense will be a role that Messi will embrace.
And I would be remised if I didn't mention the boatloads of cash PSG are about to make on merchandise, jerseys, re-negotiating sponsorship deals, signing new sponsorship deals, and single-handedly saving Ligue 1's TV rights, among other things. The possibility of Neymar, Messi, and Mbappe (don't think this doesn't change the calculus on his big decision) all being PSG players at the 2022 FIFA World Cup in Qatar is the kind of marketing coup that only the most ambitious savant could have cooked up. Even without the Champions League trophy to solidify it, PSG has won football. They are the undisputed top dog of European football.
This must come as such a shock to the fans who nearly watched Paris get relegated in the team's nadir. But here we are, here we all are. The masterpiece has been painted, and the ambitions of the Qatari ownership, Nasser Al-Khelaifi, and Leonardo have been fully realized. An enigmatic Brazilian, a confident Frenchman, and a mild-mannered Argentinian will walk onto a pitch together, unlike anything we've ever seen before, or probably ever will again. Three human beings on the precipice of something hardly imaginable, humanity reaching as close to sporting divinity as it possibly can. L'Equipe de Reve, only it's real.