After Moise Kean left Paris Saint-Germain's 3-0 win over FC Nantes due to fatigue, according to capital club manager Thomas Tuchel, the German decided to bring in Kays Ruiz-Atil. 
The 18-year-old played 45 minutes in place of Kean with 43 touches and did factor in the passing game for Les Parisiens. Ruiz-Atil completed 33 of 35 passes for an accuracy percentage of 94, along with going four for four on his long-ball passing. 
One example in which Ruiz-Atil makes the right decision with the ball is on the Ander Herrera goal. The teenager receives the ball then shakes off the defender and passes it between two Nantes players to Kylian Mbappé, who helps set up the Herrera goal.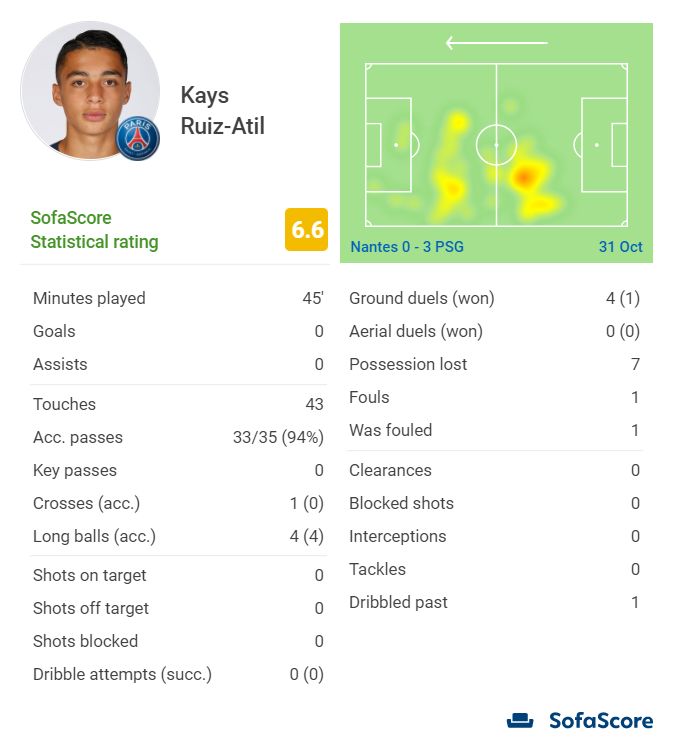 Although there are some positive aspects to Ruiz-Atil performance against Nantes, he did struggle in the ground duels part of the match as he only won one of four duels on the ground. 
Ruiz-Atil spoke with PSG's website to discuss the victory over Les Canaris. 
"Everything went well. I made a very good entry. Afterward, we were able to kill the match with Pablo's second goal, which did us a lot of good. It gives me confidence. After that, you have to keep working, always staying on the right track. It is a source of pride. But you have to work more to try to play."
Want more PSG? Visit the PSG Talk Podcast Network page and subscribe to PSG Talking, The 1970, and 24th & Parc.