Lionel Messi's dissatisfaction with FC Barcelona president Josep Bartomeu and the club's board has been apparent over the past month. He took yet another shot at the board and this time around, a former teammate of his joined in on the criticism as well.
Messi posted a message via his official Instagram account biding a farewell to now-former long-time teammate Luis Suarez. The Uruguayan recently signed with La Liga side Atletico Madrid after spending six years with the Catalan club. Messi bid his goodbyes to Suarez but also showed his displeasure with Bartomeu and the club's board by posting "You [Suarez] deserved to leave for what you are: one of the most important players in the club's history, achieving important things both as a group and individually. And not to get kicked out like they did. But the truth is that at this point nothing surprises me."
Neymar agreed with Messi as he commented "It's amazing how they do things."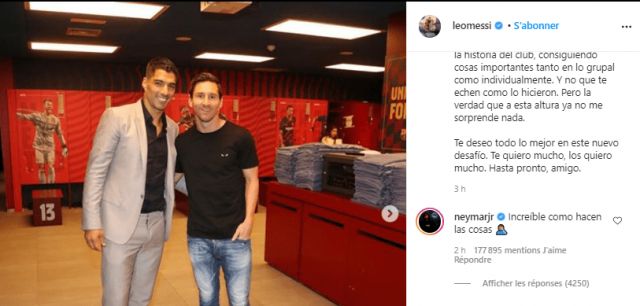 Neymar has a long history with Barca's board. From his drama-filled departure to Paris Saint-Germain to a multitude of lawsuits over owed money, the two sides have just not been on good terms for years now. To also see Neymar come to Messi's aid in criticizing Barca's board is far from a surprise considering that the two have still had a good relationship over the years. Neymar also had a strong bond with Suarez during their time as teammates at the Catalan club.
Want more PSG? Visit the PSG Talk Podcast Network page and subscribe to PSG Talking, The 1970, and 24th & Parc.