Paris Saint-Germain is hoping to keep both of its crown jewels to their youth academy. Tanguy Kouassi recently made it know that he'd like to remain in Paris and sign a professional contract with the capital club.
This news is welcoming as Les Parisiens are hoping this will influence their other youth product Adil Aouchiche. Furthermore, if Kouassi isn't enough to help persuade the 17-year-old to remain with PSG, they can use star forward Kylian Mbappé to assist in the recruiting process.
On Instagram, Aouchiche posted an innocent picture displaying some new shoes. It's something that most wouldn't have made much of, however, in the comments, Mbappé decided to give his two cents on what midfielder should do with his future.
"Sign your contract!" I offer you more sneakers," Mbappé said. Aouchiche would respond in a joking manner by saying, "I don't trust you anymore." You owe me too much already."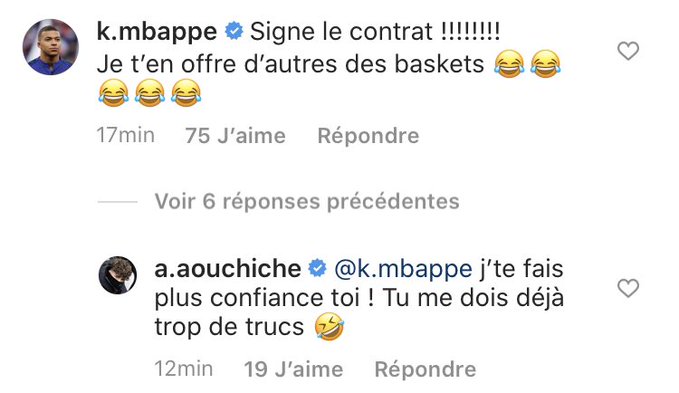 With Aouchiche drawing the attention of several French clubs, most notably AS Saint-Étienne, PSG is hoping that their superstar players can help keep some of their youth academy graduates from leaving.
Want more PSG? Visit the PSG Talk Podcast Network page and subscribe to PSG Talking, The 1970, and 24th & Parc.