Fans of the Bundesliga hate when any one person with a lot of money owns one of their clubs but at this point, I think Neymar Jr. owns Borussia Dortmund.
After mocking Erling Haaland during and after Paris Saint-Germain's 2-0 win over Dortmund last month in the UEFA Champions League, Neymar is back to trolling the Germans once again.
On Instagram, 433 posted a photo of the "Call of Duty: Warzone" map with different locations identified by European football club badges. The caption simply read, "Where's your squad dropping!?"
Jozy Altidore and even the official AS Roma account responded to 433 but it was Neymar's comment that was probably the most controversial: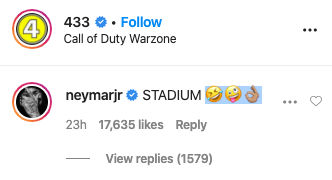 As you can see from the Instagram photo posted by 433, "Stadium" is identified by the Dortmund logo.
On March 11, Neymar's squad did land at the Parc des Princes and they completely dominated Dortmund from the opening whistle to advance to the quarter-finals of the tournament for the first time since 2016 and they couldn't have done it without the Brazilian who scored two goals across the tie.
Want more PSG? Visit the PSG Talk Podcast Network page and subscribe to PSG Talking, The 1970, and 24th & Parc.