Written by Thibaut Brossard for Culture PSG (reposted with permission) and translated by Ofthedoor.
Even if Paris Saint-Germain as a team has not made the "battle of the duels" its leitmotif and sometimes wins games without winning the majority of duels, it is still interesting to look at individual performances in this area. Which players in manager Thomas Tuchel's squad play and, more importantly, win the most duels? Neymar Jr., of course. But an analysis based on Ligue 1 matches also offers some nice surprises in terms of one-on-ones.
Neymar Plays and Wins Most Duels at PSG
Over 90 minutes, the Brazilian plays an average of 20.8 duels and wins 11.3, well ahead of Idrissa Gueye (14.1) and Layvin Kurzawa (13.5) in terms of duels played.
It is not too surprising to find the Parisian number 10 at the top of this ranking since he spends his time provoking his opponents by dribbling (10.1 every 90 minutes, Ligue 1). The Senegalese's second place is also eagerly awaited as, in a completely different register, defensively this time, he also harasses his opponents (3.5 successful tackles per match, 1st from PSG).
On the other hand, Kurzawa's 3rd place is surprising, to say the least, and can perhaps be explained, as for Juan Bernat's 5th place with 12.7 duels contested, by the propensity of the opposing teams to target the Parisian left side to attack. On the one hand, because the left-back is regularly abandoned by Neymar in this corridor, and on the other hand because resistance to defensive duels is not Kurzawa's or Bernat's primary quality. This targeting seems justified, as Kurzawa has one of the lowest success rates in duels in the Parisian squad (42.6 percent).
The graph below shows in abscissa the success rate in duels and an inordinate number of duels played every 90 minutes. The players are shown in a different color depending on the position in which they are playing (red for forwards, blue for midfielders, yellow for full-backs, and white for center-backs). A small exception for Marquinhos: in the graph, it is his overall stats that are presented, the distinction between his duels as a midfielder and a defender will be made in a future article.
He has atypical stats compared to the other attacking players in the team. His number of duels is far greater than the others: he has almost twice as many duels as any other "striker" in the squad. Kylian Mbappé and Angel Di Maria are 11 duels and 90 minutes apart. Pablo Sarabia, who plays more or less the same position as Neymar, or at least in the same zones, has three times fewer duels (6.8 vs. 20.8)!
But the Brazilian's success rate is also impressive. At nearly 55 percent, he is above the team average and, more importantly, above all his team-mates in PSG's attack. Eric Maxim Choupo-Moting is close behind him (53.7 percent) but Di Maria and Co. are much further behind, all between 34 percent (Sarabia) and 47 percent (Mbappé). This is due in particular to their incredible success in dribbling (61 percent), which makes PSG the team that dribbles the most in Europe and in the history of Ligue 1.
In spite of a state of form not always optimal, whether at the beginning of the season or on the contrary at the "end of the season", he never hid. Of the 15 Ligue 1 matches he played, he had only one with less than 10 duels played (at Olympique Lyonnais in September)! The average per match of the number of duels played by Mbappé is 9…
He alone accounts for more matches with at least 20 duels played (7) than PSG's entire Ligue 1 squad (1 each for Bernat, Di Maria, Marco Verratti, and Gueye). He even went as high as 30 in his last match against Girondins de Bordeaux (15 wins), a record for a PSG player this season.
And, as we've seen, he doesn't just provoke a lot, he wins the majority of his duels. Proof of this is that there are no less than 9 Ligue 1 matches (out of 15 played) with more than 10 duels won. That's almost as many as the rest of the Parisian squad. His record? 19 duels won against Montpellier HSC on February 1, (5-0 win), where he took malicious pleasure in humiliating an opponent who had made the mistake of warming him up in the press before the match. In short, not only does Neymar provoke a lot of duels but he does it successfully.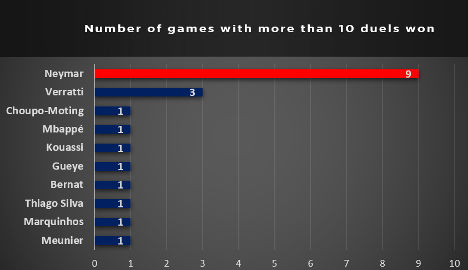 Want more PSG? Visit the PSG Talk Podcast Network page and subscribe to PSG Talking, The 1970, and 24th & Parc.