Those who are new to supporting Paris Saint-Germain will likely not recognize many of the names in this user-generated starting XI from L'Equipe.
The French publication allowed fans to vote via their website for players to make up the ideal starting lineup for Olympique de Marseille and PSG, the two biggest clubs in France.
After more than 210,000 votes, the lineups are set and there are some surprises. No one cares about OM so I won't be talking about their players but let's take a look at who fans thought should be included in PSG's all-time starting lineup: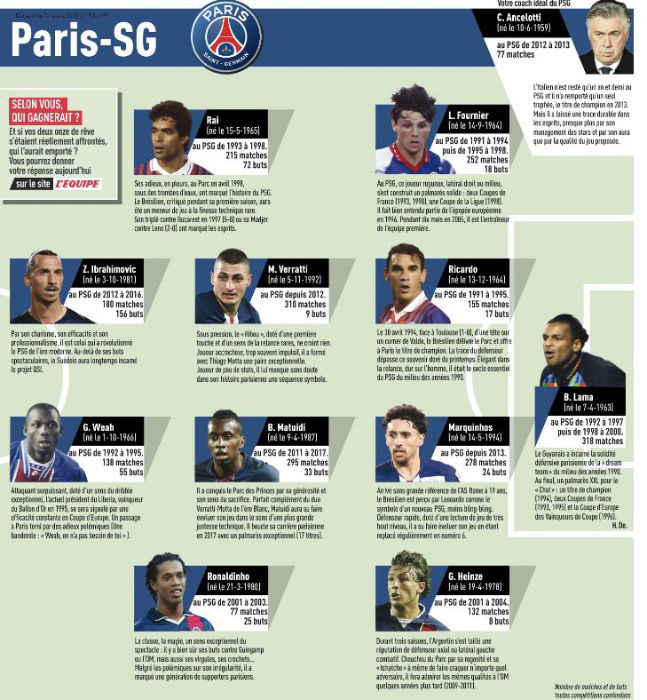 Formation: 4-4-2
Manager: Carlo Ancelotti (2011-2013)
Goalkeeper: Bernard Lama (1992-1997 and 1998-2000)
Defenders: Laurent Fournier (1991-1994 and 1995-1998), Ricardo (1991-1995), Marquinhos (2013-present), Gabriel Heinze (2001-2004)
Midfielders: Blaise Matuidi (2011-2017), Marco Verratti (2012-present)
Forwards: Rai (1993-1998), Ronaldinho (2001-2003), Zlatan Ibrahimovic (2012-2016), George Weah (1992-1995)
At first glance, I don't have a lot of major issues with this lineup. Several club legends were selected as well as a couple of current players who are well on their way to becoming legends.
However, there are a few omissions that should be called out.
Thiago Silva being left out in favor of compatriot Ricardo is certainly interesting. Silva's longevity (310 matches for PSG compared to Ricardo's 155) should have been a factor considered by fans.
Also, while L'Equipe mentions Ricardo's goal against Toulouse FC in 1994 that clinched the Ligue 1 title, Silva also has a pretty memorable goal that came in the UEFA Champions League.
A front four of Rai, Ronaldinho, Weah, and Ibrahimovic is solid, but what about Neymar Jr., Kylian Mbappé, and Edinson Cavani?
In the case of El Matador, he is the club's all-time leading scorer. I don't know how you leave him out of this lineup and I would suggest he replace Zlatan Ibrahimovic and that's no shot at the Big Swede. Both were fantastic at PSG but you have to reward Cavani for his goalscoring record.
When it comes to Ronaldinho and Neymar, the stats tell me that the decision should be a no-brainer. Neymar should be in the starting lineup.
Ronaldinho made 76 appearances for PSG and scored 25 goals and recorded 17 assists. Not bad.
Neymar has played in 80 games and has scored 69 goals and recorded 39 assists. Imagine what his numbers would be if he wasn't injured in the past two seasons.
I love Ronaldinho but this seems to be a decision based on non-football reasons than what both players showed on the pitch.
Finally, what to do with Mbappé? Weah is a Ballon d'Or winner, an honor Mbappé has yet to achieve, so I'm not sure you can take him out of the lineup but what about Rai? If you just go by the stats, Mbappé is by far the better player. Rai scored 66 goals in 201 appearances while Mbappé has netted 90 goals in 120 appearances.
Both Mbappé and Rai have won the FIFA World Cup with their respective countries so that's not a differentiating factor. I believe the decision to include Rai and not Mbappé comes down to how each player is viewed by the fanbase.
When Rai left PSG in 1998, he was in tears as the supporters serenaded him. The video will give you chills. Rai clearly loves Paris Saint-Germain and the fans love him back.
The same cannot necessarily be said about Mbappé. He's gotten into arguments with manager Thomas Tuchel on the sideline, refused to applaud supporters after the loss to Borussia Dortmund, and most importantly, hasn't signed a contract extension with PSG. All of this could change this summer if the Frenchman commits longterm, but right now, even though the stats say otherwise, most fans will always prefer Rai over Mbappé.
Want more PSG? Visit the PSG Talk Podcast Network page and subscribe to PSG Talking, The 1970, and 24th & Parc.