"Hey, did you see that goal last night by George Weah? Paris Saint-Germain are a really good team aren't they?"
Everything changed from that moment forward. It's late November 1994, and this 14-year-old kid is discussing his newfound affection with his friends during geography class.
Paris Saint-Germain really impressed me the previous night (1-0 win over Bayern Munich in the UEFA Champions League), with an array of stars in the making that would later go on to form excellent careers. Players like Vincent Guérin, David Ginola, Paul Le Guen, and of course Weah himself who later went on to become FIFA World Player of the Year after his transfer to AC Milan.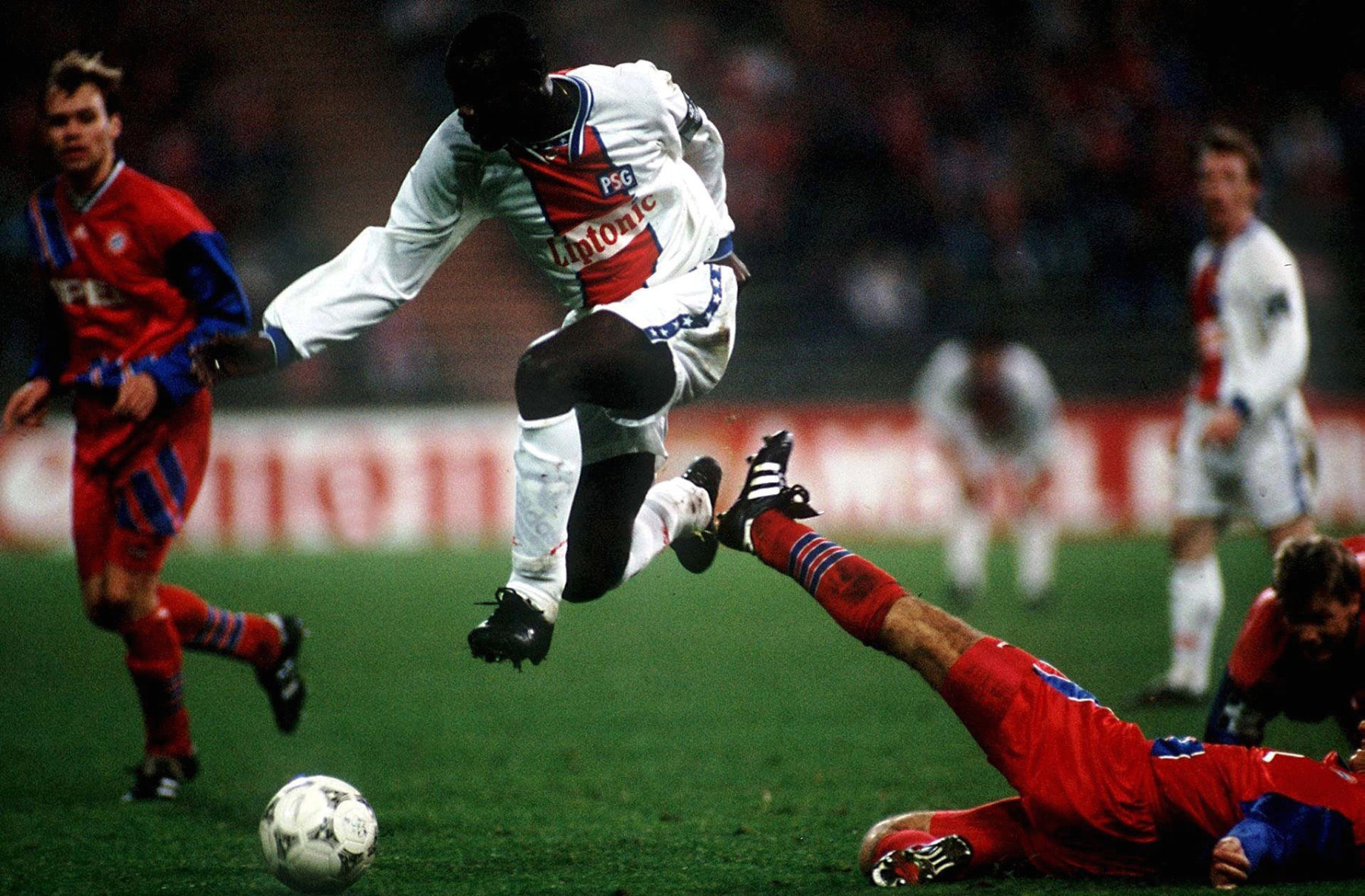 Growing up in Leicester, England, the only full access I had to club football in the late 1980s was the English top flight. My uncle occasionally took me to watch Leicester City FC in the second tier but it wasn't anything particularly captivating.
My first FIFA World Cup was Mexico '86, which gave me a glimpse of the man that would become my all-time football hero, Diego Armando Maradona.
This may seem a little strange considering his handball exploits against my home nation at that tournament, but honestly, I didn't care one bit. Maybe this was the point where I realized that my football interests laid away from England and English football as a whole.
Access to French football was near non-existent until I found a television show one Saturday morning that broadcasted the weeks' highlights from various sport across the globe.
It was called Transworld Sport and I'd watch it every week purely for the 10-minute snippet of goals from around Europe. It was the French league that caught my eye and back in the early 90s it was Olympique de Marseille who were the team to beat in France.
French culture always fascinated me; the food, the language, the style in particular and now the football. As a teenager, I felt more in tune with French culture than I did in my home country and to this day I still believe that the way I live my life is more suited to the French way of life than the English way.
I can't say I didn't enjoy English football because I did. You almost have no choice with the way the English media portray the Premier League's significance on you. I loved Kevin Keegan and Bobby Robson's Newcastle United FC team of the mid-90s and early 2000s. I enjoyed Sir Alex Ferguson's regeneration of Manchester United over a 20-year period. But I loved the football they played more than I loved everything else about those clubs. I tried to fit in with my friends and attend games but the realization was that I was really just kidding myself. Football on the continent was where my interests remained and I accepted that.
After that night in Munich in 1994, I decided to follow PSG as closely as possible, albeit, with limited resources to do so and at the end of that season, I bought a France Euro '96 jersey. I wanted France to win the competition first and foremost; if they didn't win it then I wanted England to lift the trophy. The tournament was held in England that year and I genuinely wanted France to win because they had five PSG players, in their squad, Alain Roche, Patrice Loko, Guérin, Benard Lama, and my idol, Youri Djorkaeff.
I loved Djorkaeff, he was so mobile, so dynamic and I loved how he found pockets of space and exploited his opposition with ease. He wore number 6, so I wore the same number on my football team and tried to play like him. When I used to speak about Djorkaeff, none of my teammates even knew who he was.
On May 8, 1996, I obtained access to the UEFA Cup Winners' Cup final via a German satellite channel; it was Paris Saint-Germain vs. Rapid Vienna in Brussels, Belgium. What a night!
Bruno N'Gotty's first half long-range free-kick was enough to settle the game and PSG won their first-ever European trophy. I remember running around my house screaming with joy. The game wasn't televised in the UK so nobody understood my jubilation the following day at school.
As time went on, I continued to stay up to date with everything PSG did domestically and in Europe the best that I could. The evolution of the Internet certainly made things a lot easier for me.
In January 2002, I made the decision to go to Paris to watch a match at Parc des Princes. I was 21 years old and convinced my then-girlfriend to come with me to the game in exchange for some shopping time on the Champs-Élysées.
That cold winter evening was one of the most magical moments of my life. A half-full Parc des Princes, Ronaldinho producing a masterclass, and PSG beating FC Lorient 5-0. I was well and truly hooked; the atmosphere, the stadium, the team. I wanted more!
I returned to Paris in November of 2002, with a friend to watch a Friday night game between PSG and FC Nantes. En route to the stadium, we exited the Porte de Saint-Cloud metro station and was attacked by a group of thugs who wanted to cause trouble and intimidate innocent people heading to the game. I was kicked a couple of times, as was my friend, but we didn't suffer any injuries and we were able to eventually watch a poor game with PSG losing 1-0.
The 2000s were a difficult time to watch PSG with regular fan violence in the stands; sadly, it wasn't a safe place to watch football. After the Nantes game, I made the tough decision to stay away from Parc des Princes until I felt it was safe enough to return. I followed the team from home for over a decade and the violence got gradually worse and fully justified my decision to abstain.
The banning of the Ultra groups opened the door for me to return to Paris and it was in 2013 when I finally headed back to the Parc in what can only be described as a complete contrast to what I left behind 11 years earlier.
French football was now being shown live on UK television and PSG was very much in the ascendancy after the Qatar Sports Investments takeover. I started to travel regularly to watch PSG and purchased my first season ticket for the 2014-15 campaign.
I have since travelled all over Europe to watch the team and regularly attend games at the Parc as much as I possibly can. Watching PSG live is always a pleasure. I've seen some good times, I've witnessed some horrific times. But to see the club in such good shape now makes me proud. To see children walking around my home town wearing PSG jerseys is a far cry from the mid-1990s when I was probably the only person in Leicester to own one!
My dream is to see this team win the Champions League and I hope this comes to fruition someday. Until then, I'll be there as much as I can, traveling Europe and supporting the team.
Twenty-six years after that geography class, I'm still here and I wouldn't change a thing. Allez Paris.
Want more PSG? Visit the PSG Talk Podcast Network page and subscribe to PSG Talking, The 1970, and 24th & Parc.