Paris Saint-Germain's 4-3 win over Girondins de Bordeaux was full of twists and turns on the pitch but in the stands, there was plenty of intrigues as well.
Early in the match, the Auteuil Ultras displayed a banner directed at several PSG players who underperformed in the 2-1 loss to Borussia Dortmund in the UEFA Champions League last week.
Message cinglant de la Tribune Auteuil : « Kombouaré, Gino, Rai. C'était la rage de vaincre. Silva, Mbappé, Neymar. La peur de gagner ? Portez vos cou***** » #PSGFCGB @goal pic.twitter.com/pyUGUqdpu8

— Benjamin Quarez (@B_Quarez) February 23, 2020
The banner reads: "Kombouaré, Gino, Raí, they had a winning mentality. Silva, Mbappé, Neymar – scared of winning? Grow some balls."
You can't really blame PSG fans for being frustrated with yet another disappointing Champions League loss. If PSG crashes out of the tournament this year to Dortmund, it will be the fourth consecutive year that they've exited in the Round of 16. With the financial resources that the club has at their disposal, that's simply unacceptable.
After the match, some eagle-eyed PSG supporters noticed that Kylian Mbappé retweeted a post from @ActuFoot_ that mentioned the banner. He's since taken down the re-tweet but here's a screenshot for proof: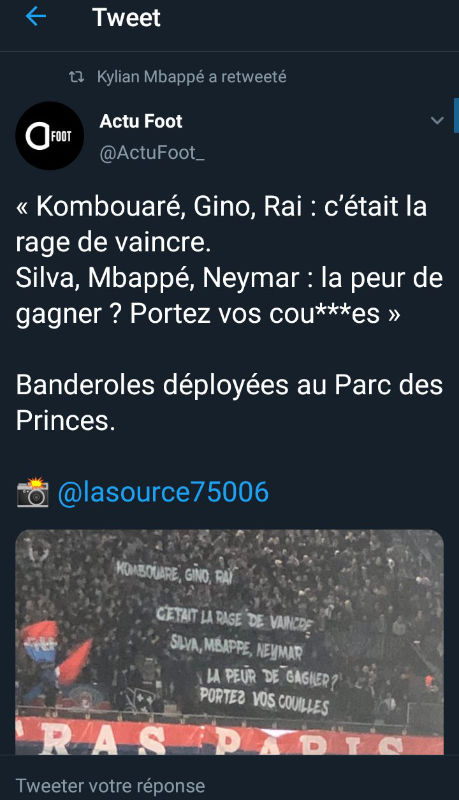 Mbappé then moved to Instagram where he posted a Story with text that read, "Scared of winning?" Essentially asking the supporters if they really believe he, a FIFA World Cup winner, is scared to win.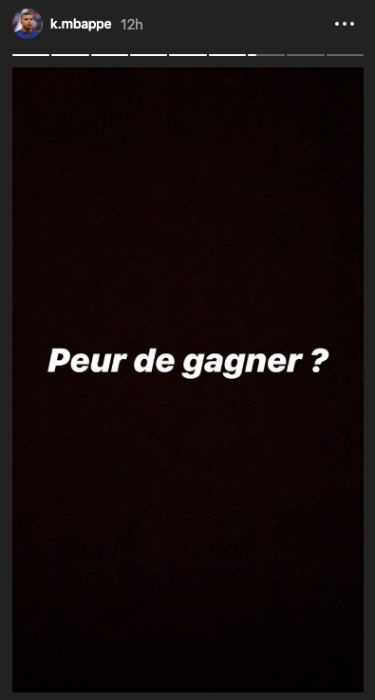 Earlier this season, we saw a fracture between Neymar Jr. and the Ultras after he tried to leave the club last summer and now there appears to be some animosity between Mbappé and the Ultras. It's yet another example since the loss to Dortmund of the club unraveling.
During the second half of the win against Bordeaux, the Auteul Ultras unveiled yet another banner with an ominous message that should make it clear to the players what is on the line.
Deuxième banderole du Collectif Ultras Paris #PSGFCGB pic.twitter.com/AF1wBwuGdt

— Loïc Tanzi (@Tanziloic) February 23, 2020
"Worthy of wearing our colors? See you on 03/11."
March 11 is the date of the return leg against Dortmund at the Parc des Princes. With so much on the line, it's time for the players to prove they are worthy of the PSG shirt.
Want more PSG? Visit the PSG Talk Podcast Network page and subscribe to PSG Talking, The 1970, and 24th & Parc.