Written by Ali for Culture PSG (reposted with permission) and translated by Ofthedoor.
Although PSG has been playing in a 4-4-2 formation for months now, they are organizing their relaunch in a 3-1-1 formation, a system in which the Idrissa Gueye and Marco Verratti duo play a key role.
A 3-1-1 structure implemented a month ago
Since the beginning of December, Thomas Tuchel's PSG has been organized in a classic 4-4-2 formation, with two axial midfielders present to win the ball and supply it to the four attacking players, with Neymar Jr. and Angel Di Maria then taking charge of the creation in the last third of the pitch. While this set-up was very offensive at the start, it underwent the first evolution at half-time of PSG vs. AS Monaco (3-3) in early January, at least from an attacking point of view.
After realizing that his two full-backs were going forward a little too simultaneously and offering the opposing forwards boulevards in their backs, Tuchel ordered his left-back, whether it was Juan Bernat, Abdou Diallo or Layvin Kurzawa, to stop stay back most of the time and stay level with the two center-backs to form a line of three players occupying the entire width. The right central defender then shifts slightly, while only the right-back, mostly Thomas Meunier, is allowed to move up a notch to occupy a corridor deserted by Di Maria, who shifts go full axis.
This defensive base in attacking transitions has an axial midfield duo made of Verratti and Gueye positioned in front of it to form a 3-1-1 structure. The goal is simple: to have three defenders to ensure superiority on the restart, as opposing teams rarely press with more than two players otherwise they will depopulate a little too much behind, then take advantage of the vertical alignment of the two midfielders to break the opponents' first line of pressing.
A Gueye / Verratti duo that found its way to work
Nantes/PSG (04-02-2020)

The Gueye-Verratti Double Pivot's best match this season. pic.twitter.com/yctCLSC0DH

— Ali (@AliTactics) February 8, 2020
This is precisely where the Gueye/Verratti duo, by far the most used by Tuchel since the beginning of the year, comes into play. If they positioned themselves on the same line, the two men would then find themselves stuck facing the opposing block, with five Parisian players on one side and five on the other, the five in the opposing camp being in a complicated situation as they face ten opposing players defending, with only Meunier providing space on his wing. This situation was found in FC Nantes:
To avoid this problem, and although they had not necessarily shown a great deal of complementarity in their attacking partnership up to that point, Verratti and Gueye are now taking turns positioning themselves slightly differently, with one in front of the other to avoid being marked individually in a strict manner. One of the two players is now behind the opponents' front line in order to push the ball forward, sometimes even combining and then advancing together.
Gueye higher than Verratti: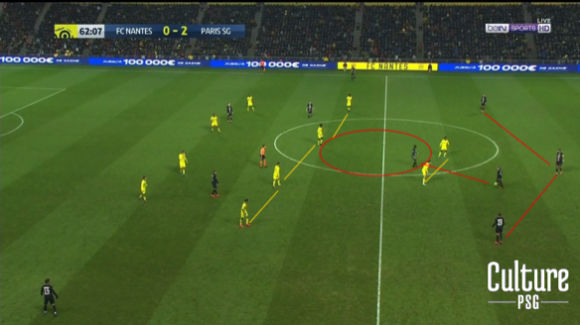 Verratti higher than Gueye: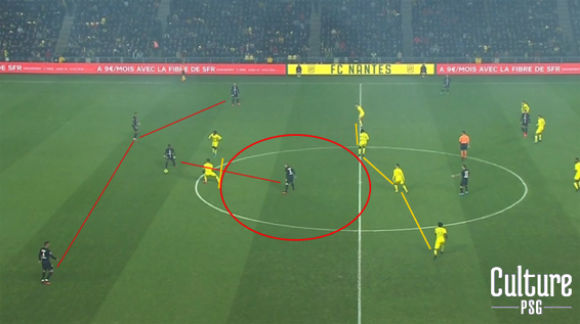 Once the higher positioned of the two has received the ball from the other, he has plenty of space in front of him to carry the ball towards the goal or find his partners, with numerous passing angles available to him. But this situation does not happen easily and it requires both players to move in relation to each other. Example in pictures on this sequence:
Illustration of the use of the 1-1 mechanism in the middle
At the start of the action, Verratti and Gueye are almost on the same line, facing 10 Nantes players in defensive positions, and the Italian serves the Senegalese slightly back: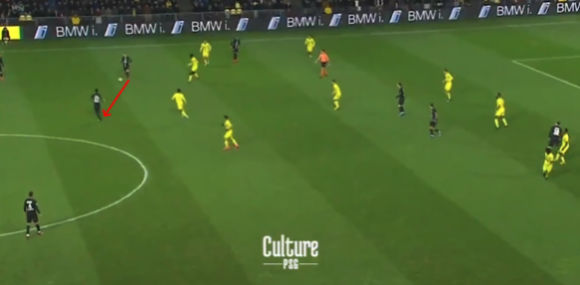 The two men found themselves exchanging passes as there was no solution, reminding us of a former Parisian duo, and the Nantes duo started to press towards them: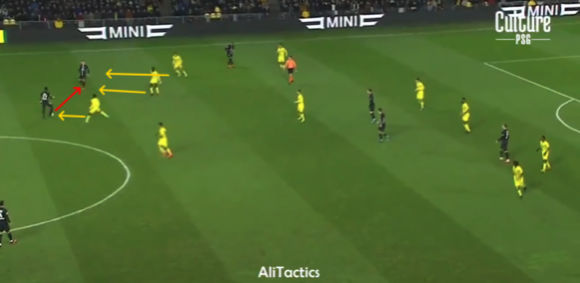 Nantes' right midfielder, Mehdi Abeid, is then very close to Verratti, who pulls Gueye back and moves forward to form the 1-1 structure: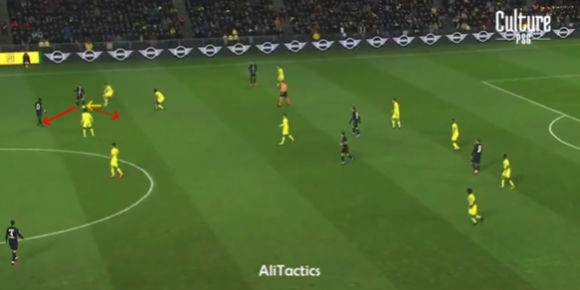 Gueye immediately sees Verratti's move and finds him while Abeid is now late and goes to press the Senegalese with a delay that opens a space in his back to Verratti: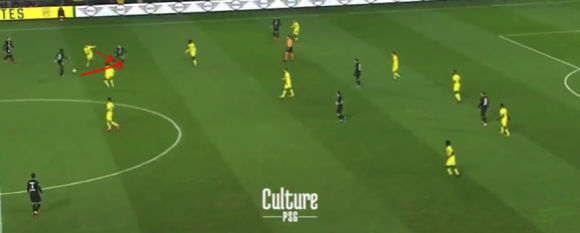 Verratti received the ball but then another Nantes player came to press him. This is where Gueye reappears as he started a forward run just after passing the ball to Verratti. The latter then gives him the ball back to him while he has space in front of him: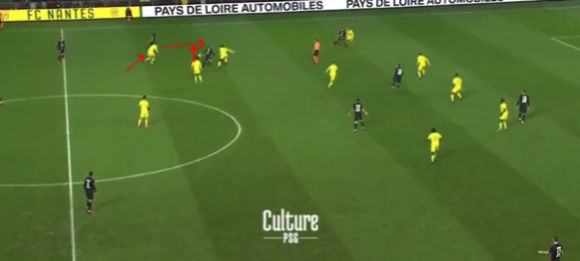 Gueye finally found Kylian Mbappé and the three Nantes midfielders who had come to press the Parisian duo are beaten: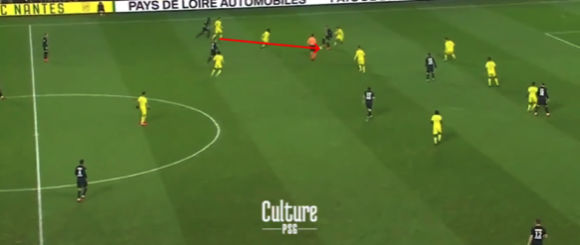 It took three successive one-two passes and two moves by the two Parisian midfielders to win this numerically inferior fight. A fine example of the new complementarity of the two players.
Written by Ali for Culture PSG (reposted with permission) and translated by Ofthedoor.