Update: The article that misquoted Rico has been corrected and the tweet has been deleted.

As someone who covers Paris Saint-Germain while not being fluent in French, I can sympathize with the difficulties of translating quotes from players.
However, when you're a major publication like Goal, I expect quotes to be double and triple check before publishing. Unfortunately, someone rushed to hit the publish button and comments made by PSG goalkeeper Sergio Rico were made to look a lot more salacious than they actually were.
Sergio Rico has made a huge call about his loan club PSG:

"PSG is the biggest club in the world, I would be happy to stay here."

— Goal (@goal) January 6, 2020
Actually, Goal, Rico said, "PSG is one of the biggest clubs in the world" and the French edition of your site got it correct while the English version decided to go rogue.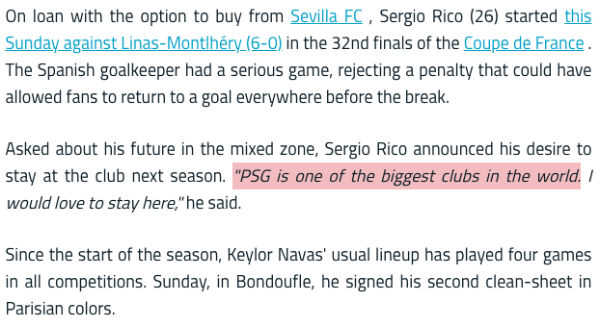 The comments came from Rico after PSG's 6-0 win on Sunday night over ESA Linas-Montlhéry where the 26-year-old goalkeeper made a fantastic penalty save in the first half. The Spaniard is on a season-long loan from Sevilla FC and although he's appeared in only four matches this season, we've seen flashes of his quality.
The second part of his quote where Rico said that he would love to stay in Paris is a good sign for the future of PSG. Keylor Navas is the unquestioned started but at 33-years-old, the Costa Rican has a limited number of years remaining where he'll be at his best.
Back to Goal for a second. Misquoting Rico could have been a mistake but it also could have been intentional to generate social media engagement and web traffic. It's amazing how leaving out two words can completely change the context of what someone is saying and create a buzz.
Imagine if this was a quote from Neymar Jr. and he was talking about his future at PSG. My advice is to always find the source of a quote and do your own research before spreading misinformation.
*Rico actually said "PSG are 1 of the biggest clubs in the world — I would be delighted to stay (next season)." #CdF https://t.co/Zez7NJMkXe

— Jonathan Johnson (@Jon_LeGossip) January 6, 2020
Want more PSG? Visit the PSG Talk Podcast Network page and subscribe to PSG Talking, The 1970, and 24th & Parc.