You only need to tune into ESPN FC during any Paris Saint-Germain or Neymar Jr.-related discussion to realize that there is a blatant disrespect towards the club and the player.
This is a show that actually asked if Neymar deserved to be injured because apparently he "showboats." Watch the clip below and notice how Steve Nicol can barely contain his excitement over the news about Neymar's injury. This is also a man who said he would kick Neymar if he had the chance. While this isn't a show based on any sort of journalism whatsoever, you still expect some sort of professional decorum.
Any highlight of PSG on the show is met with disinterest and dismissed as soon as possible so that the host and analysts can get back to discussing Serie A, A-League, or the EFL Championship, which ESPN holds the rights to in the United States (beIN Sports owns the Ligue 1 rights in the U.S.).
Outside of the comedy show that is ESPN FC, some of the top editors at ESPN who cover world football have openly expressed anti-PSG sentiments in some manner over the years via social media:
It's a tad disappointing if Neymar did leave for PSG. I couldn't see him there at 28 – which begs the question: where would he go after?

— Alex Shaw (@AlexShawESPN) July 21, 2017
It's your website. You guys are responsible for the content. Let's just pull 3 articles off of a google search.

I searched Mbappe Neymar ESPN FC. @AlexShawESPN pic.twitter.com/SgwNqPT6Vo

— Marc Damon (@MarcDamon1) October 12, 2018
Neymar has been especially ripe for a good kicking and Real have not disappointed

— James Tyler (@JamesTylerESPN) February 14, 2018
There's something poetic about PSG spending big in search of the Champions League but still falling short against an actual opponent

— James Tyler (@JamesTylerESPN) February 14, 2018
I enjoyed this by @barneyronay: PSG's videogame football is fun but disheartening. Empty calories. https://t.co/wwUVPqyhwu

— James Tyler (@JamesTylerESPN) January 19, 2018
lol

— James Tyler (@JamesTylerESPN) March 6, 2018
Having seen these examples, it shouldn't come as a surprise to see the photo below featured on ESPN's website with a wire story from Reuters about PSG's 3-3 draw against AS Monaco on Sunday night at the Parc des Princes.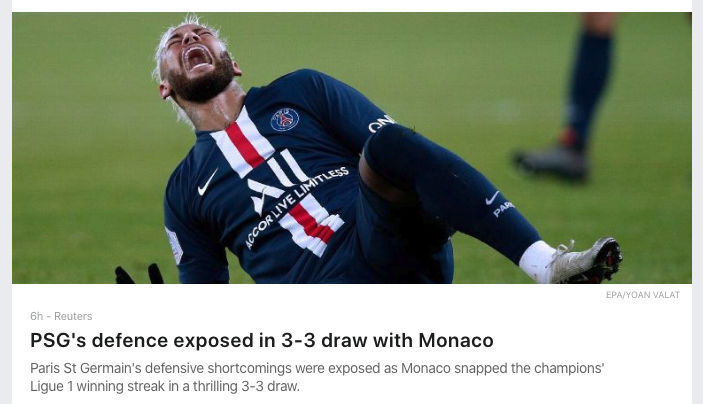 ESPN opted for a photo of Neymar on the ground crying out in pain after a tackle. The photo did not appear with the original wire article and other outlets that ran the same story did not use the photo either.


Against Monaco, Neymar scored two goals and was the highest-rated PSG player on the pitch according to Le Parisien. When I searched through the Getty Images account that I have access to, more than 100 photos from the match were uploaded and available for media outlets to use.
It's not a coincidence that a photo of Neymar on the ground screaming out in pain (a running joke on social media since his performance at the 2018 FIFA World Cup) ended up as the photo promoting a PSG match report.
You don't need a fancy journalism degree to know that the photo in question shouldn't have been used. It's clearly not the best image to use if you're trying to represent what happened in a match where six goals were scored. It is, however, the best photo to use if you want to capture how ESPN editors feel towards Neymar and what they perceive their readers want to see.
Want more PSG? Visit the PSG Talk Podcast Network page and subscribe to PSG Talking, The 1970, and 24th & Parc.