Tanguy Kouassi's goal against Stade de Reims on Wednesday night was special for a number of reasons.
First of all, it was the 17-year-old's first goal for Paris Saint-Germain. Not many kids that age can say they've scored in a semi-final match for one of the biggest clubs in the world.
The goal was also PSG's 4,000th in club history. This year, Les Parisiens are celebrating their 50 year anniversary and Kouassi's goal will go down in the record books and forever link the Frenchman to PSG.
Kouassi took to Instagram to share a photo to commemorate the accomplishment and that is where the Kylian Mbappé speculation begins.
Several teammates left comments on the post, including Layvin Kurzawa, Timothée Pembélé, and Mbappé.
"It's heavy with whew…but sign the contract too," Mbappé's comment reads.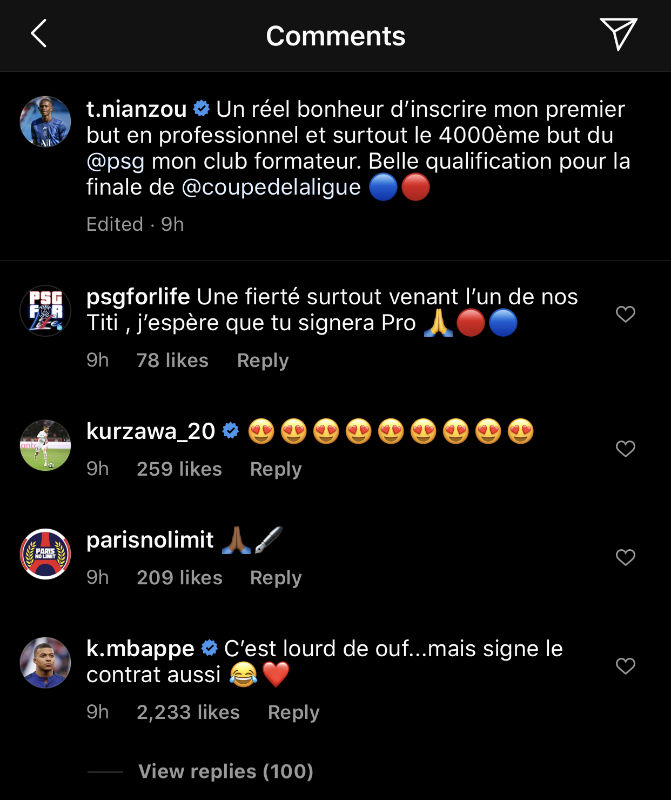 What you need to know is that Kouassi's amateur contract expires in June and he has yet to sign a professional one with PSG. According to manager Thomas Tuchel, all Kouassi needs to do to remain at PSG is sign the contract that's been offered.
PSG's sporting director, Leonardo, confirmed this by recently saying that the decision to stay at the club is in the hands of Kouassi and fellow youngster Adil Aouchiche.
Kouassi is an extremely talented defender who has caught the eye of Pep Guardiola at Manchester City and RB Leipzig where he's reportedly been offered a lucrative signing bonus.
So, it's not like Kouassi is some fringe youth player on the verge of being loaned to a Ligue 2 side. He has played in five matches for PSG this season, including one UEFA Champions League match where he was the youngest starter ever for the club in the tournament.
Mbappé could have been like Kurzawa and commented with a bunch of emojis or offered words of congratulations but he didn't.
Instead, Mbappé urged Kouassi to sign long-term with PSG because, in my opinion, Mbappé wants him to be around with him for the next couple of seasons at PSG. He's not offering him sage advice or anything. Kouassi has plenty of offers and Mbappé knows this. Typically, teammates don't even talk about contracts of other players publicly so that's what leads me to read a bit more into this than usual.
If Mbappé thought that he would take his talents to Real Madrid or Liverpool FC this summer, why would he care where Kouassi plays next season? Kouassi isn't going anywhere this season even if he doesn't sign the contract.
To me, it's a very odd comment to make and potentially reveals Mbappé's mindset at this point in the season. He is in recruiter mode and he wants the best players with him at PSG for the next few seasons to win as many trophies as possible. That's why you see him getting along so well with Neymar Jr.
Some may dismiss the comment as friendly advice and nothing more. I would disagree and while I think Mbappé is extremely media savvy, this could be an example of him inadvertently revealing that he plans to stay in the French capital for another couple of seasons.
Like Kouassi, Mbappé also has a contract in front of him. So for all of the PSG supporters around the world, how about you both sign them and let's build something special in Paris.
Want more PSG? Visit the PSG Talk Podcast Network page and subscribe to PSG Talking, The 1970, and 24th & Parc.