Depending on who you ask, Los Angeles Lakers forward LeBron James is the best basketball player to ever play the game. He's also a massive football fan.
In 2011, the Akron native purchased an ownership stake in Liverpool FC. The $6.5 million James spent for a two percent stake, according to ESPN, turned out to be a stroke of genius as that initial investment has grown nearly five times and is worth approximately $32 million.
In addition to owning stock in Liverpool, James is a Nike athlete along with Paris Saint-Germain forward Kylian Mbappé and the two have struck up a friendship in recent years.
US AGAIN 🔥👀… @KingJames pic.twitter.com/Oc2hVcbPkn

— Kylian Mbappé (@KMbappe) June 15, 2019
On Tuesday, James shared a special post on his Instagram account of him wearing some items from Mbappé's latest Nike collection called Bondy Dreams.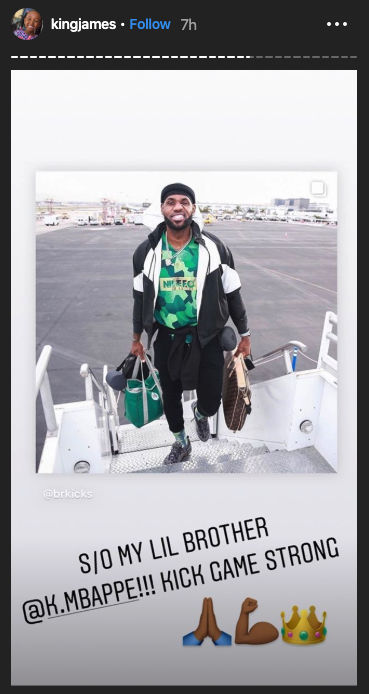 @PSGTalk LeBron wearing mBappes collection pic.twitter.com/S3ZkSmnT6d

— milantheboss (@PSG_BUFFALO) December 11, 2019
James, who is presumably boarding a flight to Florida as the Lakers take on the Orlando Magic tomorrow, is wearing Mbappé's signature Air Max 98 shoes and the green Nike FC jersey that is an homage to Mbappé hometown of Bondy.
This isn't the first time we've seen James showing his love for Paris Saint-Germain or one of their players. The 34-year-old is also close to Neymar Jr., a Nike athlete as well.
#Lebron en mode #PSG… Super coup marketing pour le club de #Paris. Via @KingJames pic.twitter.com/mP81t8IN5A

— Nabil Djellit (@Nabil_djellit) October 27, 2018
James' influence with Nike and the fact that Liverpool will be sponsored by Nike next season has led some to speculate that Mbappé could join the Reds next season even though Jürgen Klopp has all but ruled out the possibility.
Want more PSG? Visit the PSG Talk Podcast Network page and subscribe to PSG Talking, The 1970, and 24th & Parc.