On November 16, it's David vs. Goliath as Paris Saint-Germain Féminine visits Olympique Lyonnais Féminin for the biggest game of the season and the first major challenge for both sides. Unlike Ligue 1 where the PSG men dominate, in Division 1 Féminine, Lyon is the team to beat having won the league the last 13 seasons.
PSG is off to an impressive start to the season. They're currently second in the table and have battered their UEFA Women's Champions League opponents 7-0 (SC Braga) and 7-1 (Breiðablik) on aggregate.
The two sides have met already this season. On September 21, Lyon defeated PSG in the Trophée des Championnes that went to a penalty shootout.
On Saturday, PSG will look to continue their strong play and upset arguably the best women's team in the world with six players on the shortlist for the 2019 Women's Ballon d'Or (BBC). For those who may be new to Division 1 Féminine, here is who PSG is stacking up against.
Lyon
Officially becoming apart of Olympique Lyonnais in 2004, Olympique Lyonnais Féminin is one of the greatest women's football teams ever. They've won 17 league titles, 10 Coupe de France titles, and six Women's Champions League titles, including the last four.
Excellence is the norm at Lyon. They had three of the top 10 players nominated for the UEFA Women's Player of the Year award, which ultimately went to their right-back Lucy Bronze ahead of Ada Hegerberg and Amandine Henry. In addition to those players, Lyon added German start and former player of the year Dzsenifer Marozsán, Japanese star Saki Kumagai, and captain Wendie Renard. Lyon has built a superteam that could rival any team in any sport. Defeating them will be no easy task for PSG and a lot has to go their way, including stopping these key players:
Ada Hegerberg – striker
Currently, the defending Ballon d'Or winner has scored an incredible 273 goals through 265 matches in all competitions. Stopping Hegerberg is quite impossible as she is limitless on the pitch, from filing the traditional number 9 role to being able to drop back and pass the ball or create chances with her feet, there are very few things that the Norway international can't do.
Lucy Bronze – defender
Coming off winning the Women's Player of the Year for 2018-19, Bronze is the first defender to win the award. Being able to play anywhere on the pitch from central-defense, right-back, and even in the midfield, her speed and physicality coupled with her technical ability makes her a dynamic player on the field as she can come up in the attack and easily track back on defense. Very few players can stop Bronze when she has the ball and she's incredibly important for Lyon in starting their attacks.
Running a 4-3-2-1 formation with Hegerberg up top, Lyon plays with enough speed that allows defenders like Bronze to start the attack. Given the team's talent, including Marozsán, Eugénie Le Sommer, Nikita Parris, and Amel Majri, this Lyon team is very comfortable holding onto the ball in the final third and waiting for the perfect chance to strike.
PSG
Historically, PSG has been playing second fiddle to Lyon without winning a single game in their past five matches. Despite this fact, PSG has finished in the top 4 of Division 1 Féminine in every season since 2009 and reaching the Champions League final in 2015 and 2017.
PSG runs a 4-3-2-1 formation allowing an impressive attacking trio of Nadia Nadim, Marie-Antoinette Katoto, and Kadidiatou Diani to run rampant while Irene Paredes and Formiga hold down the midfield.
Rivaling Hegerberg, 20-year-old Katoto leads PSG with 8 goals and 2 assists through 8 league matches and promises to be a thorn in Lyon's side due to her speed and movement in the box. Diani, who typically lines up on the right, will be on the same side as Lyon's Bronze. The speed of both players is incredible and will make for an interesting matchup as both are vital to kickstarting the attack.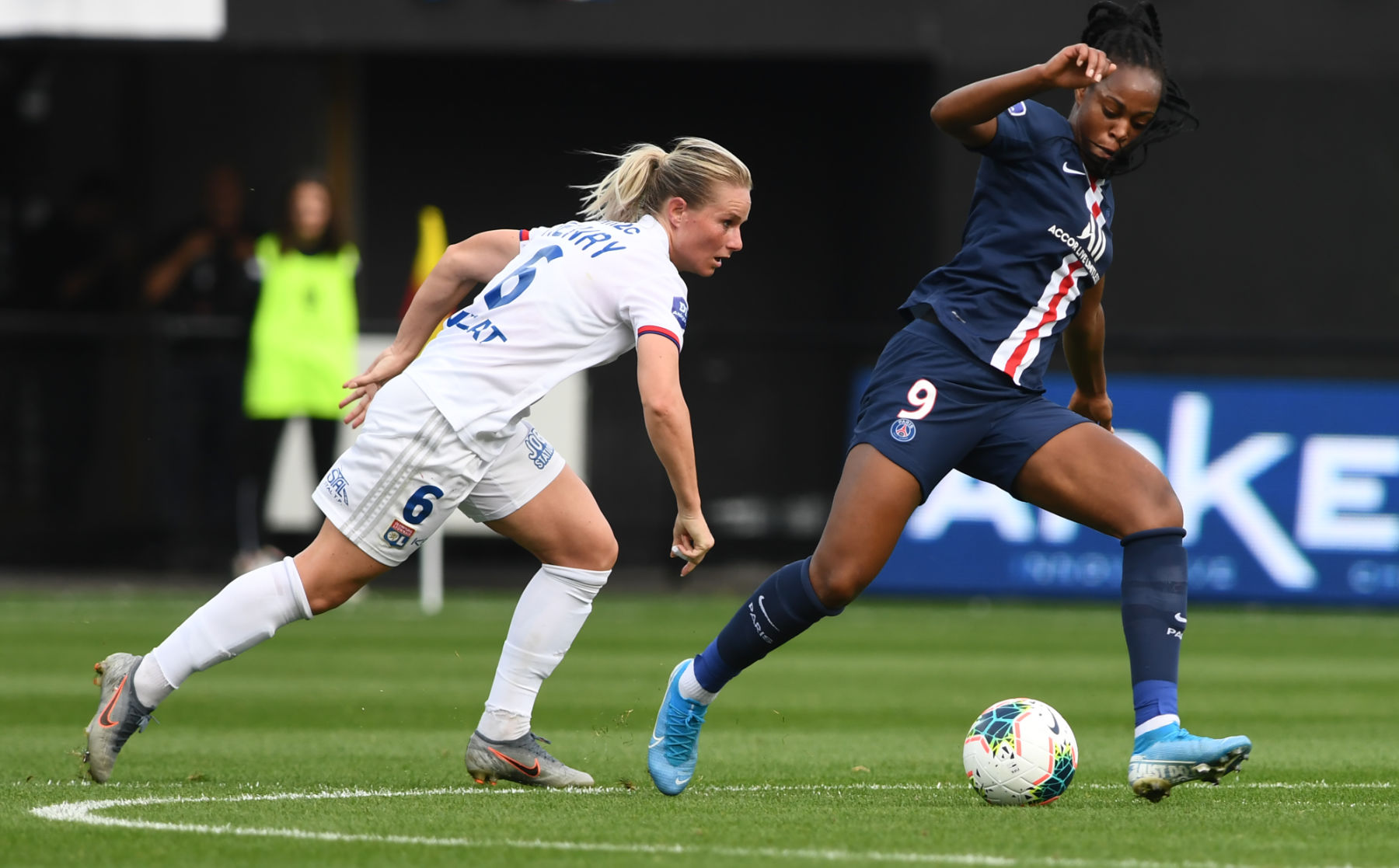 It is of the utmost importance that PSG wins the counter-attack game. Ideally, PSG manager Olivier Echouafni will set up his tactics to allow Lyon's defense to get settled into the attack and then try to strike using the speed of Nadim and Diani to set up Katoto.
If PSG can travel to Lyon and come away with at least a draw, then the match will be a massive success. They'll need to stay within a couple of points leading up to the rematch in March if they hope to overtake Lyon in the standings and win their first league title.
Want more PSG? Visit the PSG Talk Podcast Network page and subscribe to PSG Talking, The 1970, and 24th & Parc.