The third part of Otro's interview with Neymar Jr. was released earlier this week and in it, Paris Saint-Germain's star forward talked about what it's like for him to watch his teammates when he not playing.
The interview was recorded after the first two UEFA Champions League games that Neymar missed due to suspension as reported by Bleacher Report. It was also recorded before Neymar left for international duty with Brazil and sustained a hamstring injury that will keep him out for close to a month per the club's official website.
Neymar's inability to stay healthy has been a hot topic ever since he arrived from FC Barcelona in 2017. The most recent muscle injury prompted a slew of social media posts showing that the 28-year-old has missed just as many games for PSG as he's played for them:
Neymar has played in only half of PSG's games since his record-breaking $263M move 😕 @brfootball pic.twitter.com/juHmsxIB1d

— Bleacher Report (@BleacherReport) October 23, 2019
Neymar has now missed as many games as he's played for PSG.

Reminder: His transfer fee was €222 million. https://t.co/cn6FnSFQJu pic.twitter.com/jaYo7w0oLf

— ESPN FC (@ESPNFC) October 22, 2019
You can tell by the tone of the posts that the media is enjoying the Brazilian's lack of fitness and they don't hesitate to throw his pricetag around in just about every post with his name in it. You would almost think he's missed that much game time because he wanted to go on vacation, not because of serious injury.
However, if you listen to Neymar's interview with Otro, you can tell that not playing for PSG is agonizing for him and he even explains why he sometimes isn't in the stadium watching his teammates.
I want to ask you to explain to me the journey of emotions you go through when you are not playing and you watch a match.
It's horrible. It's horrible. I don't like to watch football when I'm not playing. I don't like it. I rarely watch matches on TV. Very rarely. I watch it when my team is playing and I'm not playing, but other matches I don't like to watch. I feel very anxious because I have friends in most teams, so you root for your friend, hoping that he will do the right move. Anyway, I don't like it. So I try not to watch football. But when I go to the stadium to watch my team when I am no playing, I get butterflies in my stomach, you get anxious with the action during the match. Especially if it's a match full of thrills. It's quite complicated.
Neymar is watching 👀 #CLUPSG #PSG #UCL pic.twitter.com/WxbX0F1KwU

— PSG Talk (@PSGTalk) October 22, 2019
Is it best to watch it at home or at the stadium?
I think it's best at home. Because you're there, at home, alone, no one is looking at you (Interviewer: Ah, yes. The world's eyes). I think it's best at home. At the stadium, you feel the atmosphere of the match more. You feel the crowd shouting, everybody's vibration, you feel what the atmosphere is like. And not at home. At home, you watch it, but you're not, it's not the same atmosphere as a football match at a stadium.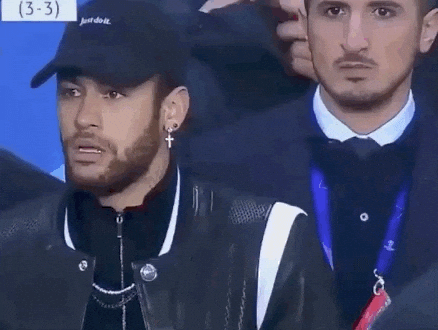 The GIF above is what happens when Neymar is in the stadium watching a match. If the cameraman finds him, after every little moment on the pitch, they pan to him to capture his reaction and in seconds, it's a viral GIF. I don't blame him for one second for not always being in the stadium watching PSG. Not only does he want to protect his image but he doesn't want his presence to take away from the performance of his team.
For a player as supremely talented as Neymar, it makes sense that watching a game that he should be in is extremely difficult. Football comes so naturally to him and watching others miss scoring opportunities or misplace a pass has to be tough for him. Let me put it in terms we can all relate to. You know how you have to sometimes show your grandmother how to download an app on her phone and you have to watch her type really slow or not know where the download icon is? I imagine that frustration is close to what Neymar feels after watching someone like Eric Maxim Choupo-Moting do this:
Neymar is currently out with a hamstring injury that will keep him out until the first week of November at the earliest. As we know all too well though, hamstring injuries at PSG have a way of lingering around.
Want more PSG? Visit the PSG Talk Podcast Network page and subscribe to PSG Talking, The 1970, and 24th & Parc.