This article was written by Thibaut Brossard and published on Culture PSG. PSG Talk contributor Ofthedoor translated the article and we are sharing with permission.
This is the event of the beginning of the season for the Parisian side: Idrissa Gueye's integration into the squad is going well and the midfielder is delivering top-level performances. With Neymar as a fan, Tuchel as an admirer, his team-mates regularly praising him for his defensive efforts, he seems to be the missing link in the chain of this talented PSG team still far from irreproachable in terms of commitment, intensity, and defensive sacrifices.
While skepticism reigned in part over his qualities and ability to take PSG to the next level, he is silencing all his critics. Let's have a look at the performances and stats of PSG fans' new favorite player in this early part of the season.
We all know the stat that highlights the "Gana effect" on PSG's new mentality: in 8 starts, Ligue 1 and Champions League combined, PSG has not conceded a single goal and had 8 wins. But will it last? Is it a flash in the pan or will Gueye be able to maintain such a level of performance over time?
In this article, we look at the Senegalese statistics so far to try to answer this question: is the Gueye we have seen at work since the end of August at PSG the real Gueye or is he just playing better than his supposed real level? In other words, is the former Toffee overperforming today and the soufflé will collapse?
By using his career stats and also comparing them with those of PSG players, we will try to assess Gana Gueye's overall performance. This article will, therefore, be divided into two parts: in the first part we will highlight the areas where the Senegalese has higher scores than his career performance; in the second, we will examine the areas where he has similar or lower scores than during his EPL and Lille OSC years.
Among the Best League 1 Players on a Statistical Stand Point
Let's start by saying that the overall statistical evaluation of Idrissa Gueye is exceptional. In all aspects. Exceptional in relation to Ligue 1 and his PSG teammates. Exceptional also in relation to his career evaluation.
According to Whoscored.com, he currently has a rating of 7.71 in Ligue 1. This puts him in 3rd place in the whole championship, behind Neymar (8.06) and the neo-Monegasque Slimani (8.02).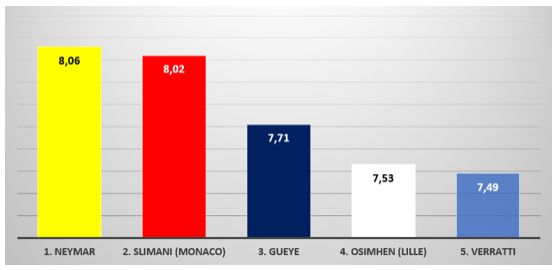 This performance is remarkable, to say the least for a player who just arrived in a new team and is asked to do the "dirty work", not always visible a priori in the stats.
By way of comparison, he had never done better than 7.25 in England (in his first season at Aston Villa in 2015-2016). His EPL average is 7.14 which nevertheless indicates his consistency at playing at a very good level. At Lille, he reached a rating of 7.41 in his last season in 2014-2015.
This season, since his arrival, he has been performing at the highest level, as shown in the graph below of his evaluation by game.
In all the matches he has played he has performed at a higher rating than the team (except against Galatasaray S.K.). His best match, statistically speaking, is his last against Angers SCO (8.97) and he has never done less than 7.25 in the league.
Never in his career had Gueye produced such stats. Let's now go into the details of the game sectors that have enabled Gueye to achieve such ratings, focusing on areas where his statistics are much higher than those posted in his previous seasons.
Already Reached His Annual Standards in Goals and Assists
In eight matches, Gueye scored a goal (against Angers) and had an assist (for Angel Di Maria against Real Madrid). The usual? Not really.
After not even a quarter of the season played, he has already reached his annual career average. He has scored 9 goals in 9 seasons (highest tally over a season: 4 with Lille in 2014-2015) and delivered as many assists (maximum 2 with Everton in 2018-2019 and with Lille in 2014-2015). His challenge will, therefore, be to reach or even exceed the figures posted during his brilliant last season in Lille during which he scored 4 goals and delivered 2 assists.
It should be noted that only 5 players (Di Maria, Pablo Sarabia, Eric Maxim Choupo-Moting, Kylian Mbappé and Gueye) in the Parisian squad have both scored and delivered assists, all competitions combined, since the beginning of the season.
More Key Passes Per Game Than Neymar!
Already ahead of his career stats in goals and assists, Gueye is even more so in terms of key passes. And this is perhaps the most surprising thing about Gueye's first steps at the PSG: his ability to exist offensively when he was labeled as a pure cleaner". His frequent positioning as a holding midfielder and still being able to count on Marquinhos behind him in midfield allows him to get involved offensively and in return to produce impressive stats in this area.
He is the Parisian player who delivers the most key passes in Ligue 1. He is averaging 2 key passes, compared to 1.8 for Neymar. Who would have thought? An obscure midfielder from Everton supplies his strikers with passes more than the Brazilian planetary superstar.
He has actually delivered 12 in 6 Ligue 1 matches, including 10 in the last 3 matches (4 against Lyon). He had also distributed 3 against Real Madrid.
He is currently blowing up his career stats since he had never done better than a key pass (90 minutes) on average over a season.
Of course, PSG's level of play and the quality of his team-mates facilitate this level of stats and comparisons with his EPL and Lille years must be analyzed with caution. Nevertheless, the gap is such, and above all, the fact that he dominates this ranking among a rich Parisian squad testifies of the Dakar native's top-level performance.
Technically Superb
Another area where Gana has been surprising since the beginning of the season: his ability to up his technical level as required at PSG. As we know, other midfielders in the past have failed to achieve the level of technical mastery required to cohabit with Marco Verratti & Co. And there were doubts about his ability to take up this challenge. He quickly swept them away.
With 86.5 percent success rate in career passes, he already had a very good rate. Well, it is even better since the beginning of his Ligue 1 season as it is now 92.1 percent!
The worst part is that with such a rate, it is only 11th at PSG! The Tuchel team has 13 players above the 90 percent pass success rate. Of course, 7 Parisians are in the top 10 of League 1 in this ranking.
Gueye has never missed more than 10 passes in a match this season (against Girondins de Bordeaux, with still 87 percent success). His record was reached against Angers: 118/123 passes, or 95.9 percent of success.
Aerial Superiority: 75 percent of Duels Won
Another surprise of Gana's early season was his ability to fight in the air with bigger and stronger than him (1.74 m and 66 kgs). While he is one of the smallest players in the team, he has the highest ratio of air duels won (75 percent).
There again, with 1.5 air duels won every 90 minutes, he clearly outperforms his career stats. He had never won more than 1.1 air duels per game and his average success rate was 53 percent.
More Passes Per Game Than Anyone Else in Ligue 1!
Finally, the passing stats summarize perfectly the way we assess Gueye's performance since the beginning of the season: given PSG's style of play, it is not surprising to see the finalist of the last Africa Cup of Nations presenting higher stats than previously in his career. Nevertheless, where Gueye's performance is striking is how much higher the stats are and above all when we realize he is dominating all the other PSG players in this particular statistical indicator.
He has 91 passes per game, 24 more than during his best season so far. His career average was 58. He has increased his passing stats by more than 50 percent with PSG. Most importantly, he is the first PSG player in this statistical category, ahead of Verratti (90.3). Even more incredible, he dominates the entire Ligue 1!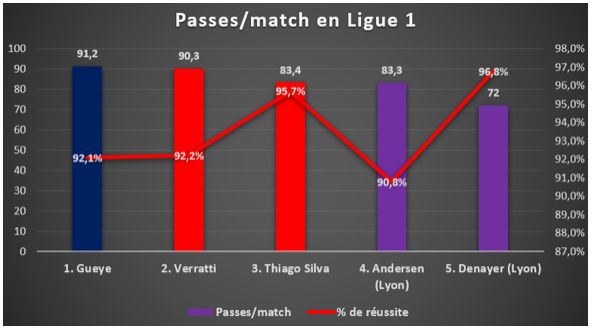 He is also the Parisian who receives the most balls per match (108), ahead of Verratti (105), Thiago Silva (94) and Neymar (93). In 4 of his 6 Ligue 1 matches, he played more than 100 balls, with a peak at 143 against Angers. Verratti-style stats, then, for a player who is often labeled as a simple "marathon runner/ball winner "!
He is not a new Matuidi then, rather a new Thiago Motta in this consideration.
Too Good to Last?
Stop it now, enough is enough! Decisive in front of the opponent's goal, in aerial duels, technically comfortable, Gueye checks all the boxes of the modern ultra-versatile player. He really seems to be the missing link at PSG.
However, we cannot help but think that this is too good to be true. It is logical that he produces more stats with the PSG than with Everton, but the gap with its career stats is really too big not to question his ability to maintain such a level in all areas.
We hope time will prove us wrong, but his current stats seem really too exceptional, in every sense of the word, not to return to a more "human" level over time.
Want more PSG? Visit the PSG Talk Podcast Network page and subscribe to PSG Talking, The 1970, and 24th & Parc.