Last summer, UEFA's Financial Fair Play restrictions limited what Paris Saint-Germain could do in the transfer window.
The reigning French champions couldn't splash the cash but with the money they could spend, PSG decided to sign Thilo Kehrer for €37 million from FC Schalke 04. That was a huge hit to their available transfer amount so they needed to look for bargains to fill the rest of their needs and add depth to the Thomas Tuchel's squad.
Luckily for Les Parisiens, FC Bayern Munich was looking to unload a full-back that could provide depth. Spanish left-back Juan Bernat had worn out his welcome and both parties were seeking to separate, which is why PSG was able to buy Bernat for the low transfer fee of €5.7 million.
Initially bought by Bayern when Pep Guardiola was the manager in 2014, Bernat saw career highs in minutes played with 2556, total passes per 90 with 60.8, and lowered the number of times in which he turned the ball over from an unsuccessful dribble or dispossession. Under Guardiola, it looked as though Bernet was taking steps to become a quality full-back.
Then regression began to settle in. His minutes and production went down the following season right around when Guardiola—the man who brought him over from Spain—left for Manchester City after the 2015-16 season. As a result, Bernat's career was at a standstill. Bayern saw no use for him with David Alaba playing the same position, so he rode the bench the majority of the time. During Bernat's remaining time with the Bavarian club, he became a whipping boy and it became clear this wasn't an ideal situation for the player.
An Ugly Exit out of Germany
The tipping point for the German club came in last season's UEFA Champions League competition against Sevilla FC. In the first leg, Bernat was partially responsible for giving up the first goal. Despite the 25-year-old's mistake, Bayern was able to recover and win the first leg against Sevilla.
In October of last year, with the Sevilla match fresh in his mind, Bayern president Uli Hoeness blasted Bernat in front of reporters. "When we played in Seville, he was solely responsible for us almost being eliminated." He then went on to add, "That day [the Champions League first leg against Sevilla], we decided that we would sell him because he almost cost us all the success in the Champions League."
Uli Hoeness on Juan Bernat: "When we played in Seville, he was solely responsible that we were almost eliminated. That day, we decided that we would sell him. Because he almost cost us success in the Champions League." #FCBayern

— Ronan Murphy (@swearimnotpaul) October 19, 2018
As Bayern looked more and more hostile, Bernat needed a fresh start somewhere else. With Yuri Berchiche departing for Athletic Bilbao, PSG needed a left-back, and so Bernat was their choice to replace his fellow Spaniard. It certainly helped that Bayern was so willing to part ways with him for a below-market-value price.
A Rough Start to His PSG Career
Since Qatar Sports Investments took over PSG in 2012, the club has spent large sums of money in pretty much every transfer window since. Financial Fair Play made it so Paris had to go from shopping for brand name players to shopping at the discount store for bargain players, which is likely why many supporters didn't welcome Bernat with open arms upon his arrival.
It was up to him to change the minds of many, but things didn't start off on the right foot. Defensive mistakes led to Bernat's exilement out of Munich and they would rear their ugly head in PSG's first Champions League group stage match at Anfield against Liverpool FC. Already down 1-0, Bernat made the mistake of fouling Georginio Wijnaldum in the penalty box. It would lead to James Milner converting the penalty kick and giving Liverpool a 2-0 lead.
35': Bernat accroche Sturridge. Penalty pour Liverpool ! #LFCPSG pic.twitter.com/TsO1yO0DqQ

— Yahoo Sport France (@YahooSportFR) September 18, 2018
This wasn't the impression Bernat wanted to display in his first significant match for PSG. As if that wasn't bad enough, the Spaniard's calling card is usually his offense. His ability to link with the midfield, or, at times venture up the pitch is what makes him a valuable asset. However, over 90 minutes against Liverpool, he only completed 28 accurate passes. There was light at the end of Bernat's dark tunnel after a miserable night in Merseyside. A few months later, things would completely turn around and Bernat has now endeared himself to the PSG fanbase and revitalized his career.
Resurgence of Bernat
The turning point for Bernat's season with PSG came in their away match against Napoli. After escaping the jaws of defeat and nearly seeing their Champions League aspiration go up in smoke, PSG headed to Naples needing a result. In extra time in the first half, with the score tied at zero, it was a stumbling Bernat who slipped past Allan and opened up the scoring.
A fist-pumping Bernat lept into Kylian Mbappé's arms as he celebrated a timely goal rather than being the cause of one. Offensively, Bernat was finding his groove, completing 41 accurate passes, but only winning four out of 15 duels against Napoli showed that there was still work to be done on his part. Regardless, this match along with the help of Tuchel began the resurgence for Bernat.
Nice goal by Juan Bernat with the assist of Mbappé! 🔴🔵 pic.twitter.com/B96uCRDLsU

— 🇧🇷 (@avoidantx) November 6, 2018
Tuchel is cut from the same cloth that Guardiola is. The German tactician is often playing chess while the opponent's manager is messing around with checkers, so it's no surprise that his tactics are getting the most out of Bernat because he's putting him in positions where he can thrive.
Tuchel's Payoff
It's known that on the defensive side of the ball, Bernat has issues, but Tuchel has developed a strategy to hide his deficiencies. For those who follow American football, think of Bernat as a cornerback who has trouble covering the opposition one-on-one. Tuchel sees this and it's why he has Thiago Silva or Presnel Kimpembe serving as a safety and serving as a security blanket.
The trust Silva and Tuchel have in Kehrer to defend his position one-on-one allows for the backline to support Bernat. Below is an example as SofaScore pinpoints the average positioning for the matches against Liverpool and Manchester United this season:
This gameplan would pay off again against Liverpool. Bernat found himself in the penalty box where a loose ball rolled to his feet and he proceeded to shoot left to beat Alisson. It was Bernat once again coming up in the biggest moments to help PSG eventually win a crucial match at home against one of England's best clubs.
Having protection for Bernat has allowed him to wander up the pitch where he is most effective. Many will assume that Tuchel has reinvented the way Bernat plays, but that's not the case. Taking a look at the numbers, it shows that he's performing to his career norms when it comes to total passes, accurate passes, successful dribbles, and ground duels won.
However, what his managers at Bayern failed to do is let Bernat concentrate on his offensive form while masking his flaws on defense. Tuchel didn't reinvent the wheel, he's only seeing what his players do well and tries to get the most out of them, which is what he's done with Bernat.
What the Future Holds
Going forward, would PSG like to upgrade their left-back position? Yes, but they're not going to overpay for one. What Bernat provides is a solid option at left-back. He's not world-class, but Tuchel can get the most out of him and can compensate for his flaws. For all the big-money spending PSG has done over the years, it's nice to see the club find a diamond in the rough.
If you would like to show your appreciation for PSG Talk, we invite you to visit our Patreon page where you can buy our new "Farmers League Champions" T-shirt! Thank you and Allez PSG!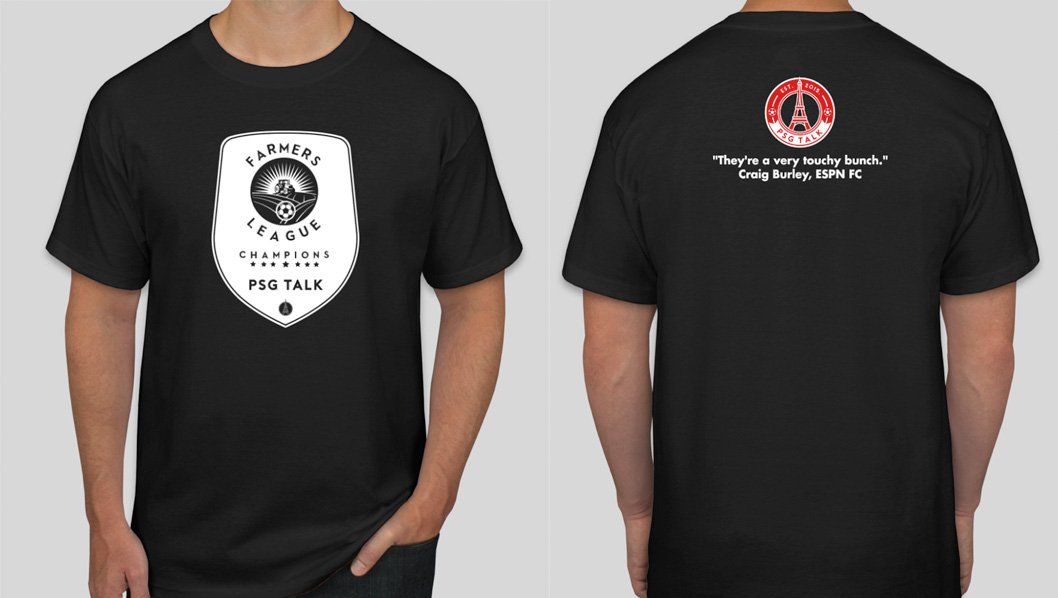 Subscribe to our podcast (iTunes) (Google Play) (Stitcher) (Spotify) and follow us on Twitter @PSGTalk