Paris Saint-Germain, the formidable French giant, took somewhat of a risk, in the eyes of some, when they hired Thomas Tuchel last summer. The German undoubtedly had an impressive resume from his time at Borussia Dortmund, but nonetheless, PSG needed to hit a home run to satisfy their grand ambitions—and did they ever.
Tuchel may very well have seen the future laid out to him via a presentation of PSG's goals. The new manager would have heard all about the club's ambition in the UEFA Champions League and becoming a global superpower but even Tuchel couldn't see things happening this quickly. Lest we get ahead of ourselves, PSG through the month of February has seen a meteoric rise in their stature on the world stage, and no, we're not just talking about their play on the pitch. Take for example the PSG Ultra's who have quickly taken the Internet by storm and become the best (and loudest) traveling fans in Europe. They absolutely took over Manchester and silenced the Red Devils' home support.
The commercial success that PSG has enjoyed certainly has opened doors to its world presence. Just last year, the club opened an office in New York City to expand its global brand in North America. Furthering their partnership with Nike, PSG launched an extremely successful collaboration with Jordan Brand, selling out every skew they released. These large partnerships, including the newest addition, Accor hotel group at a reported €50 million per season, slotting PSG among Real Madrid, Chelsea FC, FC Barcelona, and Manchester United as the most lucrative jersey deals in the world. This, in turn, gives Tuchel the tools to recruit and keep the best players in the world. While some fans would have preferred several midfielders in the January transfer window, PSG spent wisely and brought in Leandro Paredes, who in his short time in the French capital already looks like the unquestioned future partner of Marco Verratti. Contrast this to another big club in Europe, Arsenal FC where former PSG manager Unai Emery had to beg for a loan deal to bring Barcelona castaway Denis Suárez after being told no funds would be made available for players. Both clubs have managers in the first deal with their new teams, but PSG is the one committed to winning and willing to supply their manager with the players he requires. The same cannot be said for Arsenal.
The talent that PSG possesses, and continues to cultivate, is another luxury for Tuchel. When superstar Neymar Jr. went down in late January and perennial goal-scorer Edinson Cavani pulled up after taking a penalty days before the match against Manchester United, many pundits dismissed PSG. Tuchel, however, with stoic German analysis simply said he would adapt and go to another plan. That manifested in utilizing the 20-year-old, FIFA World Cup champion, and two-time Ligue 1 winner Kylian Mbappé. Not the worst Plan D of all time. PSG dominated the game against Manchester United, with crucial veteran performances by Angel Di Maria and Dani Alves, who both proved their versatility once again. PSG has solidified themselves as buyers, not sellers, of talent. PSG president Nasser Al-Khelaifi, the man behind so much at the club, has made it crystal clear that Mbappé and Neymar are in Paris to stay.
With other highly sought after managers, the likes of Maurizio Sarri at Chelsea, hanging onto a life raft of Gonzalo Higuaín to save his job after half a season at Stamford Bridge, or Mauricio Pochettino at Tottenham Hotspur who hasn't made a transfer signing in two windows gather most of the current headlines, Tuchel is impressively going about his business. When he was brought to Paris, it was reported that PSG's owner, Sheikh Tamim bin Hamad Al Thani, personally selected him. At this point, no one can argue with that decision.
Tuchel has the talent that people playing career mode in the video game FIFA dream about. PSG has a young, extremely talented core headlined by Mbappé, a star transforming his career in Marquinhos, and world-class talent in Gianluigi Buffon, Cavani, Neymar, Thiago Silva, and Verratti. The manager enjoys tremendous backing of ownership, a crucial element in any long-term successful club, and access to finances to make necessary upgrades. Not to mention Tuchel gets to live in the greatest city in the world, Paris! Oui, I think it's safe to say that Tuchel has the best job in all of football.
If you would like to show your appreciation for PSG Talk, we invite you to visit our Patreon page where you can buy our new "Farmers League Champions" T-shirt! Thank you and Allez PSG!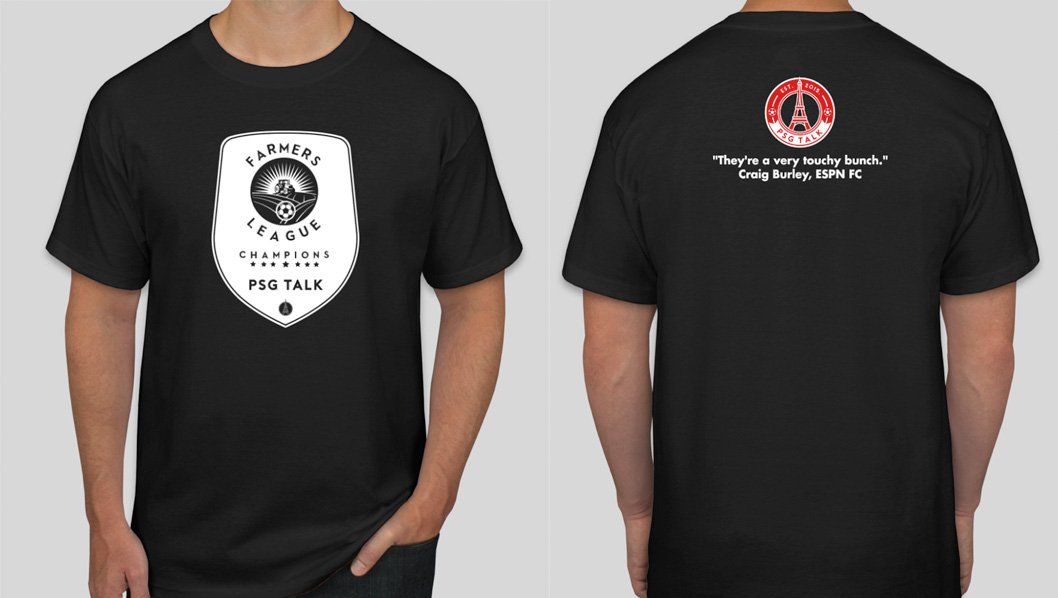 Subscribe to our podcast (iTunes) (Google Play) (Stitcher) (Spotify) and follow us on Twitter @PSGTalk