After a calm January transfer window, Paris Saint-Germain management is likely already thinking about their immediate needs in the upcoming summer transfer window.
Thomas Tuchel has done wonders in his first season as PSG boss and the best may yet to come. Part of his magic is trying players in different positions—Marquinhos is a great example of this as the Brazilian has reached new heights in his career this season. Another player that deserves to be mentioned in this Tuchel revolution is Juan Bernat. This was a player who arrived at the Parc des Princes with very little fanfare. But, under the new boss, the Spaniard is doing quite well switching from left-back to a wingback position that requires him to contribute to the attack from midfield.
One year ago, PSG fans were excited for Tuchel to come and work with arguably the best young player in the world, Kylian Mbappé. When Paris signed the youngster from AS Monaco almost two years ago, then manager Unai Emery played him on the wing to provide room for Edinson Cavani. Unfortunately, the top scorer in PSG's history might be at the end of his spell with the capital club.
Cavani has suffered a few nagging injuries in the past year and has not performed up to the standard he has set in recent seasons. The Uruguayan striker is 32-years-old and despite the injuries, he's still a very capable goal scorer. Right now he sits at 17 league goals, second in Ligue 1 despite missing substantial time. If PSG and Cavani decide to part ways, something that will be heartbreaking for all PSG fans, they need to get a fair value for him given his ability to put the ball into the back of the net and his relentless work rate.
If Cavani is to depart, Mbappé would likely be moved into the center of the PSG attack where he has been since Cavani's injury and like he was at Monaco during that amazing season when they reached the semi-finals of the UEFA Champions League. The Frenchman has been lethal as of late while playing in the center of the park, scoring four goals in his last three Ligue 1 matches and completely dominating Manchester United in the first leg of their tie.
With all that being said, Mbappé will leave a vacant spot on the right wing if he is to move into Cavani's spot permanently and the capital club should have several options if they decide to bring in a winger to fill the void left by the Frenchman. Angel Di Maria has been reborn under Tuchel but he is also getting up there in age and the Argentine can be hot and cold in terms of his form.
The following are some players that, based on their statistics, price tag, and polyvalence, can fill up that winger position:
Nicolas Pépé
Lille OSC is enjoying a fantastic league start and is sitting in second place in Ligue 1 at the moment, behind PSG, with a huge chance of playing Champions League football next season. They can finish in that same spot, their best since their title-winning campaign in 2011. One of the reasons for Lille´s success, if not the most important, is the emergence of their young superstar Nicolas Pépé. The Ivory Coast international was bought from Angers SCO for €10 million and his value right now, as per Transfermarkt, sits at over €40 million, a price very affordable for the type of player he is. Although, according to Telefoot, Lille will demand around €80 million for their star.
Pépé right now has 16 league goals, third behind Mbappé and Cavani, and 8 assists, tied with other players for the top spot. His creativity and dribbling are something several clubs are chasing nowadays. Reports are that teams such as Arsenal FC, Manchester United, and even FC Barcelona are looking into him, and more recently, according to France football, Bayern Munich. But, PSG is not behind. According to Telefoot, France Football, and Le10Sport, PSG president Nasser Al-Khelaifi has begun negotiations with LOSC president to bring the attacker to Paris. Lille sporting director Luis Campos believes he will be a great addition to PSG firepower when Cavani is gone linking with Mbappé and Neymar Jr.
"At PSG, for example, he (Nicolas Pépé) has his place. I imagine an attack, thinking that Cavani is not there, with Neymar on the left, Mbappé in the center and Pepe on the right, it's something extraordinary. It's top, top, really top level," – Luis Campos
Pépé is also a very versatile player. He has played as a center-forward and striker previously in his career at Angers, so adapting to a system where he can support Mbappé as the main man either on the wings or in the middle fits perfectly with PSG style. Plus, Tuchel works very well with youngsters of this kind, giving him chances, plus the talent he already possesses.
Julian Brandt / Kai Havertz
The Bayer Leverkusen duo has been spectacular this season and their stock is rising. Obviously, it will be very difficult, if not impossible, for PSG to sign both players but either one would be a welcomed addition. Brandt is filling up the Bundesliga with assists and Havertz with goals and assists. For both to be dominating a difficult league at their age (22 and 19 respectively), is quite the accomplishment.
Brandt has had a very impressive couple of seasons at Leverkusen and after the awful performance of Germany at the 2018 FIFA World Cup, many were expecting to see him change clubs. PSG could be an amazing host for another Julian in their ranks if Cavani is to leave. He can play on both sides of the pitch and in the middle, too. He has recorded 8 assists and 7 goals this season across all competitions, and at his age, there's plenty for Tuchel to work with and develop.
Havertz is slightly younger and would be an amazing signing as well. He prefers to play in the center but can play on the right wing as well. His vision and goal tally this season demonstrate that he can be a huge addition to the reigning French champions. Julian Draxler and Thilo Kehrer are both Germany internationals who have thrived under Tuchel's leadership and Havertz could be another.
Leverkusen is fighting for a UEFA Europa League position this season, but with a very competitive German league, nothing is certain. Havertz's value sits around €60 million as per Transfermarkt and the same side puts Brandt at €40 million. PSG can negotiate well with Leverkusen, maybe even swap Christopher Nkunku and Havertz plus cash. Nkunku is playing central but he can be a winger, too, and just this January he was reportedly ready to leave Paris. For Brandt, PSG can get a very good deal for a highly skilled and experienced player about to enter his prime.
Ousmane Dembélé
The one and only. Who better to link up with Mbappé than his best bud? Who better for Tuchel than the player he coached to be one of the most amazing talents in world football? Ousmane Dembélé is probably the most expensive transfer target on this list and might be a little far fetched of an idea. His value right now is around €90 million and with Barcelona being his current club, you can expect that price to be much higher for PSG, even if they were willing to sell in the first place.
Even though Barcelona might be reluctant to sell at the beginning, they might consider it. Putting aside his discipline problems, current Barca manager Ernesto Valverde has not been kind with youngsters during the seasons he has been in charge. Malcom is an example of this. After Dembélé's injury at the beginning of the 2017-18 campaign, Valverde took too much time to incorporate him into the team and many perceived this as unacceptable given that he was expected to be Neymar's replacement. He was a bench player the majority of the time but still continues to make an impact with goals and loads of assists.
This is the ideal scenario for PSG after they potentially sell Cavani for a decent transfer fee. Paris can convince Barcelona with money, plus, if Barca splurges for Adrien Rabiot, they may need to raise funds by offloading some players. Dembélé can play on the right side of the pitch, leaving Neymar on the left or the middle. He can also cut inside when needed and go forward with unbelievable pace. Combined with Mbappé, the two Frenchman would make for a lethal duo that would keep many defenders up at night.
Dembélé could be the cherry on top of the Tuchel revolution in Paris. Back in Dortmund, Tuchel showed him to the world, a young Frenchman from Stade Rennais F.C. who could destroy teams with pace and amazing finishing ability. Could this be the summer when the two are reunited in the French capital? Time will tell.
If you would like to show your appreciation for PSG Talk, we invite you to visit our Patreon page where you can buy our new "Farmers League Champions" T-shirt! Thank you and Allez PSG!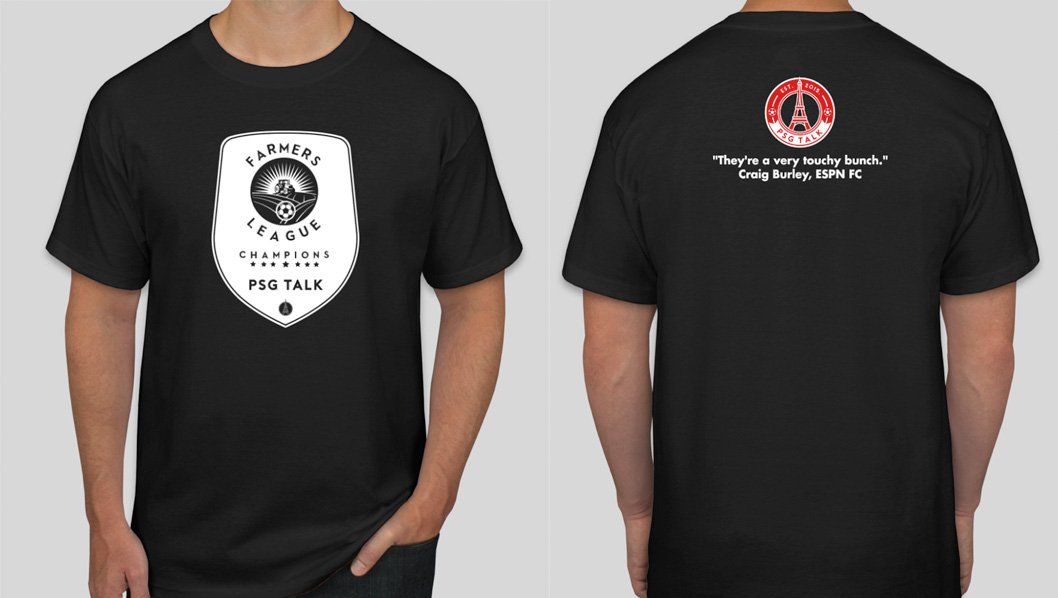 Subscribe to our podcast (iTunes) (Google Play) (Stitcher) (Spotify) and follow us on Twitter @PSGTalk