There are athletes who are primarily remembered for their professionalism and strong moral principles. Thus, their physical and cerebral abilities become trivial to the larger context of their careers. It could be argued that an athlete's character traits can fall on either spectrum of good or bad without leaving a major stain on their career, but when it's all said and done, they'd rather be showered with praise and garner respect from their peers, specifically from what they've achieved in the field of play.
All things considered, Paris Saint-Germain defender Marcos Aoás Corrêa, commonly known as Marquinhos, is an anomaly. Marquinhos has managed to be world class in his versatility, intellectually sound within the context of football, while being a subsequently low-profile player who remains as humble as the ball boy on the side of the pitch.
Marquinhos radiates an authentic aura of glee, coupled with the innate ability to lower himself under a spotlight that has the potential to breed an insurmountably toxic ego. This season, under the watchful eye of Thomas Tuchel, Marquinhos' expert level of focus and productivity on the pitch is beginning to mirror how wonderful of a human being he is.
Although he has been recognized as one of the most talented young defenders in all of football during his time in Paris, the 24-year-old defender from São Paulo endured some challenging moments in his young career over the past two years leading up to his performance against Manchester United in the UEFA Champions League. But, you would be reluctant to recognize said challenges because he's not one to place blame on things outside of himself.
On his home soil in the 2016 Olympics in Rio, the PSG center-back was at the heart of the defense to help Brazil finally capture the elusive Olympic gold medal in men's football. Earlier that summer, Marquinhos tied the knot with his then-girlfriend Carol Cabrino. Then, in November 2017, the two gave birth to their first child—ironically nine months after the traumatizing Remontada against FC Barcelona. Following the birth of his daughter, Marquinhos continued to express humility through the ecstasy of his first born on Instagram saying, "Today I understand the love that all dads told me, an indescribable feeling, a love that I never imagined to feel"
He added in the post, "…daughter, it was a very intense week and you so pituquinha taught me a lot of things, made me forget the world and just think [to] Protect you…"
Often in life, when experiencing bliss, there are numerous uncontrollable factors that arise with the direct objective of testing one's righteousness. For Marquinhos, this came in the 2018 FIFA World Cup when the Seleção boss Tite chose an experienced center-back pairing of Thiago Silva and Inter Milan center-back João Miranda in the starting eleven. Many justified this decision as the final attempt at World Cup glory for the 34-year-old's Silva and Miranda, but it was an unpopular one, to say the least. It was clear that the younger Marquinhos would bring dynamism to the defense with his pace compared to the elders Silva and Miranda.
More significantly, Marquinhos not only helped bring glory to the Seleção in the 2016 Olympics in Rio, but he also featured in 14 of Brazil's 18 World Cup qualifying matches, appearing as a starter in 12 of them. The cohesive familiarity between Silva and Marquinhos at PSG could have been justified to start both in the World Cup, but during the qualifying matches, Marquinhos was largely paired with Miranda, who was a starter in 17 of the 18 matches. Quite frankly, had the former Atlético Madrid man been benched during the 2018 World Cup after playing massive minutes and captaining the side in most of the qualifying matches—you could argue that decision being more unjust and criminal, compared to the exclusion of Marquinhos.
Maybe Silva should have received the short end of the stick since it was Miranda and Marquinhos who was at the heart of the defense during the run that saw Brazil earn a bid to the World Cup before any of the other nations—not including Russia who hosted the tournament. But, after being frozen out by former Brazil manager Dunga for incomprehensible reasons, Silva relished in the few chances given to him by Tite in the later qualifying matches. Along with his superb form at PSG, Tite was convinced by the experienced presence of Silva to that of the ascending Marquinhos.
Imagine being in Marquinhos' shoes during this moment as he was relegated to sit and watch his compatriots fight for their country, bearing in mind that he was a vital piece to the larger army that helped to bring them this far into the war. But, such as in life, football can be insensitive and cruel in this way.
To Tite's credit, Silva and Miranda were one of, if not, the best center-back pairings during the 2018 World Cup, keeping three consecutive clean sheets and only giving up two goals during the tournament—one of which came in the match that saw Brazil bow out in the quarter-finals to third place finisher Belgium.
With only one substitution appearance in Russia, Marquinhos never uttered a word about his lack of minutes during the tournament. The Brazil international continued to wear his nation's colors proudly and was their main cheerleader in Russia. Yet another example of unwavering internal confidence to accept the managers wants and needs before his own. More impressively, the wherewithal to smile and stand firm with humility during a time that other players of his caliber would have chosen to be rebellious.
In his third start back in Paris after the World Cup, against Angers SCO, the newly arrived PSG manager Tuchel presented Marquinhos with a new challenge by deploying him as a defensive midfielder next to Adrien Rabiot—rather than his usual center-back position next to compatriot Silva.
Tuchel immediately identified a weakness in PSG's midfield upon his arrival in Paris, even with the inevitable return of the Italian maestro, Marco Verratti, whom at the time was recovering from undergoing groin surgery in the summer. With the arrival of yet another young center-back from FC Schalke, Thilo Kehrer—Tuchel deployed Marquinhos in the defensive midfield role once again in the following match against newly promoted Nîmes Olympique, astutely aware that he would need the Brazilian in this position for match-day one of the Champions League against Liverpool FC at Anfield.
Marquinhos performed relatively well in the matches leading up to Liverpool, considering the daunting task of switching positions under a new manager. It was evident his lack of passing skills in the midfield at the time would be a glaring issue for a PSG team that loves to keep possession and play out of the back. Against Liverpool, Marquinhos was a bit overwhelmed against an experienced midfield. His inability to remain connected to Roberto Firmino in the final minutes of the match saw his compatriot score a gut-wrenching winner that handed PSG their first loss of the season by a score of 2-3.
Marquinhos was unfairly singled out for PSG's loss at Anfield, but a depleted squad in the midfield under a new manager might have been the more poignant argument. This only brought forth some promising performances from the Brazil international from the midfield role while PSG progressed into the Round of 16 stages of the Champions League. None bigger than the return fixture against Liverpool at the Parc des Princes where Marquinhos lined up next to a healthy Verratti this time in an inverted midfield and center back role that allowed him to play in the midfield while PSG was in possession, and retreat back in defense as a sweeper when Liverpool possessed the ball.
This match was an early indicator that Marquinhos could really thrive in his new position in pivotal matches, showcasing a solid performance which included, 3/4 tackles won, 6/11 aerial duels won, three clearances and 55 (85.9 percent) accurate passes. Along with compatriots Neymar Jr. and Silva, Marquinhos heavily contributed to a convincing win by the Ligue 1 giants that essentially caught the attention of the football world, having overcome some lingering demons in the Champions League.
Marquinhos followed up his Liverpool performance with an even more memorable showing against another English side in Manchester United during the first leg of the Round of 16 in the Champions League. Statistically, Marquinhos was reliable with 56 (90.3 percent) accurate passes, and he completed 5/7 accurate long balls, along with two blocked shots and interceptions. The virtuoso performance though was headlined by his containment of 2018 World Cup winner Paul Pogba. Marquinhos channeled his inner Verratti as he hounded and became a pest to the linchpin of Manchester United's attack. The former Juventus FC man was largely stifled to a robust 30 (73.2 percent) accurate passes, only one accurate long ball played, and one shot (off target).
Pogba would not finish the match as the frustrations of being pocketed by Marquinhos manifested by way of a dangerously silly foul on Dani Alves in the 89th minute. This foul was a pivotal development in the tie as Pogba had picked up his second yellow card of the match, forcing him to miss the return leg to PSG's delight.
As portrayed in his world-class performance against Manchester United, Marquinhos is the kind of player that will impose his physicality on an opponent, and if he happens to bring them down, he's the first to extend a hand with a smile on his face to help them back up. He balances his competitive edge and intense focus proficiently with his humility. He destroys attacks with impeccable timing, and he has the instinctive awareness to intercept passes in a congested midfield. Oh, and by the way, he has the pace to run down any forward in European football, except for maybe Kylian Mbappé, but then again what center-back can do so?
As accurate long balls have always been a part of Marquinhos' arsenal, his maturation in the defensive midfield role was evident against United in mastering the ability to play intricate passes in tight spaces, along with his comfortability in possession with his back to his own goal. Through a superior trust from Tuchel, Marquinhos is showing further proof that he is the ultimate Swiss Army Knife of European football. He now leaves no doubt that he can perform at a high level wherever he's asked to play, largely due to his immense confidence and selflessness.
No matter how much his stardom rises or how many dips in form he experiences throughout his career, Marquinhos will always express humility and be void of ego because his willingness to put the team's needs before himself is ingrained into his DNA. For Marquinhos; the more things change, the more they remain the same.
If you would like to show your appreciation for PSG Talk, we invite you to visit our Patreon page where you can buy our new "Farmers League Champions" T-shirt! Thank you and Allez PSG!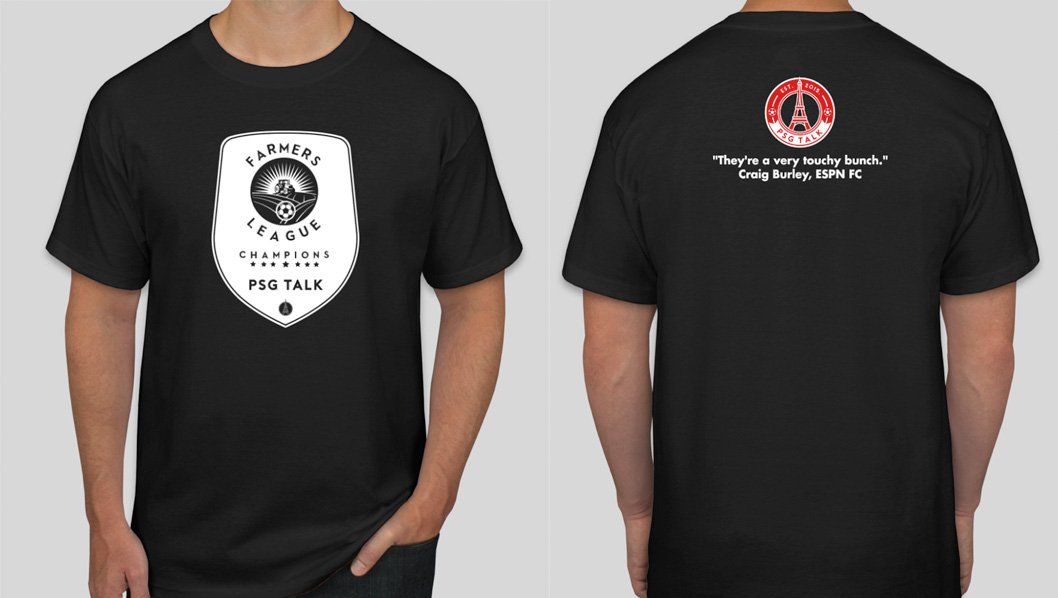 Subscribe to our podcast (iTunes) (Google Play) (Stitcher) (Spotify) and follow us on Twitter @PSGTalk