French football has always been a little different. Different in the sense that your quirky cousin who visits during the holidays is different. You know, the one that makes obscure references that only he understands? Or talks about a diet that is still two years from becoming mainstream if at all. The one that believes in government-executed false flag operations. They're technically family but they're always a bit on the fringe.
For decades, as football has increased its global presence to almost obscene levels, French football has mostly remained a provincial game with small but fervent fan support. A collection of underground bands playing the same music festival without a starring act to bolster or appeal to the masses. It's calling card being the development and exporting of some of football's most influential and talented young players. Some may even describe it as a small farm that produces the best crops only to see those crops sold to big agriculture for profit and survival. A league that enjoyed its place in the world and had no visions of grandeur. That was until Qatar Sports Investments came along.
The QSI-owned Paris Saint-Germain, in many ways, has yanked Ligue 1 and French football kicking and screaming into the 21st century. PSG has become a marketing giant whose rapid expansion has left Ligue 1 in the precarious position of being ill-prepared to handle the monster that Paris has become. Teams who had once been able to sustain success through careful management of funds and youth development suddenly had to adjust to the first real money power in their world.
This has led to an interesting dynamic developing in France. On one hand, the league is grateful for Les Parisiens and their ability to create exposure and revenue for a league which has ambitions to expand and grow. PSG's marquee teams of the last decade have seen the league grow in Asia at a substantial level, garner a billion Euro television rights deal, and seen an overall increase in league revenue.
But, of course, success breeds contempt. The same French league that relied on Paris Saint-Germain as a pillar of its growth plans also looks upon the Qatar-owned club as something "other than" or "not in the general spirit of the French Republic." PSG is a purely capitalistic enterprise in a country that since Marie Antoinette has been socialistic in sentiment. To varying degrees, PSG has outgrown France in the same way FC Bayern Munich has outgrown Germany, and Liverpool FC has outgrown England. Meaning, those clubs, while still attached provincially to a speck on the globe, now belong to the entire globe.
No more does this manifest itself than in Ligue 1's officiating. The most "French" of France's footballing dynamics. The French referees are children of the republic, of its ideals and of its cultural identity. So, it comes as no surprise then when a poll conducted for RTL claimed that "84 percent of French people and 78 percent of football fans agree that Neymar Jr endangers himself by doing too much and provoking defenders" that this is reflected in the way said player is officiated in the French game.
In PSG's communique published on Saturday, they claim:
Cette saison, en Ligue 1, 44 fautes visant Neymar Jr ont été sifflées, soit 3,3 par match en moyenne ; en Ligue des champions (37 fautes sifflées), cette moyenne par match grimpe à 5,9
Basically translating to "When Neymar is officiated in the UEFA Champions League there are more fouls called against his opponents than when he is officiated in Ligue 1. The implication being that if against theoretically better competition, Neymar is being fouled 5.9 times per match than how against theoretically inferior competition is he only being fouled 3.3 times per match?
Communiqué du club.

— Paris Saint-Germain (@PSG_inside) February 2, 2019
The statement here is clear as day. The French officials have failed to protect Neymar from sloppy and sometimes intentional fouls, which has indirectly or directly led to two major injuries to a player PSG paid €222 million to sign and almost €40 million a year in salary. The other statement being made is that Neymar has brought exposure and notoriety to a league in desperate need of it and if the league doesn't do better to help keep Neymar upright and healthy, he will pack his bags and leave while taking with him all that comes with having an elite star in your league. He may even take Kylian Mbappé with him.
Make no mistake that this is the message of the communique that PSG has written. More than anything, it is a warning to a league that they feel is squandering the opportunity it has been presented, with the main culprits not being the men in boardrooms but the ones with whistles and cards in their pockets.
This is why when M'Baye Niang almost broke Thilo Kehrer's leg last Sunday and only received a yellow card (even after a replay review) the entirety of PSG's setup, from players, manager, to sporting director, completely blew a gasket at the end of the half. It was probably the first time Antero Henrique and Thomas Tuchel agreed on something in months. It's because both know the stakes, while Ligue 1 and its officials do not. The referee in question, Karim Abed, later would apologize for missing the obvious call. He mainly did this because anyone with eyes could see he erred, and not to apologize would have allowed more pressure to mount against a young referee without the tenure or stature to be considered beyond reproach. But, apologies don't un-break legs, and luckily, in this case, that didn't happen.
But, let's go into the mind of referee Karim Abed in that moment because it is a great reflection of the French attitude towards PSG in general. In live time, it is possible that Abed missed the truck recklessness and danger of the challenge and the yellow was what he came up with. After looking at the replay of the challenge, with Niang's studs directly parallel to Kehrer's leg on contact, there is no logical way he could have stayed with his original decision. That's exactly what Abed did though. The theory of why is simple.
Stade Rennais FC had been gaining momentum and strength as the game was progressing. They tied the match on a Niang goal and had the reigning French champions on the ropes. Sending off Niang at that moment in the game would have completely killed the momentum of Rennes and in the official's mind, end the competitiveness of the match. Abed did not want to do that and thus allowed Rennes a lifeline. This is not as crazy a theory as one might think since a similar situation occurred against Olympique Lyonnais earlier this season.
A Nabil Fekir injury early in the match seemed to doom Lyon but in the 32nd minute, Presnel Kimpembe was sent off with a straight red on a foul not nearly as bad as the Niang challenge. Thirteen minutes later, a questionable second yellow was given to Lucas Tousart to even the teams at 10 men each. Or, maybe to the PSG vs. Lyon game from earlier last year. Fekir gave Lyon an early lead on a free kick. Mbappé got free on a through-ball over the top, only for Anthony Lopes to launch himself like a National Football League free safety towards the young Frenchman. The goalkeeper barely got the ball but he sure as hell got all of Mbappé chest, which knocked him out of the game. No card was given and PSG would lose Dani Alves to a double yellow for arguing with referee Clément Turpin and would eventually lose the game.
This is a kind of "Footballing Socialism" that is unique to French football. In fact, it's unique in most of the top competitive sports leagues in the world While socialism can be effectively used in certain economic and political policies, it is terrible for competitive sports, which is as anti-socialistic an endeavor as there is. Sports leagues, in general, try to tilt the playing field towards the elite star athletes that drive revenue and interest. The National Basketball Association has made it impossible to contact the opponent without committing a foul, same with the NFL. They do this so the teams score more points and more importantly, the stars look good and score more points. La Liga has become the "Let Lionel Messi take free kicks Liga," and if Mohamed Salah sneezes it's a penalty kick for Liverpool. Ligue 1, in some respects, is an island unto itself.
There is no better example of this than Neymar's treatment by Ligue 1 officials. Remove your feelings for the player as a human being or a sportsman or whatever qualifier you want to come up with and just look at the situation from a rules standpoint.
A card is to be given if a foul is deemed to be intentional or reckless, and depending on the severity, that card could be yellow or red. This includes grabbing an opponent to impede his progress, blocking their path with your body, high elbows or hands to the face, or kicking at an opponent in a repeated way. All things that happen to Neymar on a per game basis.
Some will say that he is not the most fouled player in Ligue 1, and they are right. But, since refereeing is subjective, that statistic is meaningless. Neymar is by far the most fouled player Ligue 1, but more than half of those fouls are not called. Inferior French opponents are allowed to get away with more physical play, intimidation, and cheap off the ball "love taps" on Neymar than any other player in European football. The French officials are essentially giving the opponents a competitive advantage against PSG to "even out the game" and "give them a chance." Football socialism.
Then there is the asinine argument that Neymar deserves to be fouled and by extent deserves to be injured based on his flamboyant and electric style. It angers the French defenders that they cannot match Neymar's skill and that he has no issue rubbing their face in it. Call it arrogant, call it whatever you want, but by the letter of the law, fouling a player because he annoys you is not legal. Unless you play in France, then it is encouraged. Fans and pundits can have these ridiculous macho opinions, but when the officials play into it and allow such behavior, it compromises the integrity of their own league. And this isn't just a PSG problem, Olympique de Marseille has experienced similar refereeing judgments as has Lyon. In general, Ligue 1 officiating has been dreadful. Ask FC Nantes and then ask Tony Chaperon.
In the end, French football has to come to the conclusion that every other sports league in the world has, which is that elite players get special treatment and protection. If they don't, they will drive the elite players from all the teams in France, not just PSG. And leave French football and Ligue 1 with the moniker that it most despises: "Farmers League." If Ligue 1 isn't careful, that moniker may one day soon be validated.
Thank you as always for listening and if you would like to show your appreciation for PSG Talk, we invite you to visit our Patreon page where you can buy our new "Farmers League Champions" T-shirt! Thank you and Allez PSG!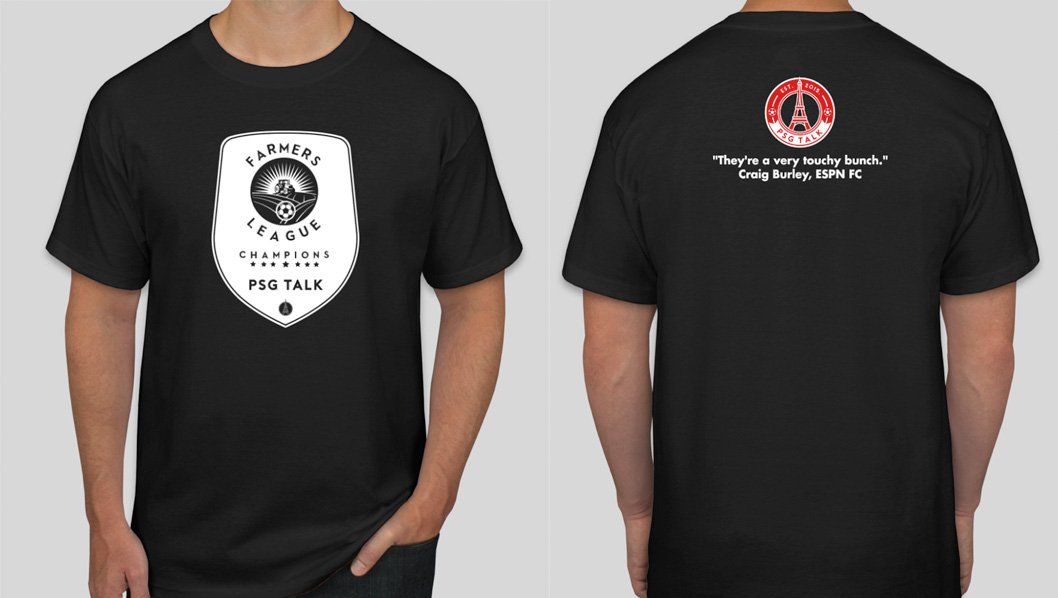 Subscribe to our podcast (iTunes) (Google Play) (Stitcher) (Spotify) and follow us on Twitter @PSGTalk