Paris Saint-Germain are comfortably in control of Ligue 1 with a 13-point cushion between them and second place LOSC Lille. Since the beginning of 2019, PSG has wreaked havoc on their opponents, winning five out of their last six matches. The only loss during this stretch of matches, and in all competitions this season, saw PSG's 43-match run in domestic cup ties come to an end against EA Guingamp in the Coupe de la Ligue. Paris only had to wait 10 days to revenge that loss, which they did to the tune of 9-0.
After surviving a grueling first half of the season and proving to be a battle-tested squad, things have not come easily by any stretch of the imagination for the reigning French champions. To be clear, this isn't a prelude to some form of decoding of how everything is allegedly falling apart, but more or less, to accentuate the misconceptions and overreactions that have come about.
For context, PSG not only lost their only true midfielder in Marco Verratti in the shutout win over Guingamp but just as the universe had it aligned, Neymar Jr. also re-injured the same right foot that prematurely ended his 2017-18 campaign. As luck would have it, both injuries hit the Brazilian right before a vital UEFA Champions League group stage tie. I would be remiss to not mention the wantaway midfielder Adrien Rabiot, who has reportedly turned down two offers from English side Tottenham Hotspur. In Rabiot's defense, Mauricio Pochettino recently downplayed the value of winning domestic trophies and could be sacked at the end of the season, so I can't necessarily fault the young Frenchman for not wanting to join the north London side.
Poch: "Again we're going to have the debate whether a trophy will take the club to the next level. I don't agree with it. It only builds your ego. The most important thing for Tottenham right now is to always be in the top four." https://t.co/3hgLtsj6eX

— Alasdair Gold (@AlasdairGold) January 27, 2019
In addition to all of this, the month of January means the transfer window is open. Transfer windows, in my opinion, are the most excruciating periods to witness as a football fan. American sports, such as the National Basketball Association and the National Football League, for instance, have a small number of "insiders" (reporters) who have sources close to every team in the league. Most importantly, these insiders typically only report on potential news when their sources confirm a trade (American word for transfer) is imminent. Today's news regarding New Orleans Pelicans star Anthony Davis' trade request is a good example of this. Adrian Wojnarowski is one of the best in the business with sources everywhere. He has no agenda and simply reports what he hears and confirms it before dropping a "Woj Bomb."
Agent Rich Paul has notified the New Orleans Pelicans that All-NBA forward Anthony Davis has no intention of signing a contract extension if and when presented and that he has requested a trade, Paul told ESPN on Monday.

— Adrian Wojnarowski (@wojespn) January 28, 2019
In football, player transfers and negotiations are a shit show. Particularly from the media and fan perspective rather than the clubs and players involved. Often times, false information is leaked to the public to generate clicks and traffic volume for certain publications. There is an entire business within the context of football that generates revenue based on rumors—imagine that. Transfer rumors bring forth a war of words between fanbases over deals that won't manifest for at least 6 months down the line. This is generally recognized as banter but it gets faulty when fans begin to converse as if they know factual details about player negotiations or the front office for that matter.
The most consistent issue with football transfers is the transparency that football fans have been spoiled with as it pertains to intricate details that should only be privy to the people on the inside. What tends to happen when everyday fans attain information about a player's bonus wages, clauses, and other sensitive contract information is a community of individuals attempting to make elaborate arguments about subjects they don't fully understand.
There is no chain of command when deciphering football transfers or the rumors that follow them. If there is such a chain, the people on the bottom of it certainly don't respect it.
It's no longer rare to see an altercation on social media with a fan trading barbs with a journalist—a journalist by the way who follows the club on a day-to-day basis and has intel on sensitive information. We can justifiably allocate these instances as a result of the current social media era, but we also must simply be honest as fans and admit we don't really know anything and there's nothing wrong with that.
For PSG supporters, the need for a defensive midfielder since Thiago Motta retired has morphed into some form of war cry. The obsession over this topic has quickly gone from an underground tremor waiting to break through the surface to a full-fledged category five tropical storm that is terrorizing the fanbase. What was once a literal necessity to the functionality of the team is now a mere point of emphasis when making even the most surface argument.
No one could've possibly been more relieved than I was when AFC Ajax midfielder Frenkie De Jong made the decision to take his talents to FC Barcelona this summer. Not because he chose Barcelona, but for the simple reason of making a choice at all. For months, there was speculation that he chose PSG, and then Barcelona, and then PSG again, and finally confirming that Barcelona was indeed his choice. Any individual certainly has the right to justify it to themselves whether any of those circumstances were true. Maybe De Jong wanted to go to Spain all along, or maybe Barcelona came in the 11th hour and offered better wages than PSG, or maybe text messages from Neymar sealed the deal—it doesn't make either club better or worse than the other.
Media outlets reported this decision as "Frenkie De Jong Chose Barca Over PSG and Manchester City." Although this headline is, in fact, accurate to a large degree, it's essentially clickbait. In this case, it acts as a triggering point to PSG and Manchester City fans. Reportedly, three major clubs were real options in the De Jong sweepstakes, but the player could only choose one. For whatever personal reason, De Jong chose Barcelona and it's really no one's business why. Likewise, for Neymar and Kylian Mbappé choosing PSG over other heavyweight suitors, it's no one's business except for the player, their families and the club. You win some and you lose some.
With De Jong choosing Barcelona, the inevitable departure of Rabiot, along with the seemingly annual injury to Verratti, there became a heightened urgency to bring in any competent midfielder. PSG seemed to have locked in on a key player that made sense financially and positionally in FC Zenit Saint Petersburg midfielder Leandro Paredes. Reports indicated that a deal had been agreed upon and the club just needed to formally announce it. But, once those reports came out, the deal appears to have stalled as the contract is nitpicked by PSG executives. As of the publish date of this article, no formal announcement has been made and the deal has been "done" for at least a week.
There's no doubt that there is a hiccup somewhere in the negotiations. The fundamental truth of the matter is that delay should only matter to the club and the player involved. If we only learned about the Paredes deal as it was made official, no one would have known that there was a delay in the negotiation process, which is common in nearly all negotiations both in athletics and business. But, because fans have been privy to this information so casually, it causes unnecessary panic.
Is there a solution to this? It's highly unlikely. Social media is its own untamable beast at this point and I certainly am not one to tell an individual how they should feel about anything in any situation. I'm also not one to engage in verbal tennis about particulars that I'm far removed from, simply for the sake of having an argument. But, if we as fans can collectively arrive at the conclusion that we really don't know what's going on at the top level of the club, maybe internal patience may come about. Hopefully, then we can have unfiltered banter and argue about things we know for a fact—even if it means waiting for said facts to be officially confirmed.
Thank you as always for listening and if you would like to show your appreciation for PSG Talk, we invite you to visit our Patreon page where you can buy our new "Farmers League Champions" T-shirt! Thank you and Allez PSG!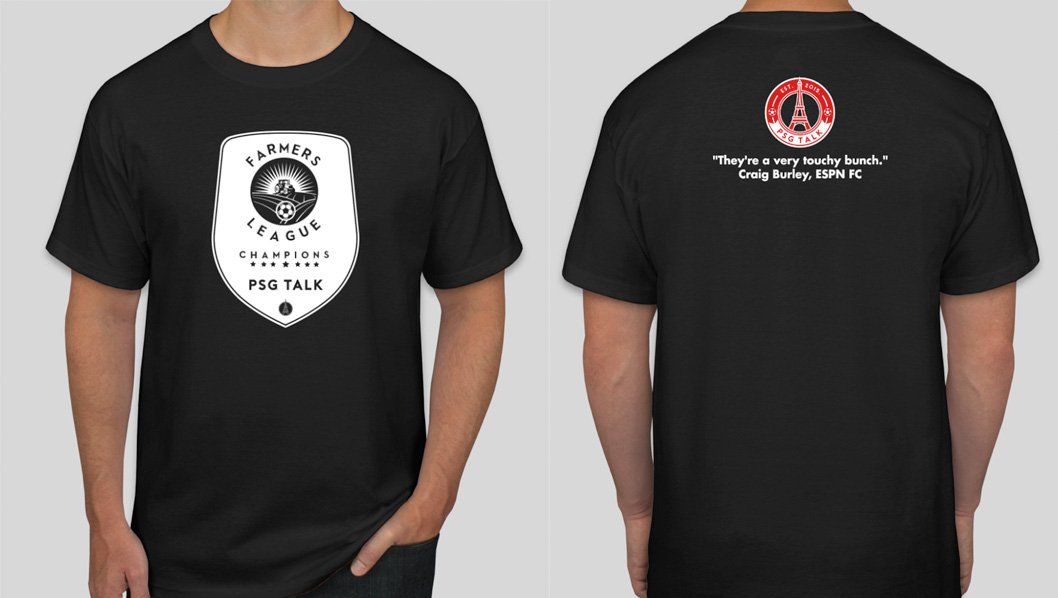 Subscribe to our podcast (iTunes) (Google Play) (Stitcher) (Spotify) and follow us on Twitter @PSGTalk