The confidence required on the first day of any job is underrated as it pertains to the different variables to consider leading up to it. There is the initial anxiety of following through with everything you just promised and committed to during the interview process. Your new coworkers have no clue who you are or why you were hired and now you're stuck contemplating how to convey your competence while not coming off as a know-it-all on the first day. Not to mention figuring out what to wear if there isn't a uniform policy because you'd like to sustain a certain level of presentability throughout your tenure.
I personally did not master the required level of confidence on my first time in a corporate position, but as new job opportunities presented themselves, I was far more at ease with those icebreaker conversations and integrating myself with new colleagues. In fact, I can confidently make the case that Paris Saint-Germain manager Thomas Tuchel has also mastered the art of showing up to a new job with loads of confidence. During press conferences and interviews, Tuchel seems to have all of the confidence in the world without an ounce of doubt in his glands. But, it's likely it took him some time and experience to arrive at this measured space he currently exists in.
The young manager out of Krumbach, Bavaria, located in West Germany had a relatively minimal coaching career prior to his arrival in the capital of France. Although his resume did not compare to the likes of other world-renowned managers who were on PSG's radar after parting ways with Unai Emery, Tuchel managed to charm his way into one of the biggest jobs in European football. With only a few coaching jobs to his name prior to joining PSG, the German tactician had to have had some impressive results and developments in his relatively short coaching career.
Moving up the ranks from an under-19 head coach at VfB Stuttgart to the first team coach at FC Augsburg in the sixth tier of German football, Tuchel was already exposed to taking a huge leap in the coaching field. From coaching teenagers to men with families and some who were around the same age at the time. His adaptation to new jobs only became easier after taking the manager position at FSV Mainz 05 (2009-14) and eventually at Borussia Dortmund (2015-17) where he made a name for himself. Tapping into the transfer window early after Jürgen Klopp left Dortmund in 2015, Tuchel's familiarity with German players and the additional experience of starting yet another new job helped the Black and Yellows sign a top talent in defensive midfielder Julian Weigl. This was the start to the former Dortmund boss cultivating a reputation of developing young players in crucial matches, as he later guided the ascension of 2018 FIFA World Cup winner Ousmane Dembélé and United States international Christian Pulisic.
Currently, at PSG, Tuchel is realizing the mature version of himself. In a span of five months worth of matches, Tuchel already has shifted the mentality in Paris by setting a high standard and instilling his own confidence into the players. Not only does he show more affection and personality with the players, as Yahoo Sport France reporter Ambre Godillon alluded to on our very own podcast—but more importantly, he is betting on his own tactics given the tumultuous environment PSG and its players seem to find themselves in every season. As advertised, Tuchel quickly inserted PSG youth academy players into the first team as UEFA's Financial Fair Play regulations loomed over the club and senior players were still making their way back from the World Cup this past summer.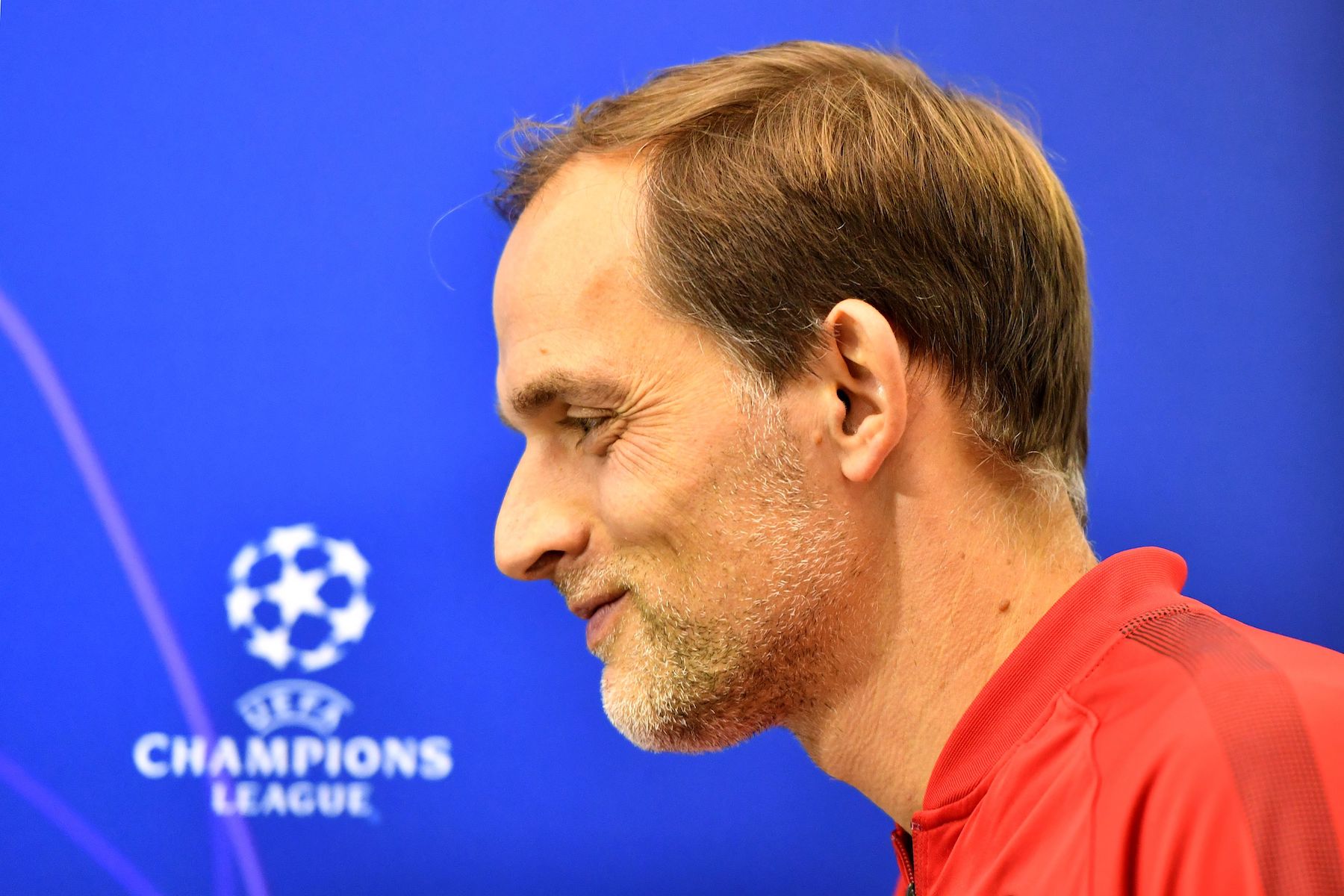 This was a gamble that prior PSG managers would have been reluctant to make, even with a World Cup just before a new season. Tuchel showed a calming confidence in the youth players early in the season and bet on his instructions to guide the team into what would be a record-breaking, undefeated start to the Ligue 1 season. Brazilian center-back Marquinhos found himself in a new role early in the season with Marco Verratti recovering from surgery after an abductor injury. With Giovani Lo Celso loaned out to Real Betis, Verratti's injury left PSG with only one trusted midfielder in Adrien Rabiot. Tuchel again was willing to bet on his tactics by deploying a center-back into a defensive midfielder role. It was evident Marquinhos did not initially look comfortable in this role as he lacks the passing skills required to play in the midfield, but he was certainly up for the challenge presented by Tuchel, managing to keep things relatively clean in Verratti's absence.
Fast-forward to Le Classique, a huge match between PSG and Olympique de Marseille no matter where they stand in the league table. An hour before the match, it was reported that Kylian Mbappé and Rabiot were dropped from the starting lineup for disciplinary reasons. It was later confirmed that the two France internationals arrived late to a pre-match meeting. Prior to this match, Marseille only won two out of their previous seven matches, dropping points in Ligue 1 and the UEFA Europa League. However, PSG couldn't rest on their laurels as OM would have the Orange Vélodrome crowd behind them, and Le Classique is still the biggest match in French football for a reason. Despite the magnitude of the matchup, Tuchel not only bet on a limited team selection but in front of everyone, he used two of his key players as an example for accountability when it comes to the rest of the team. This was genius by the 45-year-old manager as he killed two birds with one stone and still pulled out an impressive 2-0 victory. Sure, PSG was held to a draw until Mbappé came on in the 62nd minute opening the scoring line in the 65th minute, but the starting eleven controlled a better part of the first half in possession (53 percent-47 percent) and completed more passes (233-198).
Tuchel would have to bet on his tactics again in the following matches as Rabiot, who has been undecided about his future with the French champions, seemed to lose his starting midfield role to Julian Draxler. Draxler maximized his opportunity once Rabiot was dropped against Marseille and hasn't looked back since. The Germany international has largely been a luxury player since coming to Paris in 2017. We've seen him playing as a winger, an attacking midfielder, a false 9, and occasionally in the midfield. By Tuchel dropping his second best midfielder for a player who was recently out of form and constantly rotating positions, it's yet another calculated gamble he's willing to risk his reputation for.
After two seasons with the Ligue 1 giants, it's only now the Parisian faithful feel as if Draxler has finally found his place within the side. Scoring a late goal in the Orange Vélodrome to seal PSG's win, Draxler savagely looked to the OM faithful and made a gesture that assured his place in the hearts of many PSG fans. This gesture largely stemmed from Marseille fans throwing bottles, amongst other things, at Neymar Jr. every time he went to take a corner kick. An image of Draxler with his right hand to his ear, taunting the home fans, has become a defining moment with the Collectif Ultras Paris. The ultras went as far as making the image into a tifo with the words "ON VOUS ENTEND PLUS" (WE HEAR YOU MORE), displaying it at the most recent home match against Lille OSC.
Dernière pique envoyée du @Co_Ultras_Paris à la #TeamOM.

« On vous entend plus » avec une banderole à l'effigie de Julian Draxler et sa célébration au Stade Vélodrome 👂🤚#PSG #PSGLOSC #OMPSG pic.twitter.com/FmxfiwIucw

— Jonathan Bensadoun (@bensjonathan) November 2, 2018
Since assuming the midfield role under Tuchel, Draxler has shown his high football IQ and timely passing, while breaking down defenders in the process. In the matches against Marseille, Lille OSC, Napoli, and Monaco, Draxler had five key passes and a 95 percent successful passing rating to go with his goal at the Vélodrome. In his last four matches in Ligue 1 and the UEFA Champions League, Draxler has impressed with 10 successful tackles and two interceptions. A revelation in its own right, as most fans and pundits had the former World Cup winner exclusively pegged as offensive minded.
My favorite moment during #PSGLOSC was when Draxler committed this murder by way of footwork. pic.twitter.com/YhQbOwWmFR

— 🇨🇩 (@Godfrshort) November 2, 2018
The underlying theme to Draxler's recent form is at the core of Tuchel betting on his tactics and line-up selections as FFP continues to be an issue. The genius in this method is, none of the players realize Tuchel is gambling on himself through them and they have inadvertently followed suit in many instances. There hasn't been anything complex about Tuchel's approach with this current PSG roster thus far. He has rejuvenated the morale and ambiance amongst the players with something as simple as being personable, unlike Emery and Laurent Blanc. He has demanded excellence from the team since his first press conference and has continuously denounced the rhetoric of Ligue 1 reducing PSG when it comes to the competition in the Champions League—reiterating that "Ligue 1 is a very physical league." Prior to the match against OGC Nice in late September, Tuchel added: "There are teams like Monaco, Marseille, and Olympique Lyonnais, but also Lille, Nice, and Toulouse FC, who are strong. I do not agree that Ligue 1 is not a problem for us."
Unfortunately, the two glaring disappointments so far for Tuchel's men have come in Europe—a loss away at Liverpool FC and a 2-2 draw at home against Napoli. Paris Saint-Germain's Champions League destiny rests on a crucial match at the Parc des Princes against Liverpool on November 28. No question about it, PSG players will have to play at their highest level and there will be absolutely no cushion for error or unprecedented risks from the manager. Tuchel will probably have to sacrifice some notable players, under the aegis of selecting the strongest lineup, with the best chemistry to execute his tactics. He's done it before and I foresee him doing it again if necessary.
Regardless of the Liverpool result at the Parc des Princes, Tuchel has made an immediate impact on PSG and its fanbase. Surely, the French media won't let him off the hook that easy and neither would I for the record. Nonetheless, Tuchel thus far has shown an extreme amount of confidence in himself and it has resonated throughout the club. The demons of European football for PSG still linger, but if given time at his new job, Tuchel could be the manager to change that narrative.
Subscribe to our podcast (iTunes) (Google Play) (Stitcher) (Spotify) and follow us on Twitter @PSGTalk