A lot will be written over the next 10 months about Paris Saint-Germain. Some positive, but mostly negative. There will be things said about the new manager, and his tactics and techniques. There will also be things said about the saliency of the PSG midfield. There may even be things said about the development of youth players over the preservation of veterans. These talking points and many more will filter in and out of the dialogue during the upcoming season. A different kind of writer may even attempt to cover all of these aspects of the upcoming PSG season in a long-form column. I am not one of those writers. Quite frankly, all of the things I've just mentioned are subplots—crucially important subplots—that may determine the success or failure of the season, but subplots nonetheless.
The main storyline of the 2018-19 season is based around two protagonists. Their names are Neymar Jr. and Kylian Mbappé. These masters of the universe are the straws that will stir this drink. We can get into the weeds all we want but in the end, it comes down to Neymar and Mbappé, two of the best 10 football players on the planet. When the epitaph is written in May, it will be those two who either share the sweet success or bear the burden of blame.
The three consecutive UEFA Champions League winners Real Madrid just lost their talisman, Cristiano Ronaldo, and don't seem to have a ready-made replacement. FC Bayern Munich is getting older, not younger. Juventus FC, who now have Ronaldo, is a threat but have the same amount of Champions League trophies in their last twenty years as PSG do. FC Barcelona is Barcelona but Messi is another year older with unproven and aging commodities around him. It's really quite simple, this is PSG's year. Sure, they share that status as "favorite" with five other teams, but with the best cup tournament team of this century seemingly disbanding, the chances of Paris winning the big one have drastically gone up.
And it will take the goal-scoring and ultimate brilliance of Neymar and Mbappé to carry Les Parisiens to the promised land. Or is that Mbappé and Neymar?
A lot has changed over the last two months. Neymar's FIFA World Cup this summer did not go as he would have hoped. Mbappé's World Cup was the stuff of legend. Last year, the two had a mentor/mentee relationship. This year, it will be different. It has to be different. If PSG were a rock band, it would now have two lead guitar players.
Speaking of guitars and rock bands, here is a history lesson. My favorite rock band has got to be The Allman Brothers Band. For my money, no band has ever reached a higher artistic level than The Allman Brothers of 1971. It was a group surrounded by amazingly talented role players like Butch Trucks, Jaimoe, and Berry Oakley. Greg Allman played keyboard and sang, but the band was centered around two lead guitar players. The first was at the time a relative unknown named Dicky Betts, the other was renown session musician Duane Allman.
SkyDog (Duane's nickname) was the band in its infancy. He was both the spiritual and the technical leader. You can tell from the early recordings that the band was essentially structured to showcase Duane, who at the time was a top five (I'd argue the best. Listen to his solo on 'In Memory of Elizabeth Reed' from Fillmore East and tell me different) guitarist in the world. However, as the band progressed you began to hear the growth of the other members, especially Dickie, who by the time of Duane's death in October of 1971, had joined Duane on the best guitarist list. It's this reason that the band was able to continue on and become even more successful after the death of Duane.
What does this shaggy dog story have to do with anything? It tells us a number of things. The first thing it tells us is that when backed by a talented ensemble pushing in the same direction, that raw talent can progress and thrive. It also tells us that just because one person is seen as the leader, that another person can't raise their game and be seen on equal footing in a healthy way that is beneficial to the whole. One of the final things that it tells us is that two geniuses together can reach a zenith that is impossible for only one to reach by themselves.
Just look through history. Duane Allman and Dicky Betts, John Lennon and Paul McCartney, Steve Jobs and Steve Wozniak, and dare I say, Messi and Andrés Iniesta. The greatest of human creations are usually the product of two minds as opposed to one. And in the context of a football club or any sports team, it's the combination of two and in some cases, multiple minds coming together to create true greatness that no one man can create on their own. It is for this reason that the combination of Neymar and Mbappé, alongside a collection of talent that while great, is still complimentary, is the key to PSG's ultimate triumph in the Champions League. It's becoming clear that this may be the best chance for PSG to win it all, and it will take both Neymar and Mbappé performing at a high level together in concert to do it.
Last year, both players were great. Neymar scored 19 goals and put in 13 assists in Ligue 1. Mbappé had 13 goals and 8 assists. In the Champions League, Neymar had 6 goals and Mbappé had 4 goals. Great numbers but not the totals of players who advanced into the latter stages of the competition. It's going to take more. This is why the two players will have to stay healthy and find a rhythm with each other.
Thomas Tuchel can draw up whatever formation or tactics he wants but in clutch moments, the best players must rise to the occasion. They rise over the tactics and use their instincts cultivated over many years to make the proper decisions. Part of that is due to the effortless, often unspoken communication between top players that a team like Real Madrid has down to a beautiful art form. Neymar and Mbappé, along with the rest of the team, will need to reach that place where the nod of the head, or the motion of the arm, or certain body language can say more than words ever could. And since Neymar and Mbappé are the lead guitars of PSG, they will need to take the lead since they are the most prominent members of the band.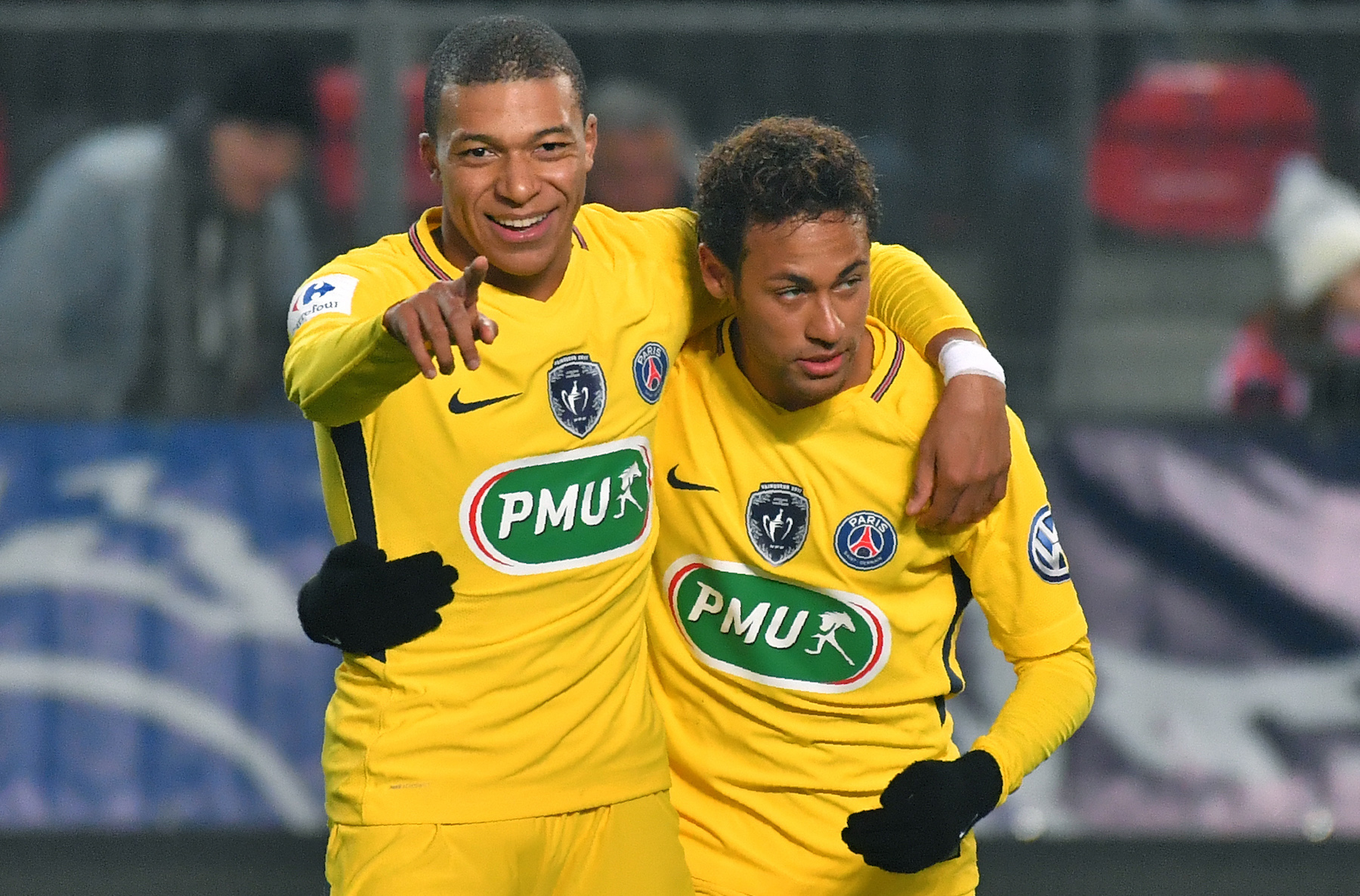 Briefly back to our musical history lesson. Another thing about the Allman Brothers was that in concerts, a lot of the music they played was improvisational. They learned from the school of John Coltrane and other jazz musicians who would create beautiful tapestries of music with verbal communication or even sheet music in front of them. The thing about music is that if you're really talented, you don't need a script. It's the same way with football to an extent. After playing together for a while, you just know. And right now, PSG have two of the best improv artists in the world leading their line of attack. If those two artists can come together, having a year under their belts, and jive together, this PSG team will be unbeatable.
The reason being that it will be nearly impossible to bottle up two of the world's greats when those greats understand each other and what the other needs at any given moment. Who leads and who follows at any given time, knowing when to get out of the way when the other is on a role. Taking turns to attack a defense so that you can never tell where the death blow will come from. Being able to adjust at any time, mid-game, late in the game, any old time at all. Keeping the ego's in check, but also using those egos to develop healthy competition on the training ground, and on the pitch.
This is going to be an exciting, nervewracking, but straightforward season. Either PSG's dueling guitars learn to play beautiful improvisational music that lifts the team to ultimate triumph, of for PSG, it will be another year tied to the whipping post.
Subscribe to our podcast (iTunes) (Google Play) (Stitcher) (Spotify) and follow us on Twitter @PSGTalk