It's easy to be a prisoner of the moment and call this past FIFA World Cup the greatest of all time, but you wouldn't necessarily be wrong by making this proclamation.
What we just witnessed was a once in a lifetime showcase of the most prestigious sporting event in the world. It was an opportunity for football purists to show off their knowledge of the beautiful game to their family and friends who casually watch the sport or only take it in ever four years. This World Cup gave you excitement, athletic brilliance, and it even stirred up all forms of emotions for countries that you never thought you cared about. More importantly, for a tournament orchestrated by FIFA–who are always two feet away from ignorance, corruption, and drama–the narrative never swayed from what was taking place on the pitch.
Amongst the world-class talent on display in Russia from a club perspective, Paris Saint-Germain players shined the brightest in the 2018 World Cup. Even those who are generally dismissive of PSG couldn't logically refute this. Supporters of the capital club saw their players put the football world on notice, not only in the number of players selected but the individuals who massively had their footprints on every aspect of what many are calling the greatest World Cup of all time.
As the heavy rained poured down into Luzhniki Stadium in Moscow, and France captain Hugo Lloris raised that precious piece of art in the form of a trophy, I couldn't help but spot PSG players Kylian Mbappé, Presnel Kimpembe, and Alphonse Areola in a state of euphoria as they just realized the biggest accomplishment a football player could ever achieve. They not only made their country proud but also the millions of Paris Saint-Germain supporters all over the world.
PSG finished tied at the top with Tottenham Hotspur for the most goals scored at the World Cup per club team with 12. I ranked the performances of the seven PSG players that featured consistently for their countries.
Excluded from this list are Kevin Trapp, Alphonse Areola, Presnel Kimpembe, Giovani Lo Celso, and Marquinhos due to their lack of playing time.
7. Julian Draxler (Germany)
Early in this World Cup we saw some of the heavy favorites go down to some relatively weaker opponents, and little did we know that it was a sign of what was to come. Germany probably played their worst match against a counter-attacking Mexico side in the first game of the group stage, and Julian Draxler featured in the full 90 minutes. Although Draxler offered some form of creativity in attack for Die Mannschaft against Mexico, he was essentially expendable for Joachim Löw as he was part of the many German players who could create and keep possession of the ball, but never threatening in terms of actually scoring goals. Draxler was missing in action in the second match against Sweden and was subbed at halftime. Heroics from Toni Kroos gave Germany their only win in this World Cup, and they inevitably had an early exit as they were thoroughly outplayed by South Korea in a final group stage match that Draxler watched from the bench.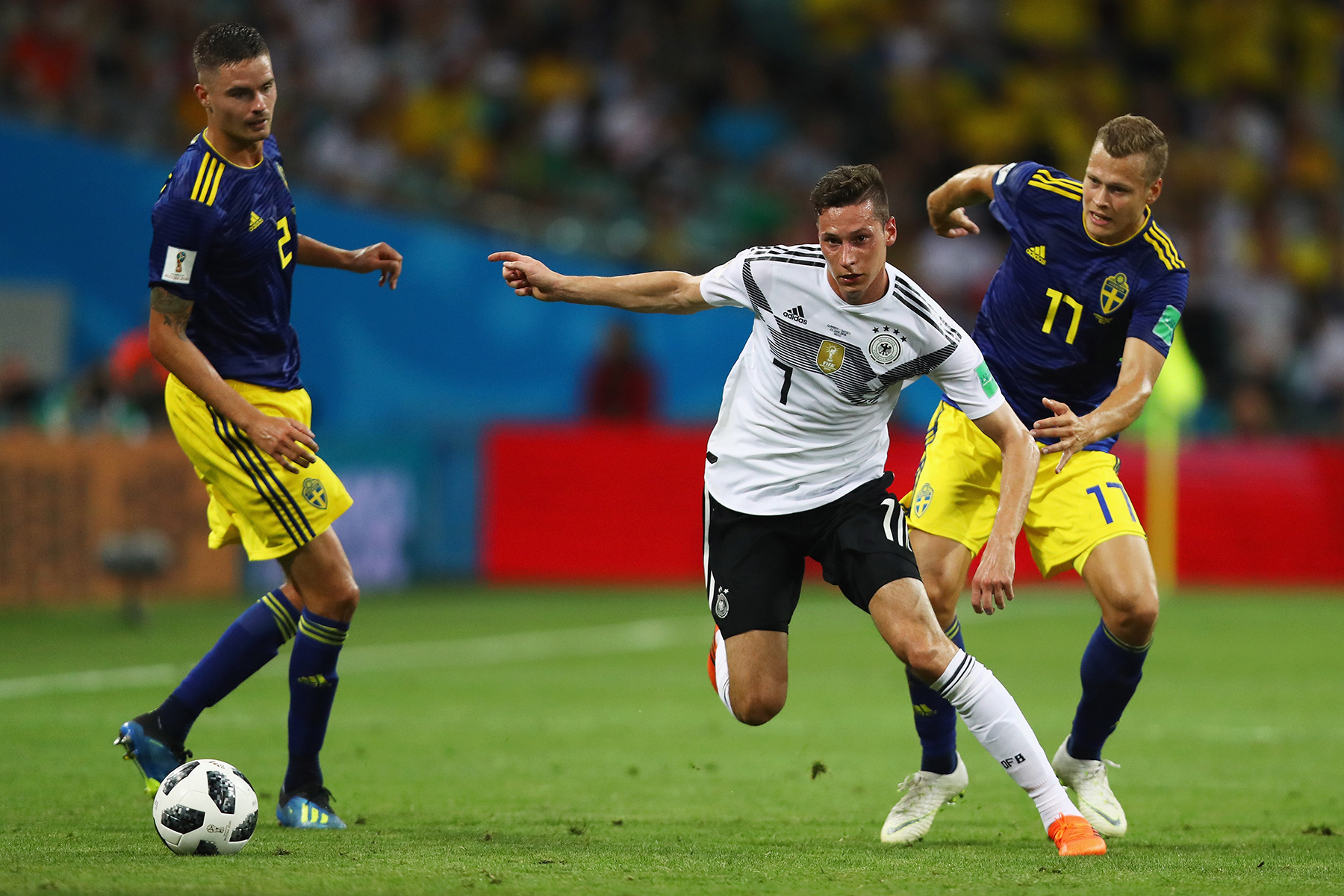 6. Angel Di Maria (Argentina)
Angel Di Maria and his compatriots showed up to Russia thinking they could play pick-up football matches and they got slapped around for the whole world to see. Di Maria continued his PSG form where he plays like crap early in the season and then tries to fool us all with an occasional flash of brilliance. In the first two group stage matches, Di Maria was wasteful, only took one shot (not on target), and in large, was part of the reason Jorge Sampaoli was seen constantly pacing on the touchline, stressed the hell out. In the final group stage match against France, Di Maria joined the goal fest with a phenomenal hit from outside the box to level the match before halftime. But it wouldn't be enough as France went on to advance to the Round of 16, to the delight of many who did not think Argentina deserved to play another match in the tournament.
5. Edinson Cavani (Uruguay)
As we saw in this World Cup, football can be so cruel. For some, it's losing a match that you gave every part of yourself for, and unfortunately for Edinson Cavani, this cruelty came in the most saddening form. After some average outings in the first two group stage matches against Egypt and Saudi Arabia, El Matador came to life in the following two matches for his country. A game-sealing tap-in goal against the host nation, followed by two beautiful goals and a man of the match performance against Portugal in the Round of 16. Just as Cavani was finding his form, he picked up a calf injury in the 74th minute that would ultimately end his World Cup on the night he scored a brace to send Cristiano Ronaldo and Portugal packing. It's rather easy to speak in hindsight, but many would agree that a healthy Cavani would have made the France/Uruguay quarter-final match a little more interesting than the 2-0 scoreline that saw France advance to the semi-finals.
4. Neymar Jr. (Brazil)
I wasn't thoroughly impressed with Neymar's play on the pitch, but not for the reasons you might assume. Putting in context the gruesome injury he recently overcame, with only two tune-up matches before the World Cup, he was still one of the brightest players in the tournament. In his five appearances for Brazil, Neymar finished with two goals and one assist, and he was efficient in creating 14 total chances with 85 percent passing accuracy. Neymar took some pressure off of Philippe Coutinho and Willian with his runs off the ball in the group stages, but this all came to a halt in the quarter-final match against Belgium. Neymar tried to take on every defender after Brazil went down a goal, and he was dispossessed five times in this match (most by all players featured). Brazil's number 10 only had one shot on target and his unwillingness to pass out of tough situation helped Belgium's lethal counterattack send the Seleção home prematurely.
3. Thiago Silva (Brazil)
After succumbing to the scrutiny that came after Brazil's 2014 World Cup exit, one of the more underrated storylines in this tournament was Thiago Silva's journey to be reinserted into the starting lineup, let alone wear the captain's armband for his country. As one of the more unfairly criticized players in all of football with all the pressure in the world, O'Monstro had one of the most spectacular center-back performances at the tournament. He was calm, commanding, and made his presence felt as he rarely put a foot wrong. Silva scored a ferocious header in the group stage victory against Serbia and it was one he deserved for so many reasons. Winning in major competitions seems to be all that is missing for Silva, and a PSG UEFA Champions League title seems to be his only path to hoisting a major trophy as a captain. Silva may never win a World Cup for Brazil, but he surely earned back the respect of many Brazilians after a brilliant performance in Russia.
2. Thomas Meunier (Belgium)
Belgium's golden generation reached its highest achievement on football's grandest stage, and Thomas Meunier played a significant role in this milestone. The Belgium fullback proved why PSG signed him in 2016 with his workman-like style of play, and an underrated player when joining the attack. Meunier put in a wonderful campaign, playing the full 90 minutes in five out of six matches Belgium played. He was influential with two assists and an 82 percent passing accuracy as Belgium led all nations with 16 goals scored in the tournament. The best counter-attacking sequence we saw involved Meunier, whose perfect ball placement became the assist for Nacer Chadli's game-winning goal to knock off Japan in their last of 16 match. For everything Meunier lacks in speed, he was solid in defense with 13 successful tackled and five interceptions. Almost similar to Cavani, Meunier missed Belgium's semi-final loss against France as he racked up two yellow cards prior to this match. Nevertheless, Meunier raised his stock in Russia, so don't be surprised if some big clubs come calling if PSG isn't able to give him the playing time and respect he has earned.
1. Kylian Mbappé (France)
Starboy, Wonderkid, Phenom, all the names fitting to describe Mbappé in this World Cup. The Frenchman was the lightning rod for everything great that transpired for France to win their second World Cup in history. It brought me joy to watch casual fans and pundits who cover other major sports to salivate over the young PSG attacker. A large part of the football world knew this kid prior to the tournament, but it was in the Round of 16 match against Lionel Messi and Argentina where Mbappé had officially announced himself to the rest of the world.
A 19-year-old kid wise beyond his years, taking over a match on the same patch of grass as one of the greatest to ever play. The former AS Monaco man won the world over with his grace and elegance on the ball and his blistering speed that didn't leave defenders with any time to even process what just took place. Amongst all of the wonderful records he achieved in this tournament, Mbappé became the first Paris Saint-Germain player to score in the FIFA World Cup final. France was in the driver seat up 3-1 against Croatia in the final, and the only thing missing was an Mbappé goal to seal France's World Cup victory and the icing on the cake to the Frenchman's coming out party. After a great run by Lucas Hernandez in the 64th minute, Mbappé received the ball at the top of the box, calibrated his shot and sent a screamer past his former teammate Danijel Subašić. This was the goal that sent French fans into a state of shock and it was symbolic for Mbappé who had just etched his name next to the great Pelé. Mbappé will never have to play with the pressure of winning a World Cup, and as a PSG and football fan, it was a pleasure to watch this kid on display for everyone to enjoy. The scary part about Mbappé's ceiling after winning the World Cup with France once again is…he's only 19-years-old.
Subscribe to our podcast (iTunes) (Google Play) (Stitcher) (Spotify) and follow us on Twitter @PSGTalk