Before Neymar Jr. ever put on a Paris Saint-Germain kit, the club routinely traveled to the United States for their pre-season tour. The market is clearly one they covet and as someone who has attended these friendlies over the past few years, you can see their popularity growing at a rapid rate. Now that Neymar wears the rouge et bleu of PSG and lines up with other world class players in the squad, many fans in America may be wondering how to watch the capital club throughout the season. Unfortunately, it's not as easy as you might think.
For American supporters, such as myself and a few other contributors at PSG Talk, watching our team can sometimes be a labor of love. Unlike the Premier League, which NBC owns the rights to in the United States and does a fantastic job making every single game available both on TV and their app, fans of Ligue 1 aren't as lucky.
I am by no means an expert on broadcast rights, streaming technology, contracts or anything like that and my situation may be unique to me only. I suspect that isn't the case but even if it is, one person having to jump through this many hoops to watch PSG is far too many.
How Ed Watches PSG
My cable provider is Comcast. So although they don't give access to the hbo zone, they are the largest cable provider in the United States (around 30 million subscribers) and coincidentally, purchased a controlling interest in NBC back in 2011. I do not live in a region with a plethora of options when it comes to television. I could get DirecTV but what do I do when it rains during a match and the signal goes out? Plus, the satellite provider does not offer the fastest internet speeds so streaming anything would be a struggle.
Let's look at a typical Sunday match day for me. I have Comcast and I'm ready to watch Neymar bag a hat trick and rainbow a few French farmers. I sit on the couch and turn to beIN Sports because they own the Ligue 1 rights in the United States and I discover that the channel is not in high definition. The actual picture doesn't even fill my TV screen. Trying to watch a match in low definition might be one of the worst things ever. I realize this is a first-world problem but you know what? I pay a lot for Comcast and I payed for the additional sports package so that I can watch beIN Sports because the channel is not included in any of their base packages. All of that money and I get a tiny rectangle on my screen with a blurry Neymar nutmegging EA Guingamp defenders. What the hell is that?
You might be thinking, "Ed, why don't you just stream the match from the beIN Sports app?" Great idea I would say. Streaming does typically mean a high definition feed so I fire up the iPhone and open the beIN Sports Connect app and tap the "sign in" button. The app asks me for my TV provider and I scroll through looking for Comcast only to find it's not listed. What? They have 30 million subscribers! What do you mean it's not listed?
There is literally nothing left for me to do at this point. If I call Comcast they tell me it's beIN Sports fault and vice versa. On their FAQ page, beIN states that their connect channels are available to "participating TV providers" so perhaps the blame should be put on Comcast. This leaves me with a difficult situation though. If beIN Sports broadcasts PSG live on their main channel I can watch but it's not in high definition. If they push PSG to one of their connect channels, like they did for the Toulouse match, I am unable to watch live because I can't log into their app. Sometimes, beIN Sports broadcasts PSG games late or on a delay because God forbid they don't show the FC Barcelona vs. Getafe match in its entirety. The best part is beIN Sports doesn't seem to even realize that Comcast users can't use their app:
You could also watch them at: https://t.co/LRYa03w6yI. Hope this works. 💪🏽

— beIN SPORTS USA (@beINSPORTSUSA) August 21, 2017
As someone who edits a PSG site, not watching a game live isn't an option. So, I now have to sign up for an additional service called FuboTV, which allows me to stream a high definition feed of every match no matter what channel beIN Sports puts it on. They offer three plans, the cheapest being $14.99 per month, and all of them give you access to the beIN Sports Connect app as well as a host of other networks. Their fubo Premier package ($34.99 per month) allows you to watch beIN Sports Connect channels within the FuboTV app, which is ideal because I've experienced all sorts of problems with the beIN Sports Connect app. The app freezes, crashes, and last season the Spanish commentary was the default option and there was no way to change it.
FuboTV is for cord cutters but I have it because Comcast/beIN Sports can't get their shit together. It's an additional charge that I really wish I didn't have to pay but I'm left with no other choice. I suppose there's always sketchy online streams but I'd rather not go that route. Instead, I pay a ridiculous amount of money to access the same channels twice and even then there's connection issues.
Could I cancel Comcast and roll with FuboTV full time? Well, the other members of my household would not appreciate losing all of their favorite channels so I'm left to subscribe to a cable provider and a streaming service meant for cord cutters and that's not even the most ironic part of all of this. beIN Media Group, which operates beIN Sports, was founded by Nasser Al-Khelaifi, chairman and chief executive officer of Paris Saint-Germain!!! One of the top executives of the team I want to watch is also in charge of the media company that makes life difficult for me on match day–not to mention expensive.
How American Fans Watch PSG
I recently asked our North American-based followers on Twitter how they watch PSG and the response was fascinating.
For those in the United States, how do you watch PSG matches?

— PSG Talk (@PSGTalk) August 21, 2017
Some supporters subscribe to cable providers, such as Optimum, DirecTV, AT&T U-verse, and Cox, that allow they to seamlessly log into the beIN Sports Connect app and stream PSG matches live no matter what channel they're on. They also get an HD feed of the main beIN Sports channel on their television. These supporters are in the best shape because they pay one price and they get access to all of the channels. They're able to watch PSG live, in HD, and for what I imagine is a pretty reasonable monthly fee. If I had to guess though, this situation is not likely to be one that most supporters find themselves in.
Some Paris fans are like me, Comcast subscribers, and have to hope beIN Sports broadcasts the match live on the main channel for the honor of watching a game is low definition. If not FuboTV or PSG TV is an option but the latter is not live and the former is expensive. Sling TV is a popular streaming service but like Comcast subscribers, you can't log into beIN Sports Connect with your Sling credentials. Essentially, if you don't see your provider in the beIN Sports Connect app, you won't be able to watch many of PSG's Ligue 1, Coupe de la Ligue, and Coupe de France matches live this season. For UEFA Champions League matches, Fox Sports holds the US rights and PSG's matches are typically shown on TV channels included in most cable packages. You can also log into their Fox Sports Go app with your credentials to stream games. Turner Sports will take over after this season so all this will change.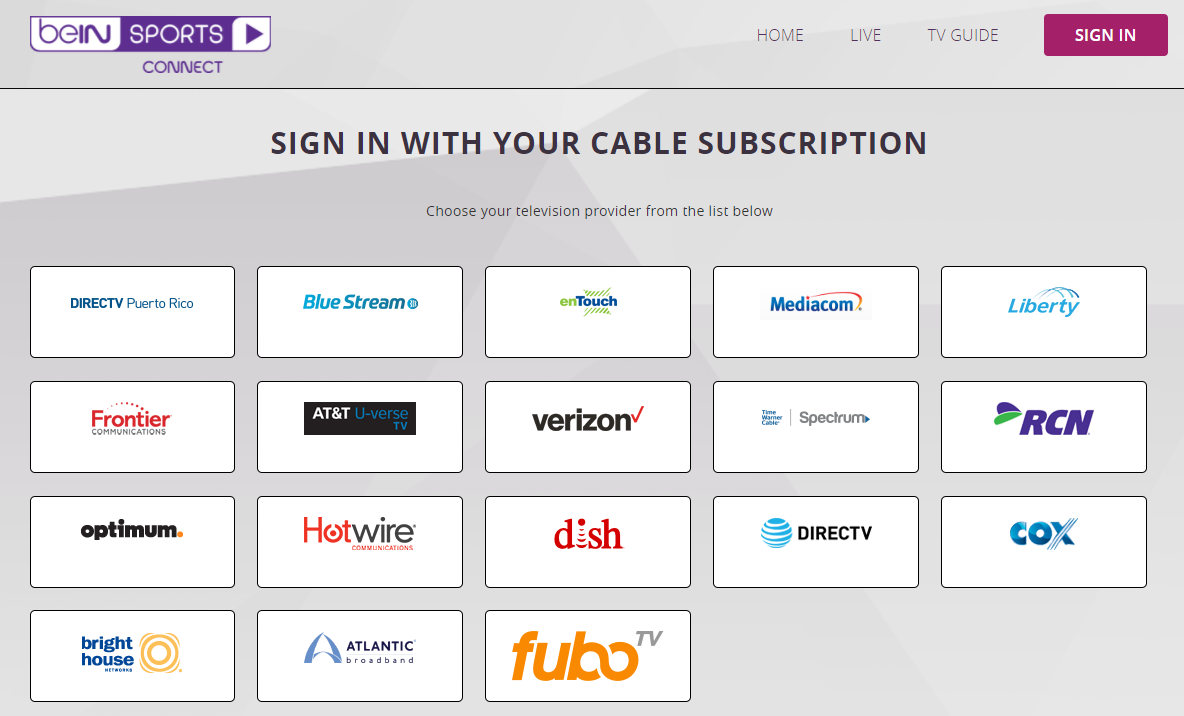 Other supporters mentioned using VPN to watch French channels showing the game, logging in with their friends Verizon Fios account to access beIN Sports Connect, and viewing the match through YouTube streams and other questionable sites.
It's also possible to get a few cheap shared proxies on the internet, and connect through your internet via a proxy server. This will mask your location, allowing you to view the games. Proxies are similar to VPN's, but are usually safer and much cheaper. If you were interested in learning more about VPNs check out vpn reviews 2019.
Want to get together with friends and watch the match at a local bar? Yeah, not likely. Most soccer bars in America almost exclusively show the Premier League and La Liga because who wants to watch PSG and all the talent they have when you can watch Swansea battle Stoke City to a 0-0 draw? If you live in a large city like New York you could hang out with the supporters club there but that's not an option for many of us.
What's the Solution?
I usually have to stream through various links. I would love if there was a way to pay a monthly fee if it meant I got to see every match

— BASVRTO (@DeezJosh) August 21, 2017
For $49.99, Premier League fans in the US can buy a season pass from NBC Sports without a cable subscription. If you have a cable subscription, you can access every league game through their NBC Sports app. Simple. Affordable. Live games in HD. That is the solution that PSG and Ligue 1 need in America. If beIN Sports, Comcast, and the rest of the TV providers/streaming services can't figure something out that works for everyone, I think the best option would be for the club to offer live games on their site for a reasonable fee. The demand is there and people will absolutely pay. During the summer pre-season tour, the club could sell subscriptions to thousands of new fans and keep the buzz going long after they're gone. Otherwise, what is the point of targeting this market if millions of potential fans can't watch PSG play because accessing the right channel or stream is too expensive and too much work?
Subscribe to our podcast (iTunes) (Google Play) (Stitcher) and follow us on Twitter @PSGTalk