Paris Saint-Germain have yet to make a large splash in the summer transfer market but preparations for the 2017-18 season have already begun with the first set of players reporting back for training. The return to the Ooredoo Training Centre represents a breath of fresh air and new aspirations for the upcoming campaign, which kicks off July 29 against AS Monaco in the Trophée des Champions. While we wait patiently for new sporting director Antero Henrique to make his first major move of the off-season, I wanted to examine a possible formation change Unai Emery may want to consider implementing during the preseason tournament in the United States.
The 3-man defensive setup has become the new trend in football. We saw a host of teams try it out last season to varying degrees of success–from changing Chelsea FC's fortunes in the English Premier League to giving German a triumphant victory in the FIFA Confederations Cup–so the formation is definitely worth experimenting with.
Every season, the manager's job is to evaluate the ability of his players and put them in a system that will get the most out of them. Here's why PSG's current squad, boosted by the right signings, may be better suited to jumping on the 3-4-3 bandwagon: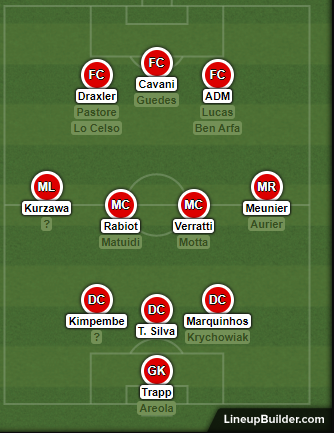 Ageing Motta
Thiago Motta recently signed a new one-year contract extension with PSG meaning the club believes he's capable of performing at a high level. Last season, the Italy international retained his starting role as a holding midfielder but you have to imagine a player who turns 35 years old in August will experience some dip in form. As his pace slows, he may be at his best if deployed in a position where he has extra defensive bodies to cover him.
Rabiot prefers LCM/RCM role instead of DM & has so far resisted director of football Patrick Kluivert's attempts to reopen negotiations.

— Jonathan Johnson (@Jon_LeGossip) May 12, 2017
Last season, Adrien Rabiot showed he could fill in perfectly for Motta as shown in the 4-0 win over FC Barcelona in the UEFA Champions League. However, the manager might be better off giving in to the player's apparent wishes to play higher up the pitch. The young Frenchman's partners in the midfield, Marco Verratti and Blaise Matuidi, excel in a more attacking role so deploying a system that gives them more freedom in advanced positions may be beneficial. A 3-4-3 formation would leave the players competing for two starting spots unless a top-tier holding midfielder is signed this summer.
Capable Ball-Playing Center-Backs
The key to the rise in the deployment of the 3-man defensive system has been the use of center-backs who are confident with the ball at their feet. In Thiago Silva, Presnel Kimpembe, and Marquinhos (who also extended his contract), PSG has the talent in that regard. Silva and Kimpembe in particular have shown incredible ability to spark the attack from their defensive positions. You would imagine if allowed to harness their play-making skills, both defenders could cover for the lack of deep-lying midfield Motta regularly filled and still allow the team to play their preferred possession game. Not to mention that Kimpembe's addition would add some extra muscle to the back line.
For backup, in addition to an extra signing, Grzegorz Krychowiak would be converted to center-back to provide extra cover in a bid to resurrect his career at the club. Kimpembe's performances last season, highlighted in the win over Barcelona, were brilliant. It would be difficult to see him supplanting either Silva or Marquinhos from the starting lineup and this would be a brilliant way to fit him in.
Solid Attacking Full Backs
Thomas Meunier and Layvin Kurzawa were not always consistent last season but there were stretches where they displayed impressive attacking ability. With both looking to return fully refreshed following injury, putting them in a position to get forward more often could pay major dividends. And let's not forget about Serge Aurier, one of the best fullbacks in the world when he's on his game. If PSG can replace Maxwell, who retired at the end of last season, and provide competition for Kurzawa, Les Parisiens will have a solid collection of wing-backs at their disposal.
Attack
The 3-man attacking formation implemented last year would remain the same in the new 3-4-3. However, some changes in personnel would be welcomed. Lucas Moura is a player many feel PSG can do without and a suitable backup to Edinson Cavani is essential. There's also rumors Angel Di Maria could be on his way out if an impressive offer comes in. Regardless of who leaves, more firepower is never a bad thing.
Final Thoughts
In football, there's no one formation that holds the key to success. There is still a long way to go in the transfer window and no matter what formation Emery decides to deploy this season, all that matters is that he has the players the fit that system.
Subscribe to the PSG Talking podcast (iTunes) (Google Play) and follow us on Twitter @PSGTalk.