On April 18, 2017, Blaise Matuidi's last-gasp goal in the 93rd minute beat FC Metz goalkeeper Eiji Kawashima for the second time on the night and gave Paris Saint-Germain the vital 3-2 away win. The result meant that at least for a few days, PSG could return to the Parc des Princes with their title hopes alive. During all the celebrating on the sideline after the France international's header, I couldn't shake a lingering thought in my head. Why was PSG, a team that defeated FC Barcelona 4-0 and feature world class players at every position, looking for a last-minute winner against relegation-threatened Metz?
Some people argue that even the best sides are going to find trouble against highly motivated team–like Barcelona loosing at home to Deportivo Alavés earlier in their season or when Valencia CF beat Real Madrid 2-1 at home in January. However, what was the difference between those games and the match PSG supporters witnessed against Metz and throughout the season. First and foremost, neither Alaves or Valencia are threatened by relegation in what is probably the the most competitive league in the world. Also, the Spanish mega-clubs conceded the first goal in both matches, which put them in an awkward position and unable to control the match like they wanted. So, what is it that makes Paris loose control in matches and why can't Unai Emery (and Laurent Blanc before him) solve the problem?
We should rule out a couple of options first. What is the common denominator in PSG's most frustrating performances this season? Clearly it's not just the results since Les Parisiens usually come away with all three points like they did against Metz. Neither is the opposition, since we've seen PSG beat their two most difficult opponents this season (AS Monaco and Barcelona). The problems for Emery's squad seem to rise from inconsistency between matches. Many times this season, we've seen the capital club loose control of matches that otherwise would be considered routine prior to kickoff or seemingly over sometime around halftime. The first signs of trouble were apparent in PSG's 1-1 draw with AS Saint-Etienne on match day four. Paris had struggled to create chances throughout the match but appeared to be on their way to a win after Lucas Moura's penalty but something happened in the last few minutes that would scare PSG for the entire season. Les Verts were able to muster up multiple scoring chances in the last 10 minutes–more than what they were able to create during the previous 80–and eventually, Robert Beric slammed home a goal with the last kick of the match.

Robert Beric Goal – PSG 1-1 Saint Etienne 09… par ushtria-Clirimtare-e-kosoves-uCk
Shock losses to Toulouse FC and Monpellier HSC in the following months would continue the trend which saw PSG surrender matches to French opponents they typically would dominate. Capitulation against Monaco in the league has caused them to play catch-up all season and a late goal for Arsenal FC (pictured below) contributed greatly to the reigning French champions finishing second in their Champions League group. The worst was yet to come though. March 8, 2017 is a day that will live on in infamy. PSG were up 4-0 on aggregate after an amazing home performance but Barcelona were out for blood in the return leg at the Camp Nou. Paris mostly disappointed but looked set to advance dispite the 3-1 scoreline after 85 minutes. True to their season form, PSG lost the little control they had and conceded three goals in the last five minutes and embarrassed themselves in front of the world. These episodes of mental weakness have wreaked havoc and I believe they can be traced back to the end of last season when the club finished top of the league with a 30-point cushion over Lyon.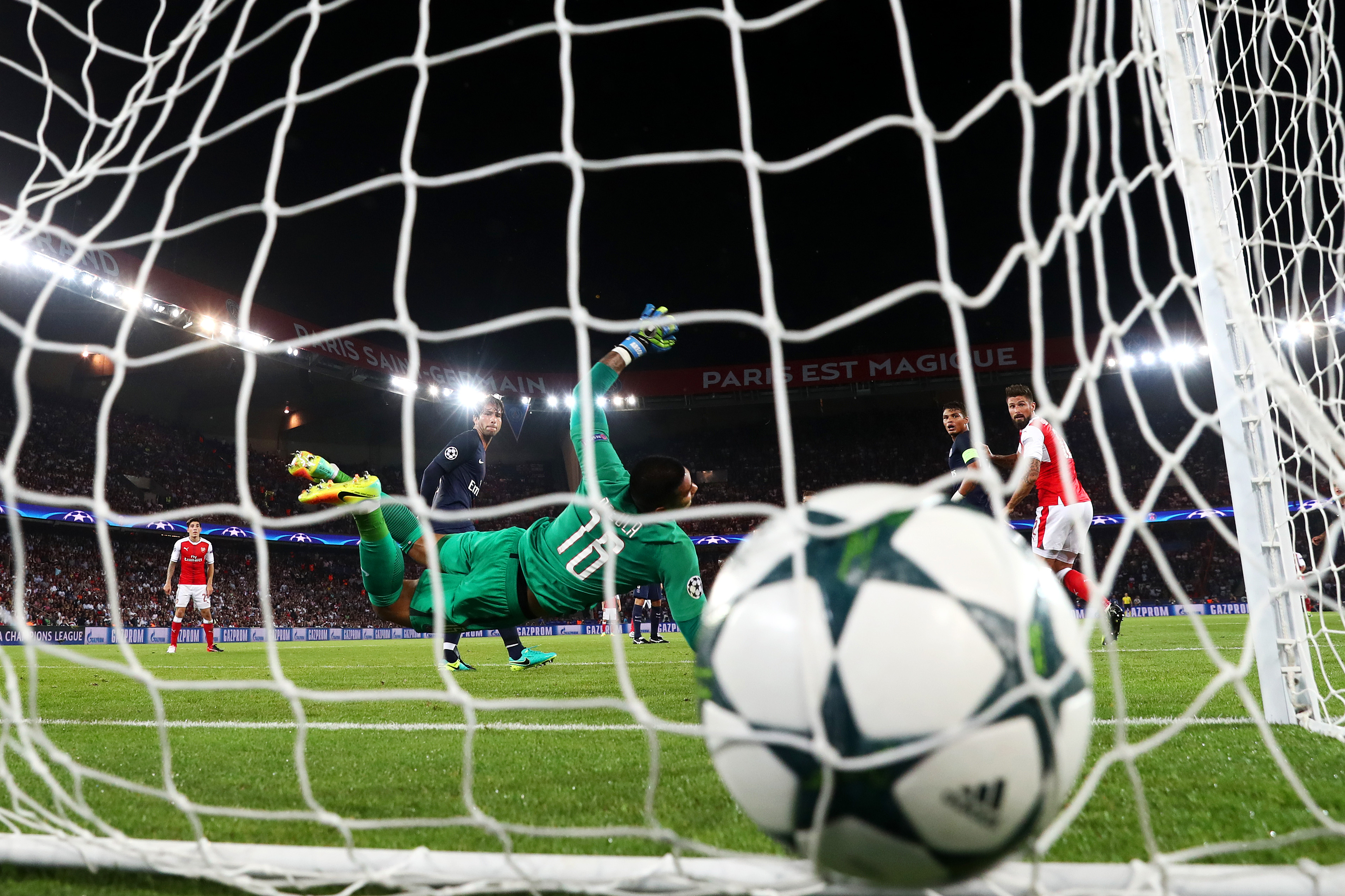 At that moment, it seemed the team's worst enemy was the lack of competition domestically–evident when PSG faced Manchester City in the Champions League and were void of any fighting spirit when trailing by just one goal in the return leg. This season, PSG's enemy has been the sudden stress they've been put under with Monaco and Nice's resurgence and they seem only able to perform when subjected with the possibility of paying the ultimate price (similar to what Barcelona have been experiencing this season as well). The problem with this is that when the pressure is off of them, the team full of internationals seem to loose their concentration more often than not. Against Saint-Etienne, PSG thought the 1-0 lead would be enough considering how little Christophe Galtier's side created, so mental fragility set in and suddenly, a last-minute goal cost them two points. The same trend could be identified in games against Monaco, Lille OSC, and Metz in the league and FC Basel and Arsenal on the European stage. Every time, scraping a result or throwing away a lead to end with a draw. The solution to this problem can be seen as pretty simple, Emery has to mold a mentally strong and ruthless squad that will seek to destroy any and all opponents–whether it's Metz or Barcelona. It's easier said than done but if the former Sevilla FC manager cannot achieve this, his tenure in the French capital will be shorter than anyone expected.
Subscribe to the PSG Talking podcast (iTunes) (Google Play) and follow us on Twitter @PSGTalk.