At 5 p.m. on January 23, 2016, approximately 46,000 spectators settled into their seats at the Parc des Princes awaiting an afternoon of football with the words of Phil Collins' "Who Said I Would" still ringing in their ears. Inside Paris' premiere sporting attraction, eyes turned away from their phones to the pitch and conversations turned away from social pleasantries to the team lineups.
Among those attending were tourists from France and abroad–businessmen meeting potential investors, friends enjoying a major Parisian attraction, children experiencing a star-studded afternoon out, etc. Mixed among the casual fans were PSG supporters, well, those lucky enough not to have been banned under the plan Leproux, and they found refuge under the infamous beige concrete arches of Boulogne and Auteuil.
Throughout the match, any related statement aimed towards the pitch expressed above conversation-level audibility was received with estranged looks and any attempt to start a chant or song made you a social outcast.
On the pitch, the scenes were similar. While Angers SCO players walked with their heads bowed, ready to roll over and receive a footballing lesson from their Parisian counterparts, Laurent Blanc's men looked above it all.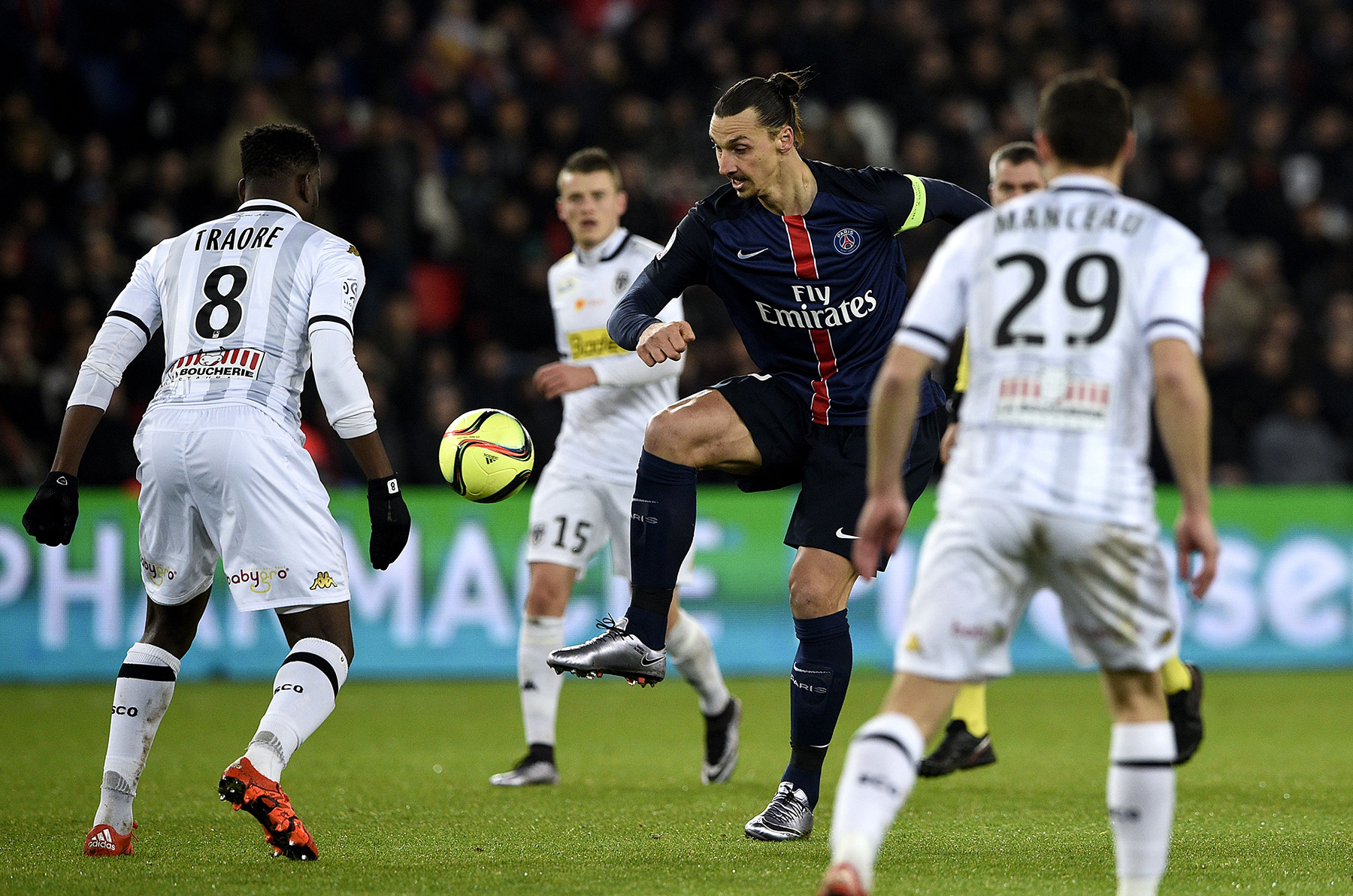 The match on the day was yet another 90-minute training session against the faceless mass that was any team below sixth in Ligue 1. It was yet another stepping stone along the path to another inevitable league championship no matter how little the players and staff would admit it.
Angers players didn't bother contesting the referee's decisions. They didn't bother to press PSG, nor did they bother to sit deep–as if showing respect would convince the French champions to show some mercy.
On the other side of the perfectly manicured pitch was a team of invincibles with nothing to prove and nothing to fight for. The men in red and blue knew there was no need to play with confidence because their true place wasn't here.
Paris Saint-Germain were a European club playing in a far too domestic league.
Fast forward to just under 13 months later at 9 p.m. on February 7, 2017. The tension in the stands was palpable. Tourists and businessmen alike had fled to the Borelli stand, as Boulogne, Auteuil, and Paris were re-conquered by the masses.
The 42,000+ men, women, and children taking their seats at the Parc were no longer mere spectators, they were inhabitants who felt at home once again in a stadium that had been taken from them for so long.
The Parc felt as alive as ever. Not a second passed without it seeming as if the locals were trying to crash the stadium into the highway below–jumping until their muscles ached and shouting until their voices left them. The return of the Ultras had ushered in the return of the whole city.
The stands were now cauldrons of fire against and the action on the pitch was no longer a visual representation of the gulf between the top of Ligue 1 and the rest. PSG struggled for much of the season and remain in second place at the time of publication.
Paris Saint-Germain may have run out 2-1 winners on the night but Lille OSC's performance was a reminder to supporters of their team's shortcoming against teams like Montpellier HSC, Toulouse FC, and Olympique de Marseille, where the Les Parisiens were unable to break down deep defensive blocks.
While the dip in quality around the middle of the season is seemingly over, Unai Emery's inability to condition his team to beat a highly defensive side still lingers–resulting in a loss against EA Guingamp, a draw against Toulouse, and narrow wins against FC Nantes, Chamois Niortais FC, and AS Nancy Lorraine.
The most obvious answer to these somewhat disappointing results seems to be the absence of Zlatan Ibrahimovic, who departed the club as a legend but also as an emblematic figure of the elite status PSG held in France. It's easy to remember when, in March of 2015, Ibrahimovic said: "France does not deserve PSG," and despite the criticism he received for the statement, he was right to the extend that there was a clear separation between his team and the rest of the league at the time.
The Swede's statistics speak for themselves. During the 2015-16 season alone, he scored more league goals than relegated sides GFC Ajaccio and Troyes AC, and he led the club to an impressive first place finish (31 points in front of second place Olympique Lyonnais). In his four years in the French capital, he overtook club legend Pauleta to become the highest scoring PSG player of all time and he averaged an astonishing .93 goals per game in over 100 games.
Finding a replacement for Ibrahimovic was never going to be easy so the club opted for one of their own. Edinson Cavani was expected to rediscover his goal-scoring form from his days at Napoli, which earned him his big-money move to France. Cavani, to a certain extent, has found success in his new role, having already scored 27 goals in 26 league games, yet PSG have still stumbled at far too many hurdles this season.
What about the rest of the squad? Solid arguments can be made for the defense (or rather, the lack thereof) being at fault after David Luiz's sudden deadline day departure left Emery with no more than three players to pick from to play center-back. One could also argue that Emery himself is at fault for not having a backup play given PSG's injury issues in past seasons.
That isn't the case though, at least not entirely. While nearly every area of the squad and the touchline has seen difficulties this season, we shouldn't forget that it's nothing new. Even when Blanc was running the show, there were constant injuries and players in bad form, yet, they were able to take advantage of the same teams PSG struggle against today with an arguable worse squad nonetheless.
The main difference is not withing Paris Saint-Germain, it's within the French league. While Ibrahimovic was in town, opposition teams would be dissuaded from pressing for 90 minutes and positioned as many players as possible behind the ball to avoid tiring them out for the next match. They saw it as futile as PSG would inevitably win anyway.
It could even be argued that if middle to lower tier teams pressed PSG instead of being defensive, Blanc would be having the same difficulties that Emery is having now. Neither of them had tactics particularly adapted to dealing with a stubborn defense, the only difference being that Blanc didn't need to and Emery does.
So, is PSG plus Francais que jamais (more French than ever)? Not really. The fans may be back in the stands and the all-star affect of Ibrahimovic may have vanished but in truth, it's the rest of the French league that has enfin trouvés leurs couilles (pardon my French).
Subscribe to the PSG Talking podcast (iTunes) (Google Play) and follow us on Twitter @PSGTalk.