Following Paris Saint-Germain's humiliating 6-1 loss to FC Barcelona at the Camp Nou last Wednesday, the club has been in the spotlight for all the wrong reasons. PSG have been the target of countless memes, Thiago Motta allegedly hit a supporter with his car leaving the airport, Marco Verratti is threatening to sue a newspaper, Thiago Silva stated the players are not ashamed of their performance, and calls for Unai Emery's sacking are as loud as they've been all season. It's been a difficult few days for supporters to say the least.
To help soften the devastating defeat, the reigning French champions should cruise to their fifth consecutive Ligue 1 title…oh, that's right, they're currently in third place and six points behind league leaders AS Monaco with a chance to move within three points with a win on Sunday. There's also a chance PSG won't lift the Coupe de la Ligue trophy as they face Monaco in the final of that competition. We're looking at a real possibility that after winning every domestic trophy available last season, PSG could only come away with the Coupe de France or even worse, no trophies at all. A month ago some were saying that this could be PSG's breakthrough year in the UEFA Champions League after their 4-0 win over Barcelona in the first leg of the tie. That seems like so long ago now.
When Qatar Sports Investments purchased Paris Saint-Germain in 2011, they set a five year plan to win the Champions League and elevate the club to become one of the biggest and well-known in Europe. Five years have past and the club hasn't even reached the semifinals of the competition. Zlatan Ibrahimovic did wonders for Paris when it came to raising the club's profile internationally but less than a year after his departure, you can argue PSG is now more famous for their loss to Barca than for anything Ibrahimovic did during his four years in the French capital.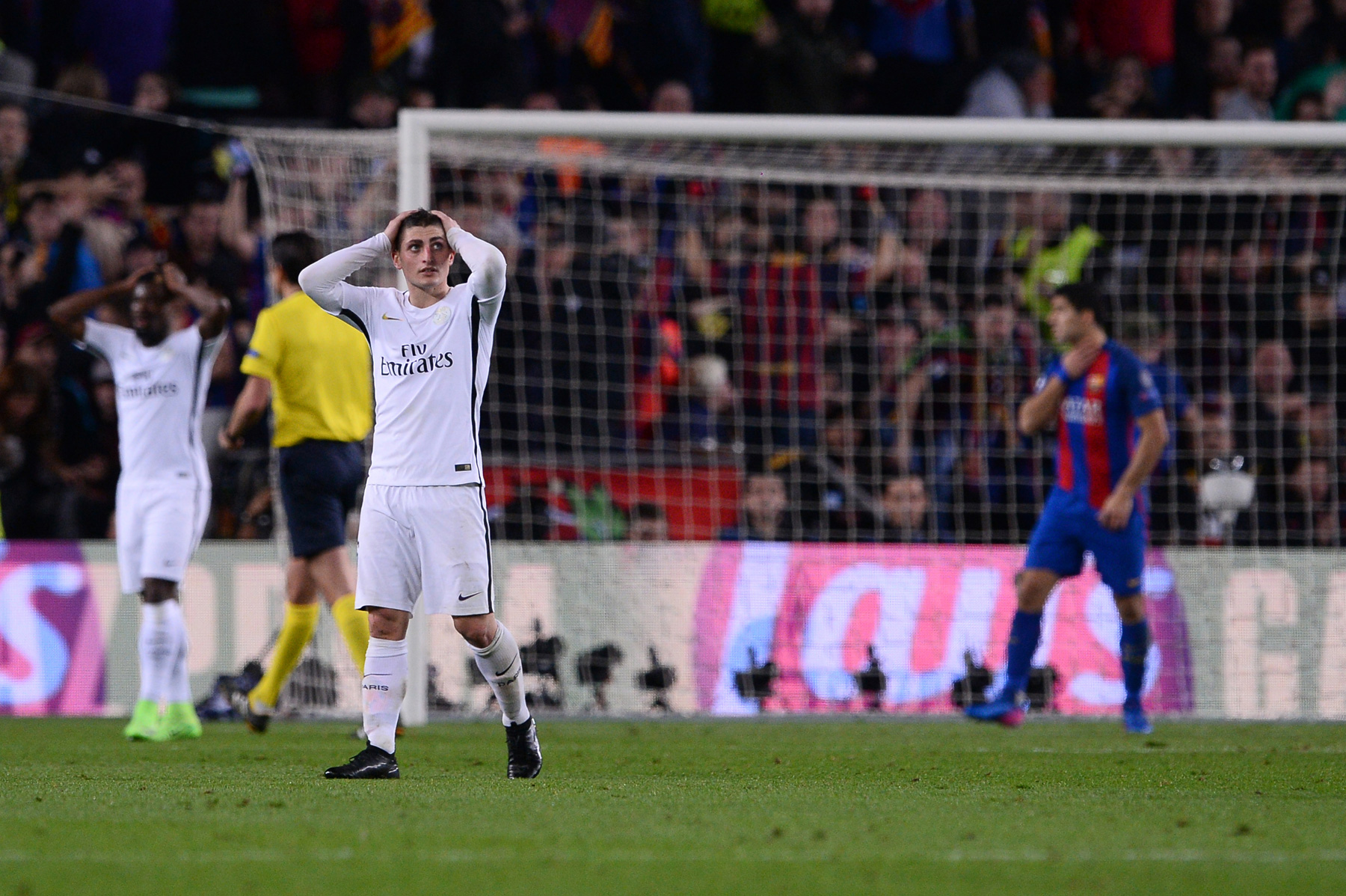 There's plenty of blame to go around for the 6-1 loss. Emery was perhaps too defense in his tactics at the start but with a four-goal lead heading to the Camp Nou, sitting back isn't exactly the worst tactic in the world. The problem is once he realized that wasn't going to work, he needed to change things up quickly and he failed to do that. The players looked terrified on the pitch and were frozen in place like a deer in headlights as the Catalans steamrolled them. For me, they are the ones that should shoulder most of the blame. This was essentially the same squad that beat Barcelona a month prior and they completely shut down mentally. Silva may not be ashamed over his performance but he absolutely should be. He is the captain and he failed to rally the troops and mount a defensive stand in the waning minutes of the match.
Lastly, and it has to be said, referee Deniz Aytekin, was shocking on the night and his penalty decisions gave Barcelona easy goals that set up their historic comeback. Despite Emery and his squad's shortcomings on the night, they likely would have still advanced (barely) if one or two calls went PSG's way. There's even reports that Aytekin may be demoted following his poor showing. You never want to blame the ref after a result like this but he played a major role and his possible demotion is as clear of an admission of guilt from UEFA as they come.
UEFALONA..

NO WORDS NEEDED HERE #DISGRACE pic.twitter.com/K36hedgp4O

— Omar ? (@OMAR_CR7_) March 8, 2017
This is a result that could haunt PSG for years to come. Some of the younger players on the pitch that night may never recover mentally. Time will tell. In the immediate future though, the loss could make it difficult to sign world class talent in the summer. Alexis Sanchez is rumored to be a target but he's already at a club known for imploding in the Champions League. He may not want to sign up for more of the same. Speaking to Le Parisien recently, club president Nasser Al-Khelaifi stated that the club will stay ambitious in the next mercato, which is great to hear as new players are desperately needed to inject a fresh sense of optimism into the capital club.
A win over last place FC Lorient at the Stade du Moustoir on Sunday should be a forgone conclusion but that's what we thought heading into the Barca match. With Monaco winning on Saturday, anything less than three points and the media will be in a frenzy calling for Emery's sacking and league title will be too far out of reach given the form Leonardo Jardim's squad is in. Typically, a mid-March trip to Lorient isn't that eventful but there's plenty on the line for a PSG team in turmoil.
Subscribe to the PSG Talking podcast (iTunes) (Google Play) and follow us on Twitter @PSGTalk.