As the holidays march closer, the kind folks at Onefootball have asked their network to write up an end-of-the-year, half-season review. Here's our contribution for Paris Saint-Germain's troublesome autumn.
Want to help separate the world's best from the rest? Vote in the 2016 Onefootball Awards by clicking below!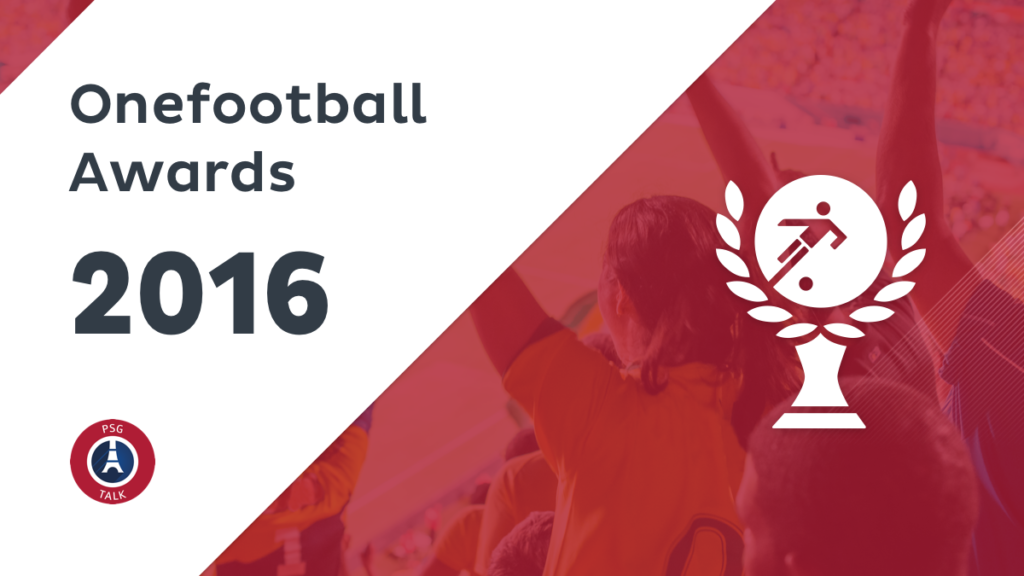 Best XI
This is a hard one for a few reasons. First, nobody really knows what formation the "best XI" would even play. People like Grzegorz Krychowiak and Angel Di Maria, who should be there on paper, haven't even gotten close to being at a level that merits inclusion. The lineups put out in the two draws against Arsenal in the UEFA Champions League clearly had their flaws – frankly, even which goalkeeper to start is a contentious decision.
Trapp; Aurier, Marquinhos, Silva, Kurzawa; Rabiot, Motta, Verratti; Matuidi, Lucas, Cavani
Manager
Unai Emery has had a tough start. He takes over for a team which lost not only its top goalscorer of last season, but of all time. Zlatan Ibrahimovic left a massive hole in the team, which has not been adequately replaced, at least not in the same way. Edinson Cavani scores goals – lots of them – but an auxiliary goalscorer, particularly from the wings, is a dire need. Add in a lack of depth all across the pitch, particularly in an exhausted defense, which has begun to leak goals, and you have a recipe for disaster for any coach – not just Emery.
Maybe it's an unpopular opinion, but the consensus at PSGTalk is generally that the squad isn't good enough without Zlatan to drag it through. The summer transfer window didn't add anyone who we can call a solid step up – PSG is still, at its core, built on the signings from the Carlo Ancelotti-era. Without adding players, it's hardly fair to put the crisis all on Emery.
Nevertheless, a near-winless December is a big deal, and Emery's constant insistence on playing Alphonse Areola has lost him a lot of fans. We think the manager will survive until the end of the season, but it all depends on results after the winter break.
Moment
Probably Thomas Meunier's unbelievable volley versus Basel in the dying minutes to restore PSG's lead. Meunier's strike kept the team in position to take the top spot in the group, making it one of those moments of pure exhilaration. Not quite as exciting as Thiago Silva's late header against Chelsea in 2014, of course.
It's a bittersweet thing in retrospect. That game, combined with a mediocre showing against PFC Ludogorets Razgrad, were the first matches to really cause people to begin to question Emery's management. And you can see why: here's the three-time UEFA Europa League-winning coach brought in, a winnable group, but the team barely scrapes by minor continental sides. Nevertheless, it also symbolizes a new grit and determination; this team might mess up the first half often enough, but they tend to fight back superbly.
Game
PSG 4-1 Olympique Lyonnais in the Trophee des Champions, or Lyon 1-2 PSG in November. I pick these two because they were watershed tactical moments – Emery showing up in big games and doing exactly what he was hired to do. The team played a rigid 4-2-3-1 in both, but it particularly shined in the former, where Javier Pastore played a rare uninjured 90 minutes and made the team look like the Harlem Globetrotters.
In the latter game, the system switched to a 4-1-4-1 with a flat bank of four midfielders after halftime, including Thomas Meunier as a right winger and Cavani as a target man for crosses. Emery changed to this system in response to Lyon's change of formation, and it worked brilliantly. Moments like these two, even if one was just a preseason cup, show that Emery's tactical chops aren't a joke or a buzzword. They're what keeps me hanging on to my firm belief that he deserves a season, particularly with the squad in this condition.
Disappointment
PSG 2-2 Ludogorets. A dismal showing, which began this December crisis in Paris, and granted Arsenal – despite a head-to-head advantage for Paris – the top spot in the group. Emery has so far failed to resolve this in any way, and you can tell the squad's confidence is in a very bad place.
Another good choice for biggest disappointment would be virtually every summer transfer except Thomas Meunier. Jesé Rodriguez, Grzegorz Krychowiak, and Hatem Ben Arfa have all been varying levels of dismal, sometimes not even making the bench. These players are talented, but they need to be physically and technically on far higher levels than they have shown with Paris so far.
Hero
Who else but Edinson Cavani? High-profile misses in high-profile games will never stop for him. It's in his nature. A lot of his style is clumsy, frustrating, infuriating even. I've given up on him too many times to count. The Parc des Princes has booed him many a time, whether in the middle or on the wing.
And yet he fights on. El Matador has an absolutely indomitable spirit, and it's present in every minute he plays. He incessantly finds space, he forces defenders to track him all game, he charges back into his half to press or make an important challenge. He is a figure who will never truly be adulated, like Zlatan was, because he can't make anything look effortless.
This season he's accepted that even if he can't ever be a god, he's going to make himself a hero.
Other than the Uruguayan, Adrien Rabiot has constantly impressed in Emery's side, and Thomas Meunier, for his massive last-minute goal against Basel and his game-winning cross against Lyon, is becoming a cult figure.
Villain
Angel Di Maria, without a doubt. Despite a large collection of chances created, his constant wastefulness with absolutely no defensive contribution, wasteful dribbling, and insistence on long-range shooting has made him the scapegoat for most of PSG's woes. And why not? In a team lacking Zlatan Ibrahimovic, Di Maria was set to be the star in attack, with a paycheck to match. Instead he has shirked the responsibility.
Many PSG fans were unwilling to come to terms with Di Maria's past: leaving Real Madrid in the face of wing competition from Gareth Bale, unbelievably poor showings in Louis van Gaal's Manchester United. The narrative was that he was finally in a place that would treat him as the main man and would thus perform. When pegged alongside Zlatan Ibrahimovic in the team, this seemed to be completely true; however, this season, he has shrunk away from adversity and now actively makes the team worse. There aren't many left who wouldn't want to get rid of him.
Subscribe to the PSG Talking podcast (iTunes) (Google Play) and follow us on Twitter @PSGTalk.