Angel Di Maria scored the only goal of the game as Les Parisiens battled to a difficult 0-1 win over Stade Rennais on Friday at Roazhon Park.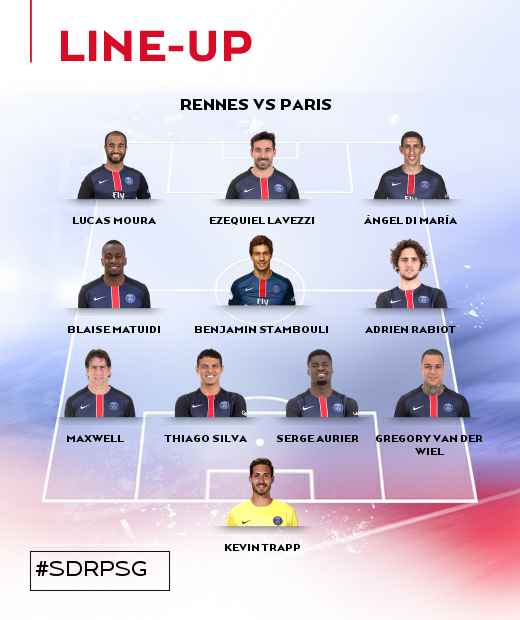 With a highly-anticipated clash against Real Madrid on Tuesday in the Champions League, it's no surprise Laurent Blanc utilized the full breadth of his squad today. Unfortunately, some of that rotation still frustrated. Blanc chose to start Ezequiel Lavezzi in the center forward position, which—to no one's surprise—failed spectacularly. The Argentina international was the least visible of the attacking trio, preferring to drift out to the right leaving no one in the middle. Di Maria flashed moments of brilliance, the goal included, but found himself playing the Javier Pastore role, dropping into midfield and often drifting out left to better utilize his preferred left foot. When he drifted left, he ran right into Lucas Moura, who, maddeningly, is still being used on the wrong side of the pitch. The few times he was allowed to drift right were the brightest the Brazilian looked all game, save for his part in the goal.
Blanc seems to think that Lucas can play on the shoulder of the defense and run at them, cutting inside, to score. But he's not Neymar. He can beat his man, he's happy to, but assists have always been Lucas' game. He showed it again today, latching onto a wonderful ball from Marco Verratti which he then squared for Di Maria.
That assist was a rare exception when played on the left. Notice how late his runs are—he's not looking to be the man penetrating into the box, he's looking to set others up with his passing ability. One can understand Di Maria being played on the opposite wing, but Lucas' acceleration comes to a halt when he's forced to try and angle it onto his better foot. It absolutely boggles the mind that Blanc won't return him to his best position. Even last year, in the glorious 3-2 against FC Barcelona, Lucas was played almost as an out-and-out striker and he shredded Jordi Alba constantly. When Blanc has occasionally returned to a two-striker system involving Lucas this year, he's been almost inexplicably shifted left again in the same role. It just doesn't make sense and is stunting the development of one of Paris' golden boys.
Lucas notwithstanding, most fans will be frustrated by the inclusion of Pocho over young Jean-Kevin Augustin. The promising No. 29 has been sitting idly by after being utilized constantly in the preseason and contributed arguably more than Lavezzi did after his 79th-minute introduction for Di Maria. The Frenchman is tenacious, physical, and strong technically. This would have been a perfect opportunity to give him a Ligue 1 start and break the stereotypes about the Parisian academy. And yet, Blanc seems to have placed the 30-year-old Lavezzi in front of JKA in the pecking order even though the Argentine's contract runs out this summer and it's certainly not as if he has an obligation to play the man. I've never been an opponent of Le President but his decisions regarding youth can be frustrating.
Speaking of youth, Adrien Rabiot started in midfield alongside Benjamin Stambouli and Blaise Matuidi. Unfortunately, with Matuidi at times the only attacking player, especially in the first half, Rabiot was pushed back into Verratti's usual role. I had high hopes for Stambouli to step up as a squad player and I even thought he imposed himself much more than usual in the first half. Unfortunately, his connection with Rabiot just isn't there. Stambouli's defensive work was solid (for the first half at least) but, particularly as the game dragged on, his pass placement was wasteful and on a couple occasions did lead to a counter. On Rabiot's part, the passing was generally good, aside from a couple lazy returns to blatantly offside players (or to no one in particular) and, most egregiously, being completely caught out in possession and having the ball nicked off his foot. Generally Adrien Rabiot's performances have improved since his disastrous opener, but he's definitely got some concentration issues to iron out.
As usual, the introduction of Thiago Motta and Verratti restored the natural order of the midfield. Verratti set up the goal as much as anyone, and he and Motta dazzled at times. The 33-year-old at one point received the ball in his own box, under heavy pressure, and simply lobbed it over to Maxwell without a hint of panic. Composure incarnate. Honestly, before their introduction it wasn't quite as bad as it might have been. Rennes preferred to keep possession when they had it, and their counters weren't all that threatening. Perhaps a more incisive home side could have created something but for the most part, Verratti and Motta killed the tempo. The goal was almost inevitable at that point, even with the baffling attacking trident.
In front of Kevin Trapp, the defense was solid as usual, with Serge Aurier a capable deputy but perhaps in over his head as the right center-back. Usually Thiago Silva partners David Luiz on the right, and puts in a solid shift down the touchline to cover for the wing-back's forward runs. Blanc chose to play Silva on the left—where he was of course stellar—and Aurier on the right, but he didn't tone down any of Gregory van der Wiel's runs forward. The Dutchman is always going to be defensively suspect and Aurier sometimes seemed overwhelmed filling in for Silva. Regardless, the clean-sheet was well-earned, even if Maxwell was poorer than usual going forward. The 34-year-old's deliveries were off, but his defensive work was still too good to consider dropping him ahead of the trip to Madrid. Once Layvin Kurzawa comes into his own, the fans might see the left wing become a little bit more electric.
So, a rotated game, perhaps dull at times but also a well-needed rest for Edinson Cavani. Tuesday's game is a must win, with the spectre of Jose Mourinho a very unwelcome one to most Parisian fans, but a very plausible rumor should Blanc not be able to pull something out of his hat. Parisian fans will be hoping for a healthy Pastore, who has been out with conjunctivitis. They'll also want the best out of Zlatan Ibrahimovic, who impressed in his last performance but has yet to do it all in a Champions League game. We'll see you Tuesday for the verdict.