The Italians call him Il Gufetto. You can't deny the resemblance, with his big, darting eyes under the shadow of his brow. He has simultaneously grown into the master of both the pass and the yellow card. Hidden away from the rumor mill, Marco Verratti has quietly become one of the brightest young midfielders in Europe.
Verratti arrived from Pescara in 2012 as former director of football Leonardo Araujo and then-manager Carlo Ancelotti raided Italy of its talent back in the days before UEFA sanctions. Widely linked to childhood club Juventus, Paris entered the race for the 19-year-old's signature. Pescara in turn raised the asking price to €12 million, a bargain in hindsight, of course. Unwilling or unable to spend so much on a teenager, Juventus pulled out of the race.
We all believe in Verratti here. – Former Director of Football Leonardo, 2013
Despite the childhood connection, Marco remained adamant that he made the right move. At Paris he found the belief and the first-team football that Juventus could not offer him, first through long-time admirers Leonardo and Ancelotti and now under Laurent Blanc, as well as a host of experienced teammates—notably fellow summer arrivals Zlatan Ibrahimovic and Thiago Silva. Laying on four assists in 27 appearances in his debut season at the capital club, the diminutive Italian's metronomic passing has stayed remarkably consistent even as his productivity skyrocketed. The PSG heirarchy didn't spend €12 million on a hunch—even as a teenager, the media dubbed Marco the next Andrea Pirlo for more than just his technique; his maturity, his ability to boss the midfield from anywhere on the pitch, made him special.
It is that same trademark maturity, the coolness with which Verratti moves the ball around, that has brought him to the recent spotlight. His 92% pass accuracy, when combined with the sheer number of his passes and the weight of his position, is a feat barely achievable by even Europe's veteran anchor-men.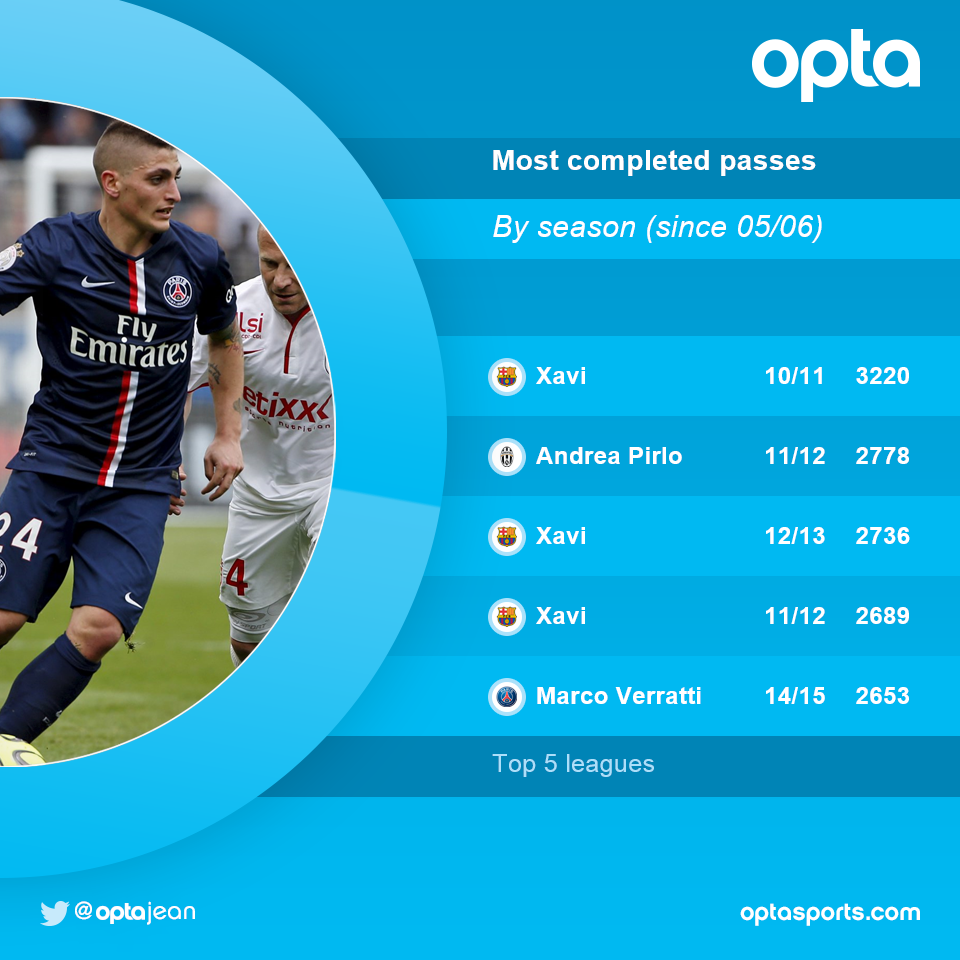 There's sometimes a great misunderstanding of Marco's ability; other fans may place him in the same mold as Pogba or Kovacic, in peak physique, with the occasional audacious goal or winding run to keep suitors interested. Marco's strength is almost the opposite of his youth—more than how complete he may one day be, analysts say how complete a product he already is. His 2653 completed passes last season already leave him in the lofty heights of midfield legends Xavi Hernandez and Pirlo at just 22 years old. It's no surprise that his stock has skyrocketed, yet Marco has been doing the same thing for three seasons: keeping the rhythm of the midfield and calmly moving the ball about. He never had to have a breakout season—he's just the same consistent player with his owl eyes a few years sharper.
Oh, and then there's the tackling.
[gfycat data_id="ComplicatedUnkemptAstrangiacoral"]
A maestro on the ball and an animal without it, his bulldog-like mentality on the defensive end often stuns spectators and opponents. Though it may seem an oxymoron when looking at those pass stats, Verratti was only behind Serge Aurier in tackles per game last season, with 3—more than double midfield compatriot Thiago Motta, who stood at 1.3 despite playing deeper on the pitch. His tackles per game ratio rises to an incredible 4.6 if you look at European competition. Whether Lionel Messi or Marvin Martin, Verratti gets stuck in, no matter the name on the back of the shirt. Combined with his ability to create when he wins the ball back, he allows the PSG midfield to control the game even against the most physical of teams. It's a unique quality that the likes of Xavi and Pirlo never quite possessed, whether they needed to or not.
booking him for the hell of it.
what hand gesture he might come up with.
Ancelotti and Blanc.
second-most fouled player in Ligue 1.
PSG believed in me when no-one expected it and I would like to repay that faith. – Verratti, 2015
With fellow fan favorites Lucas and Pastore already tied down until 2019, and the recent wonderful news that FFP sanctions have been lifted, Verratti looks to have a long and bright future at the Parc. While the club is pulling cash out of all cylinders to strengthen the squad, Marco remains unsellable according to both his agent and PSG chief executive officer Nasser Al-Khelaifi. While Real Madrid have officially announced they are not pursuing him, Barcelona have been constantly linked with the Italian. It's not without reason; Pogba or no, Verratti is the closest thing Europe has to a Xavi in his prime at the moment and he could walk into any midfield in the world. It's up to the club to build a team worthy of him.
All stats courtesy of whoscored.com where not noted.
Follow Dave on Twitter @3Tscroat