Last season, Javier Pastore had one of the highest number of appearances among the Paris Saint-Germain players last season. This year though, he may have to settle for a substitute role thanks to some new signings expected at the club this summer and his time off due to international duty.
Throughout last season, Pastore featured prominently in Laurent Blanc's starting lineup as the long season took its toll on a number of players and kept them on the sidelines. His versatility in the midfield made Pastore an attractive option for Blanc and his performances warranted the playing time. Pastore played so well in fact that Manchester United legend Eric Cantona had this to say about the Argentine in April of this year:
"For me, the best player in the world is Javier Pastore." – Eric Cantona via The Guardian
With Pastore missing out on most of the preseason due to his Copa America responsibilities with Argentina, El Flaco will find it difficult to break into the starting lineup this year especially with the club heavily linked with a move for Manchester United's Angel Di Maria. Blanc will have a tough job of keeping the resurgent Argentine happy with Ibrahimovic appearing to be the major contender for his favored No.10 spot where he excelled tremendously last season.
French football journalist Jonathan Johnson confirmed the possible formation change earlier this week in a tweet quoting Edinson Cavani's agent:
Guglielmone: "We believe Ibrahimovic will play deeper role, allowing Edi to play in middle. It happened several times at end of last term."

— Jonathan Johnson (@Jon_LeGossip) July 19, 2015
If the expected signings to arrive, Blanc may opt for a formation that looks like a 4-3-1-2 on paper.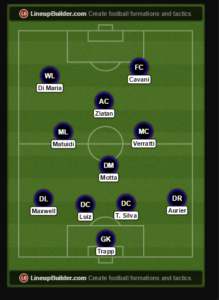 With Thiago Motta's situation far from being resolved, Pastore will be a really valuable asset to have in the squad as the brilliant attacking midfielder can play in a variety of positions, including central midfield or from the flanks if needed. He'll give Blanc a lifeline when he needs to change the starting lineup or coming off the bench to give the team added creativity. In fact, if the injury situation that plagued Paris last season is anything to go by, supporters will get to see plenty of the enigmatic Argentine next season.
It's disappointing Pastore won't be guaranteed a spot in the starting XI this season but with a Ibrahimovic's pending exit next summer, Pastore's future looks bright at Paris if he can continue his excellent form from last season and the Copa America.
Follow Daniel on Twitter @Pregbaha